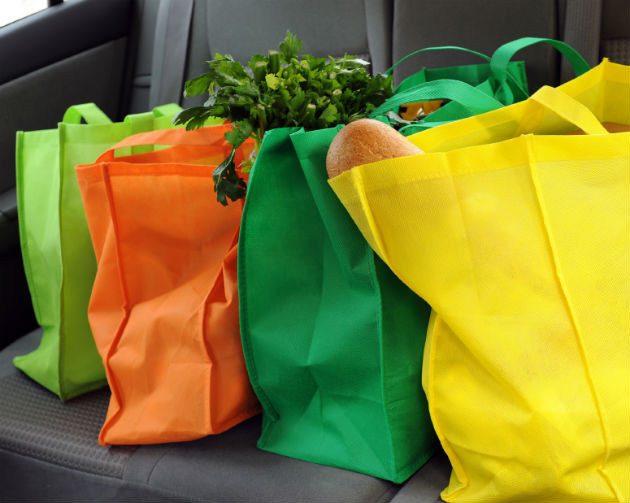 If there was ever a single item that embodied our society's addiction to cheap, toxic, disposable objects, it's the plastic shopping bag. Current research estimates that 500 billion to 1 trillion plastic bags are used every year worldwide (that's about 1 million bags a minute!). When you consider the fact that every square mile of ocean has about 46,000 pieces of plastic waste floating in it, and a single plastic bag can take up to 1,000 years to degrade, it's easy to see that these wasteful (and unnecessary) shopping aids have to go. Although there are many campaigns to remind and encourage people to bring their own reusable bags with them on shopping trips, some cities have decided that it's time to put more serious policies into action.
San Francisco
In 2007, the City by the Bay became the first municipality in the U.S. to ban plastic bags. The decision drew attention from all over the country and the world. Under the ordinance, supermarkets and drug stores are only allowed to offer customers bags made of paper that can be recycled, compostable plastic or reusable cloth. Since the law went into effect, the city reports using 5 million fewer plastic bags every month.
Los Angeles
Encouraged by the success of the San Francisco bag ban, the Los Angeles County Board of Supervisors passed a
sweeping ban on plastic grocery bags
in unincorporated areas of the county in November 2010. The ban will affect nearly 1.1 million residents countywide and has been called one of the nation's most aggressive environmental measures to date.
Mexico City
In 2010, Mexico City became the second largest metropolis in the Western Hemisphere to outlaw the distribution of plastic shopping bags. The new law, which is part of the city's
Plan Verde
, restricts retailers and grocers to offering only biodegradable shopping bags. The measure also gives city authorities the power to fine shop owners $90,000 (or 36 hours in jail) for not complying. Before the ban, it was estimated that Mexico City residents used 20 million plastic bags a year.
Dhaka, Bangladesh
In 2002, the government of Bangladesh banned the use of plastic bags after they were found to be responsible for the 1988 and 1998 floods that submerged most of the country. "It was discovered that due to the drainage congestion — by polythene shopping bags, water could not go down," Hossain Shahriar, a Bangladeshi ecologist and journalist from the Environment and Social Development Organisation told
edie
. "This was the cause of increasing water born diseases and air pollution-related environmental degradation."
Oyster Bay, Australia
In May 2004, this suburb of Sydney became the first city in Australia to ban all retail outlets from using plastic shopping bags. Before the ban, it was estimated that Australians were using 6.7 billion plastic bags every year, costing the country $200 million in litter cleanup. Thanks to the example set by Oyster Bay, 12 towns in Australia are now said to be plastic bag-free.