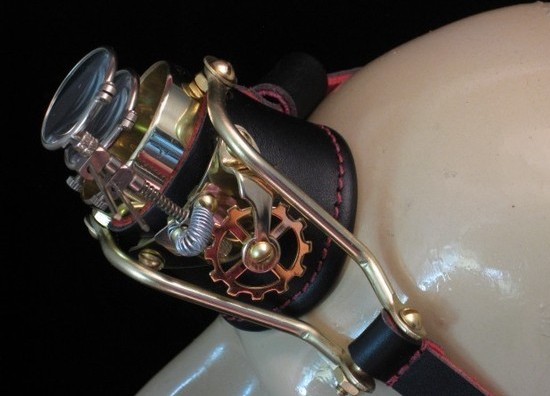 Image: Steampunkdesign All images used with permission of the designers/photographers.
Though monocles are rather out of fashion today, after reading this post, you might wonder why. In use since the early 18th century, monocles truly came into style toward the beginning 19th century, when they became so fashionable that even those with perfect vision would wear them.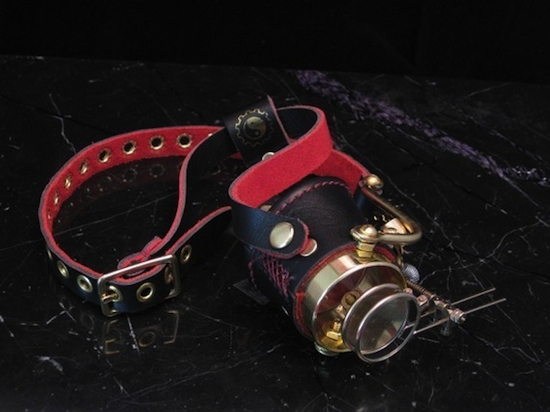 Image: Steampunkdesign
Given the time period and sense of style associated with monocles, it makes perfect sense for steampunk fans to jump on the opportunity to have some fun with them, reinventing Victorian fashion as high-tech art.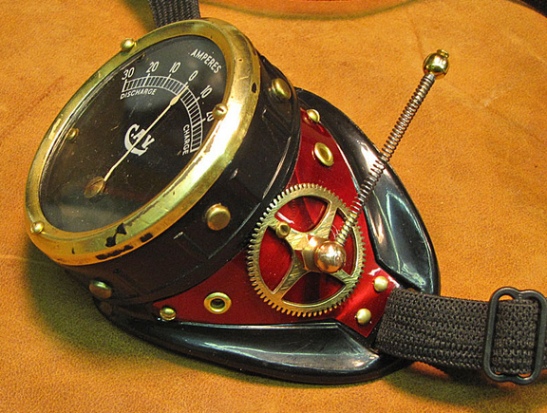 Image: Kimric
With enough imagination, monocles can be created from almost anything lying about one's home or garage — old glasses, swimming goggles, metal and leather parts and, of course, usual gears, nuts, bolts and screws, all recycled and reassembled into retro-fantastic creations. We've found 12 amazing gadget-pieces that will make you want to lead the fight in bringing monocles back into style!
12) Reflecting monocle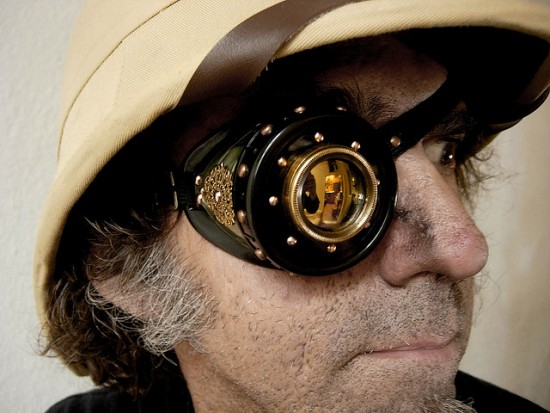 Image: Kimric
If you're going on safari you want the best that technology has to offer — and this might just be it! This steampunk monocle was created by Richmond, CA-based Kimric Smythe, aka Boilermonster. He and his team use "random stuff that they find" for their steampunk works, which make his creations all the more awesome. Using his trademark half-swimming goggles, this monocle's a real eye-catcher (pun intended) due to the prominent lens reflection. The golden rivets also really add to the monocle's style. Big game beware!
11) Monocle with eye patch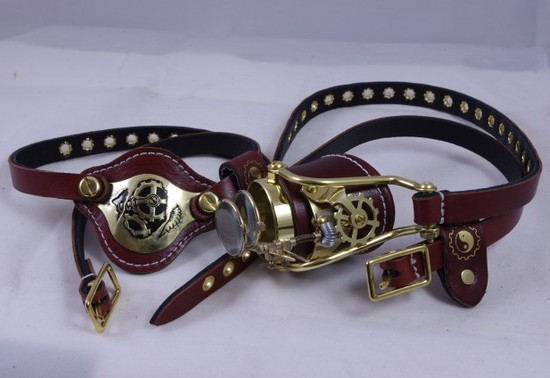 Image: Steampunkdesign
If you want to go for the full daredevil look, why not wear a monocle that comes with a matching eye patch like the one above? Both are made from matching, dark brown leather and fitted with ample brass gears, buckles and decorations. The only problem may be that one can't see very much with both an eye patch and a monocle attached (unless you're missing one eye and short-sighted in the other, in which case it would be ideal!) but then, function just has to follow style here.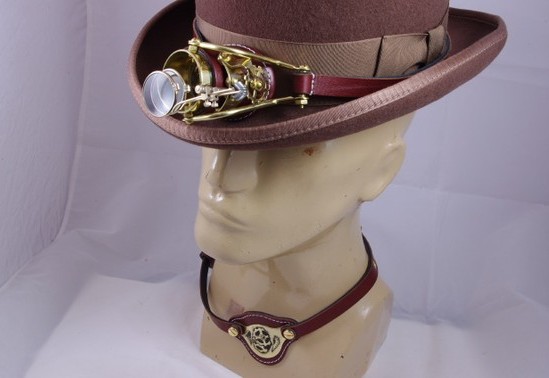 Image: Steampunkdesign
Or, as seen above, you could wear the monocle around the brim of your hat…
10) Pirate monocle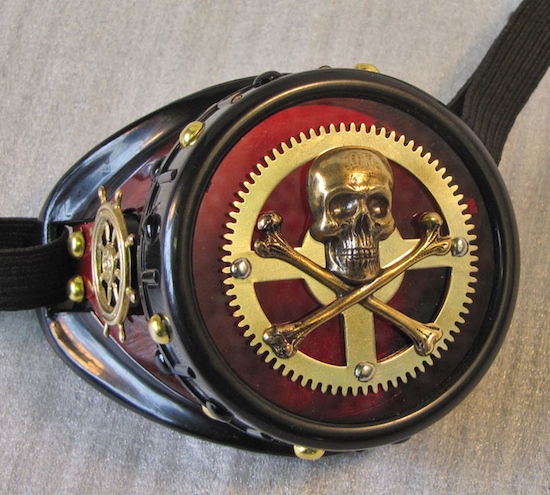 Image: Kimric
The idea of steampunk augmentation (or perhaps self-improvement) is a natural fit for the world of peg-legged pirates, so this monocle makes perfect sense, and, part eye patch, part eyepiece, this monocle would make any pirate proud. The decorative cog wheel over the lens fits in perfectly with the skull and crossbones, and a steering wheel rounds off the nautical theme.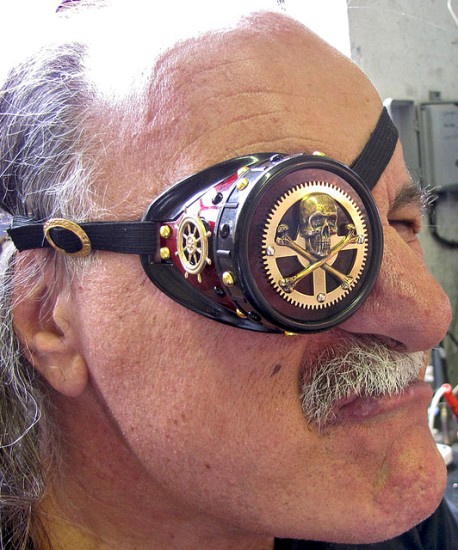 Image: Kimric
As for repurposing, we think we can make out half of a pair of old swimming goggles (this is Kimric's work again) and various other reassembled bits and pieces. That some of it is plastic doesn't take away from the monocle's steampunk character; it's not what you wear, but how you wear it! Cheers to Vinnie for making the perfect pirate!
9) Mad scientist monocle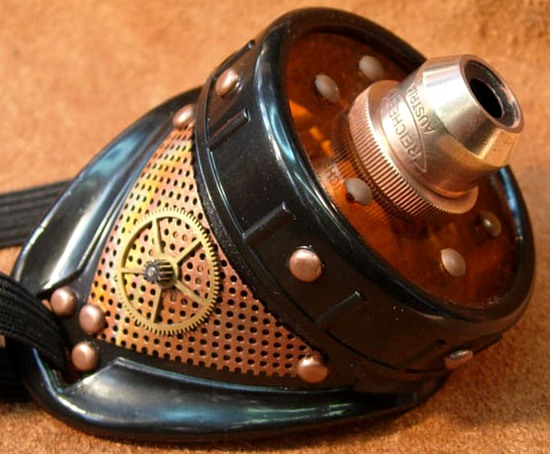 Image: Kimric
This copper and brass monocle stands out with the upcycled microscope that has been attached for its lens — perfect for the retro-Victorian scientist or investigator (we're certain either Sherlock Holmes or Dr. Frankenstein would have loved one of these). The mesh pattern on the side and the added gear really give the monocle that extra "mad scientist" look.
8) Monocle with light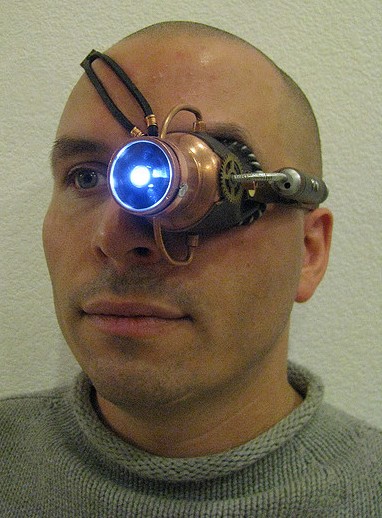 Image: Lady Wolf Star
Now, this monocle will come in really handy if you need to improve your eyesight while exploring in the dark — a cave for example, or maybe a nightclub. Yes, this cool steampunk contraption has a light that glows. How intricate the wiring must be for the light to work on such a small object, we can only imagine. Other than that, we can see what looks like a mini copper soup dish, gears and various other leather and metal parts being recycled. Might the Borg have made it back to the 19th century? You can see more of Alvi Chelini's works in our article,
Ten Astonishing Steampunk Timepieces
.
7) Eye spy monocle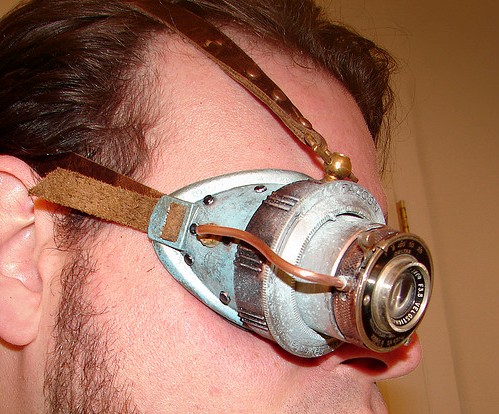 Image: Doctor Grymm
Taking the monocle idea to the extreme, this design is based on a photographic lens. Creator Joey Marsocci, aka
Doctor Grymm
, says, "Now anyone can have a photographic memory! Images sent directly to the built-in memory bank with the blink of a shutter!"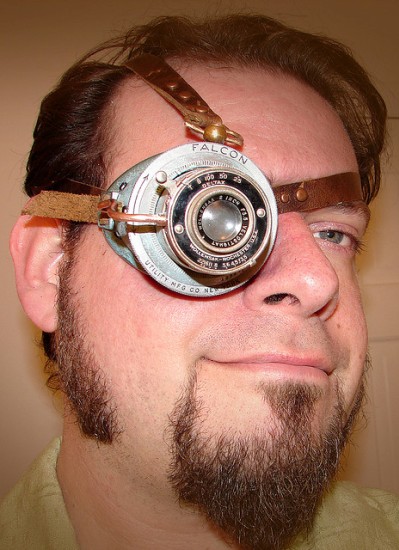 Image: Doctor Grymm
If only it were so easy! But we love the idea and the Hannibal Lector-ish head strap. Here's a closer view, and make sure to check out Joey's
steampunk goggles
as well.
6) Dive monocle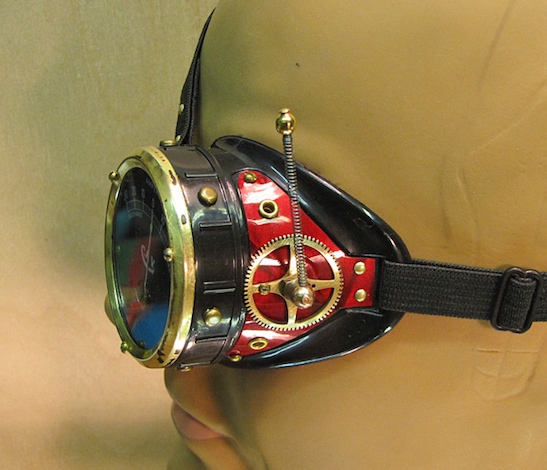 Image: Kimric
According to creator Kimric, this monocle (also seen, top) was made from "ammeter parts and various industrial detritus." We're not sure if the lens is clear, but the design might just get in the way of seeing what's going on! Nevertheless, its banged-up look and red metallic design comes with plenty of style to compensate.
5) Two-changer monocle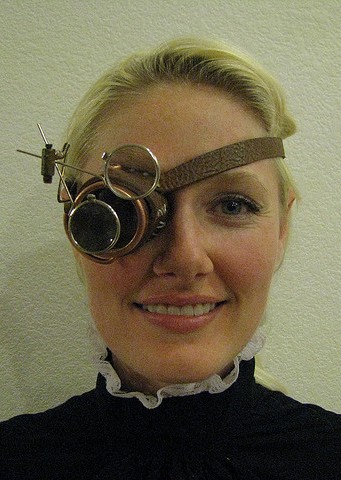 Image: Lady Wolf Star
On the basis that one level of viewing depth just isn't enough, this monocle has two additional lenses that can be pulled in front of the main one. While one of the extra lenses is for magnifying, we can only speculate about the use of the other one. However, attached on an axis with thin metal rods, and looking like a cross between dental and medical instruments, they certainly are cool.
4) Victorian goth monocle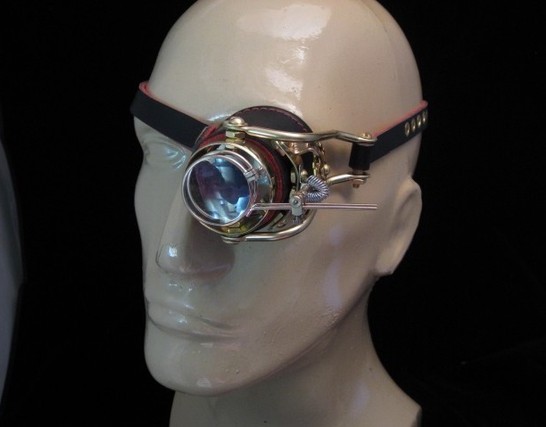 Image: Steampunkdesign
This awesome steampunk gadget (also seen, top) is made of solid brass and hand-stitched leather pieces. Highly polished gears, screws, nuts and bolts round off the look of the monocle. The clear lens is 1.5 inches in diameter and comes with a flip-down, 3×3 magnifier.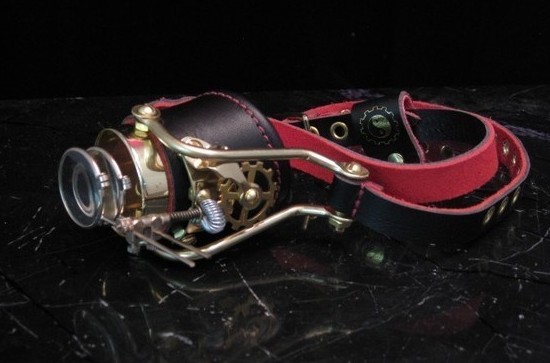 Image: Steampunkdesign
The leather strap is long enough that it can even fit over a hat — should you not want to wear this cool monocle all the time, which is highly unlikely!
3) Fold-down monocle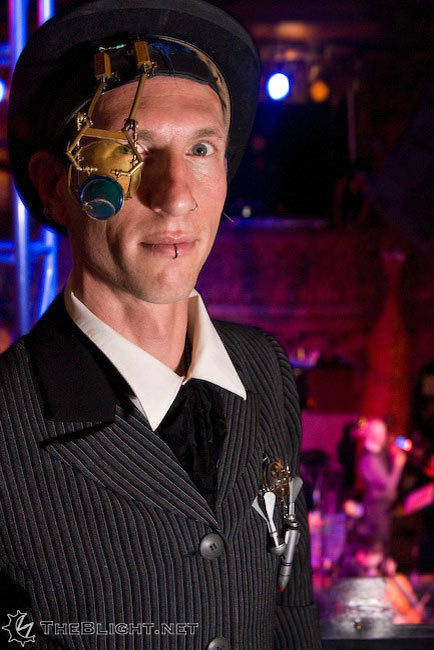 Image: Neil Girling via flickr
This light-colored leather monocle comes with a blue lens. But that's not its most striking feature. The monocle actually folds down from a headband rather than being strapped around the head, thus eliminating that constricting feeling at eye level, while doubling up as a head and hat band. Very ingenious!
2) Radio tube monocle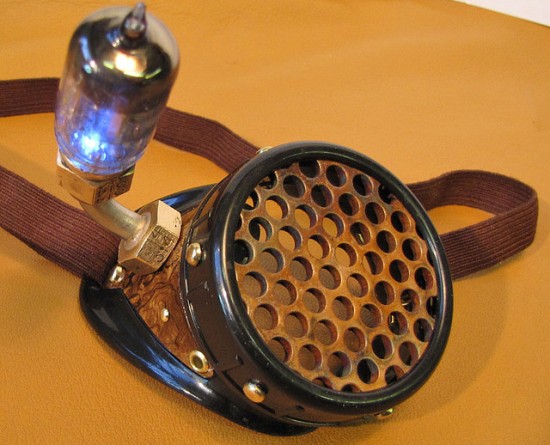 Image: Kimric
For this monocle, a blinkie necklace had to give its life so that its parts could be repurposed. The radio tube battery and holder were wired onto the monocle and, yes, it does work. The monocle's "lens" is a custom-cut thick metal mesh that is as simple as it is brilliant. The burl wood on the sides rounds off this style. Full marks for design and functionality!
1) Three-lens monocle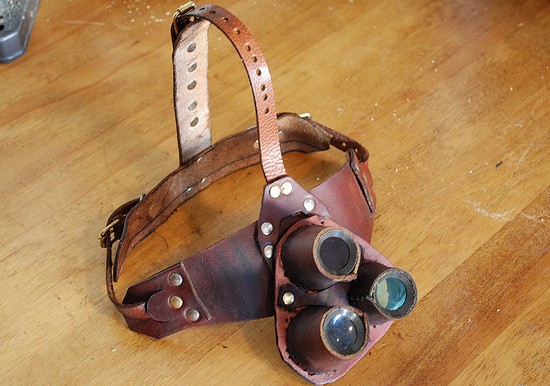 Image: JP & Anelle Ammons
This three-lens monocle is a true masterpiece. The three scopes rotate around a central pivot and let the viewer opt for the range of their choice, with a green lens, a brown lens and a jewelers' magnifying lens at 10 times magnification. Creator JP Ammons says of this beauty: "My goal this time was to create something new from common items, in this case jewelers' eye loupes. I wanted to go a bit farther than just gluing them on something and calling it an original item, so I came up with this apparatus. This also gave me an excuse to build something with two new shaped punches."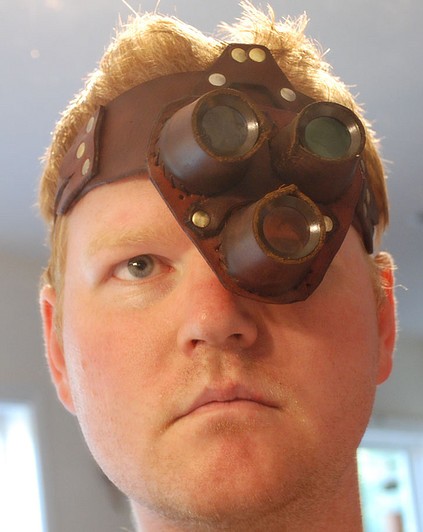 Image: JP & Anelle Ammons
Needless to say, we love the recycling aspect here. Not only do the eye loupes get repurposed, but also any old leather straps or even belts can go a long way with this project. Another piece by this designer also made an appearance in our
Steampunk Timepieces
article. This brings us to the end of our list, but if you need more inspiration, there is a wealth of it out there on the Internet. Then, happy scrounging for parts — and do let us know if you've come up with your own creation!
Sources: 1, 2