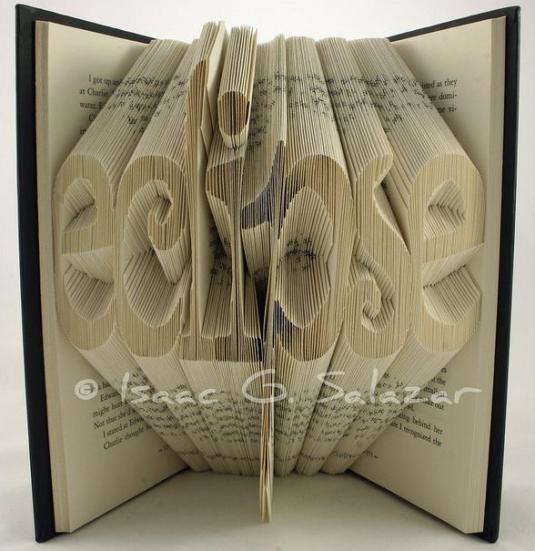 All images courtesy of Isaac Salazar and used with permission.
We're told to never judge a book by its cover, but what about judging a book by its pages? We don't mean what's printed on them, though. Once upon a time, leafing through the pages of these books one might have found them to be action packed and thrilling, but, as they now appear, content is, for once, irrelevant. Instead, it is the pages themselves that command our attention, carefully crafted into origami paper masterpieces by Artesia, NM-based artist Isaac Salazar. Formed by folding the pages of discarded and then dusted-off old books, these 3-D artworks truly capture the imagination.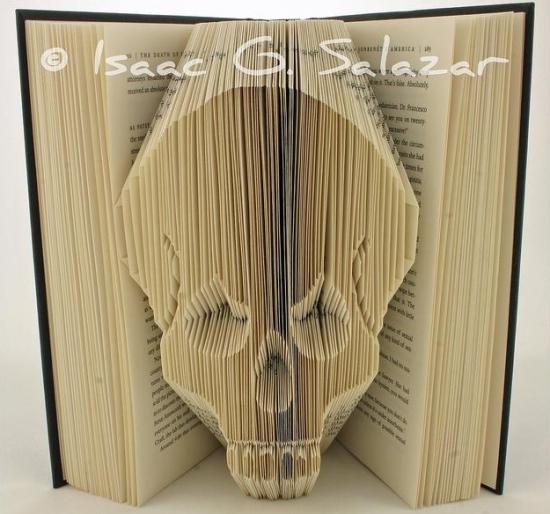 What's not to love about Salazar's latest creation, the skull pictured above? With the front and back pages remaining untouched, the skull creeps out of the center of the book. An indication of a garish plot? Nah, rather a commissioned piece that Salazar did for the May 2011 issue of
Esquire
magazine. It was made using
The Death of Innocence
, a book that investigated the JonBenét Ramsey murder case.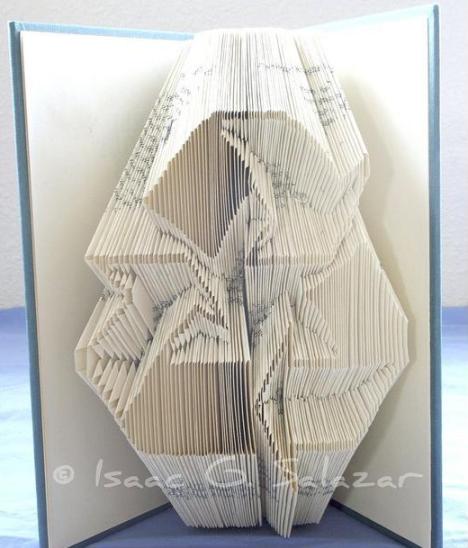 The
recycling symbol
(as depicted above) is, of course, particularly dear to us. Rarely has reuse, reduce, recycle been symbolized so masterfully. Salazar was inspired to create this piece after finding a book titled
A World Without Trees
during one of his many scavenges through secondhand bookstores.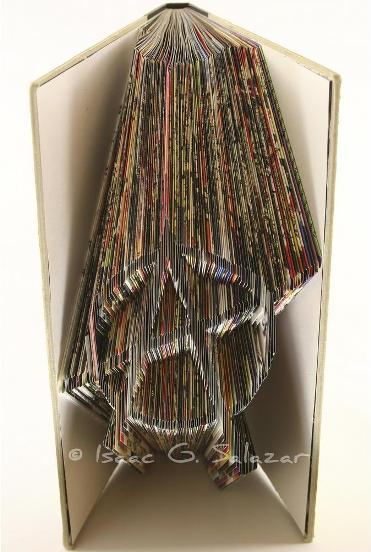 Unless commissioned, Salazar makes it a point to use only old books. An accountant by profession, he is also an avid environmentalist who is into alternative energy, recycling, repurposing and reducing waste. He stresses: "All of the books I use come from public libraries or secondhand stores."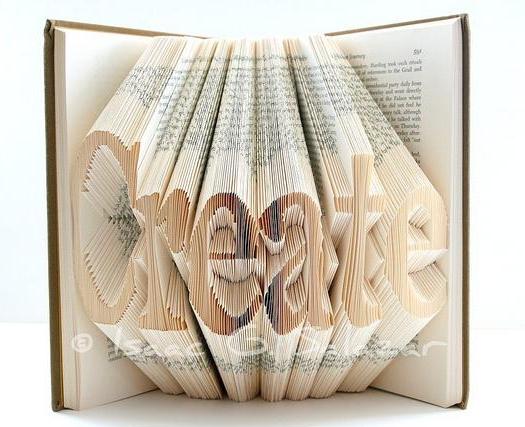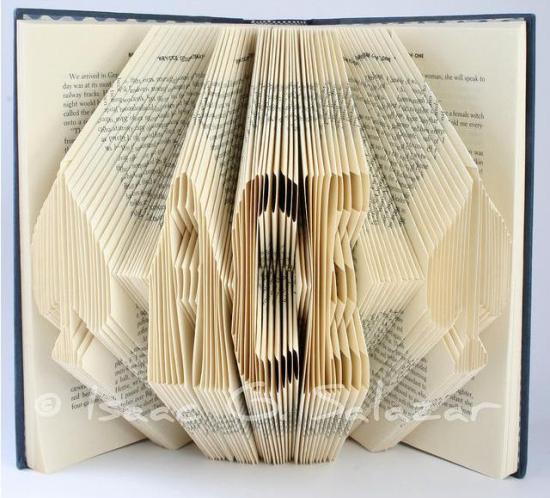 And ideas? They can strike Salazar anywhere. He explains: "My inspiration comes from multiple things and places. I can browse the used book section for titles that stand out to me." "The Ace of Spades," above, for example, is a marvel of paper origami, combining a word and symbols. The piece is made from an old hardcover copy of Bryce Courtenay's
The Power of One
, first published in 1989. The hardback of this influential book is now out of print.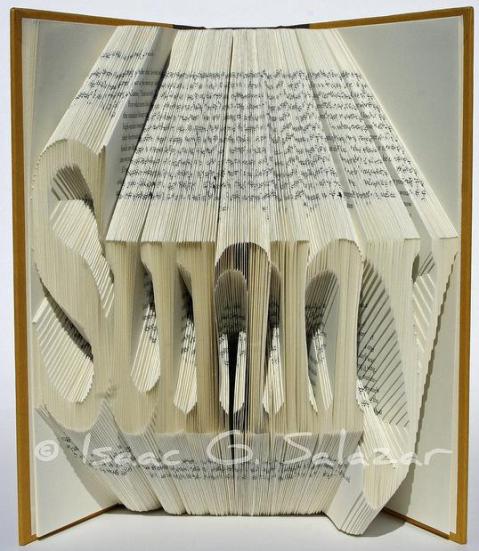 Salazar is humble about his beginnings in the art world and freely admits: "I am someone who has never taken an art class in my life, but have stumbled upon making book art/book origami. I didn't think I had an artistic bone in my body and never thought of myself as creative."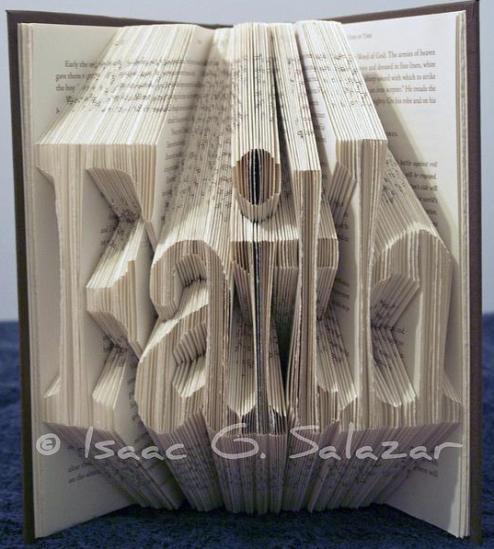 The infinity symbol, below, might seem to have been crafted out of two books — one with text for the top and bottom and a blank one for the symbol. This is just an illusion, however, created by Salazar's intricate folding technique, which cleverly uses page text and margins — the latter for the symbol.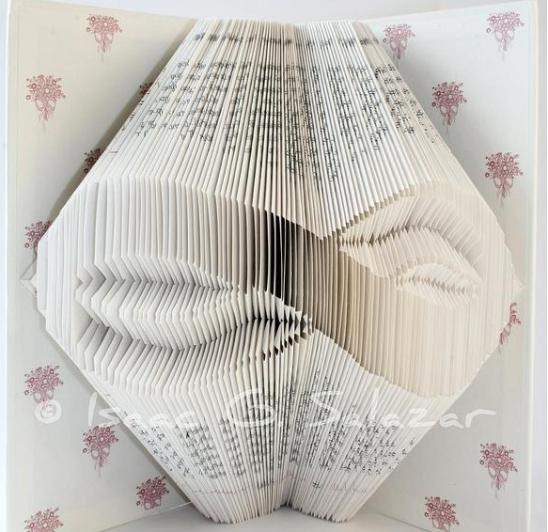 But how does one get to make book origami like this? For Salazar, it all started with Christmas trees that he had seen folded out of old
Reader's Digest
s — a popular
craft project
and yuletide decoration in the '60s. Salazar wondered if it was possible to create different designs or even words, and started making his own paper art creations. He recalls: "I first started off doing simple letters, alternating pages for each fold, but now I am doing more complex and intricate designs."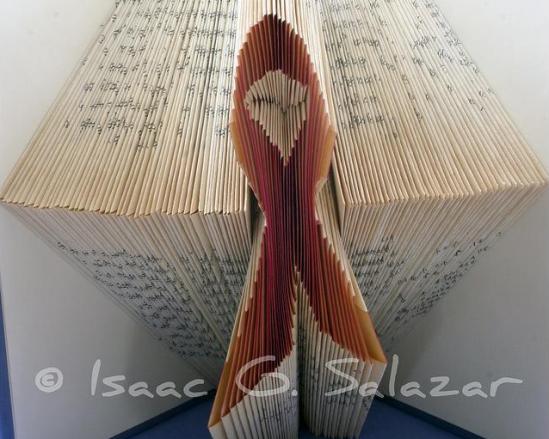 The pink ribbon — the international symbol of breast cancer awareness — is another wonder of craftsmanship. The ribbon's shade was achieved by coloring just the edges of the pages used. The frame is a clever combination of alternating pages folded into triangles.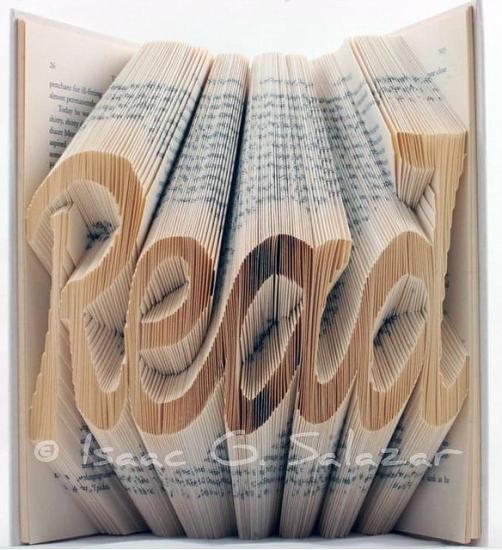 Looking at each intricate design, one wonders about the folding technique and how much time each project takes. Salazar explains: "I use simple math and an X-Acto knife, along with lots of time. It takes me anywhere from three days for the simpler styles to two weeks for the more complex styles."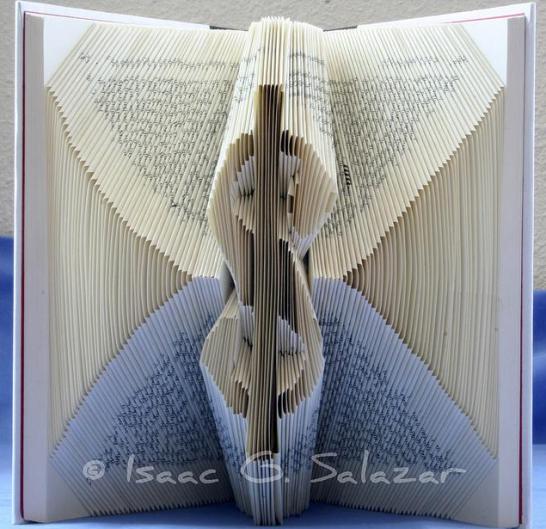 Show me the money! This next piece was stylishly created with a hardcover folded into a dollar sign, and the remaining pages added on like butterfly wings. Who says money can't be romantic?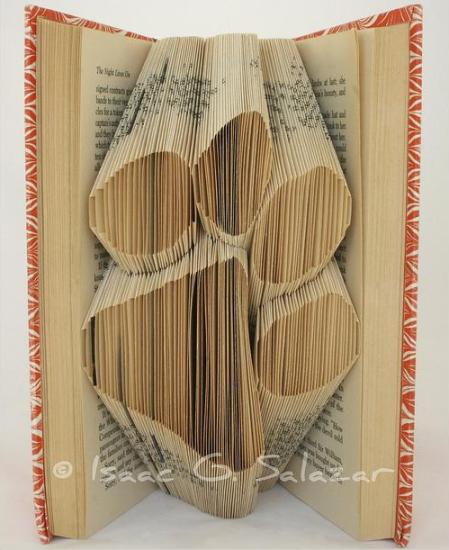 This adorable paw is made out of the hardcover version of
The Night Lives On
by Walter Lord, a 1986 book about the secrets behind the sinking of the Titanic. Here, each page seems to be folded multiple times, creating a stunning design.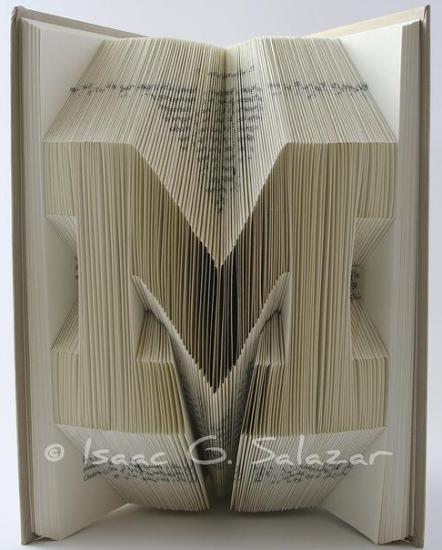 Talking about his growth as a paper artist, Salazar, who has been practicing paper origami for only the last few years, explains: "My pieces originated from simple designs folded into the pages, and over the last year, I've expanded into simple letters and now into detailed cursive letters. I've also been challenging myself with symbols and more detailed designs."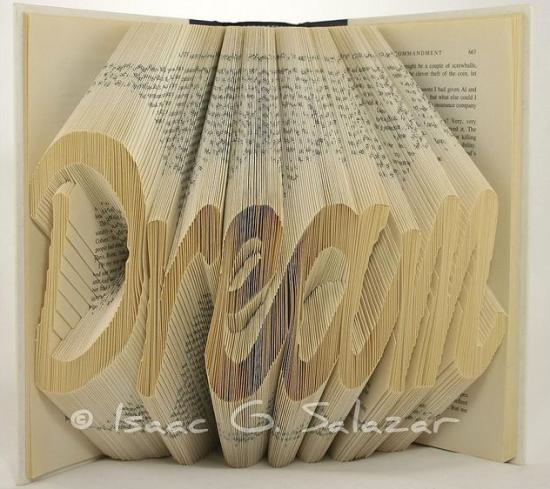 As for Salazar's different messages, they seem quite clear. Indeed, they positively jump out at you: dream, create, [have] faith and, by all means, read!
But, as refreshing as Salazar's art is, it also leaves a bit of sadness behind when thinking of the short lifespan that books have in our culture. Most of the books used by the artist are less than 20 years old, but are already out of print — at least their hardcover versions are. Yet, thanks to Salazar, they will not populate our landfills, but live on as one-of-a-kind creations.
For more book origami or to commission a logo or symbol, visit Isaac Salazar's Flickr or Etsy pages.