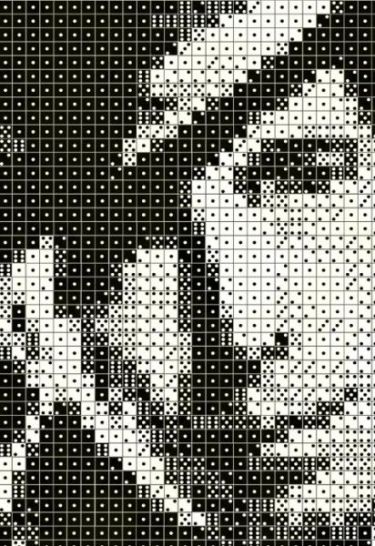 "Bogey," with black and white dice — 1,600 dice, 2 feet x 2 feet All images courtesy of Cube Works Studio and used with permission unless otherwise noted.
Ah, the '50s and '60s — an era of iconic movies and film stars, like Marilyn Monroe, James Dean and Humphrey Bogart. Many artistic tributes have been paid to these icons of the screen, ranging from realistic portraits to Andy Warhol's pop art homages; adding to the mix is Toronto-based graphic artists' collaborative Cube Works Studio, which has paid all these stars the ultimate in — er, dicey? — compliments with some repurposing that'll make you go dotty looking at it. Using thousands of ordinary dice, the artists have created amazing, larger-than-life portraits.
"Godfather" — 2,500 dice, 2.5 feet x 2.5 feet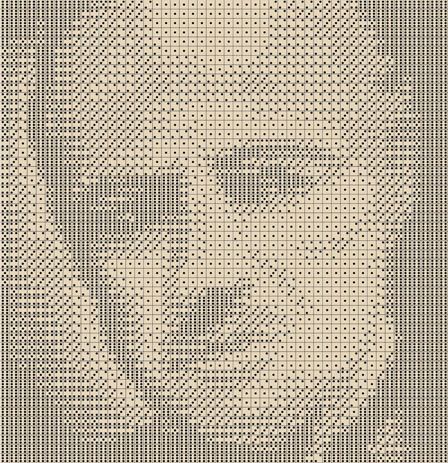 When speaking of influential actors, one simply can't overlook Marlon Brando, a star who shaped American cinema like few others in a career spanning a good 50 years.
A Streetcar Named Desire
(1951) and
Last Tango in Paris
(1972) were huge achievements, but for many, his most memorable performance was playing Vito Corleone in Francis Ford Coppola's
The Godfather
(1972). His dice portrait is taken from a movie still and is made out of all white dice with black pips, with the sixes providing the shading. Despite the use of just two tones, it is a surprisingly recognizable rendition of the man who excelled in making people offers they could't refuse.
"Audrey," white dice — 1,600 dice, 2 feet x 2 feet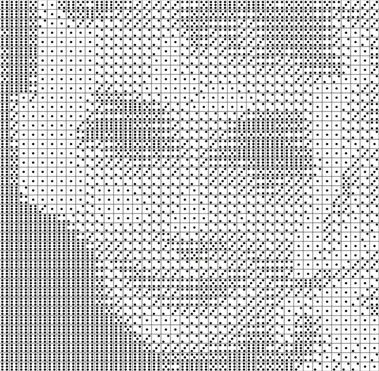 For the depth and shadows seen here, the dice sides with more pips, such as the fives and sixes, are used; for lighter areas, the sides with one or two pips. Sounds simple? Maybe in principle, but each portrait requires a huge amount of patience and dedication to create, not to mention hundreds of dice… which gets us thinking: Maybe donating to Cube Works, or to another artist who's similarly inspired, is the perfect way for casinos to get some reuse out of old dice.
"Here's looking at you, kid"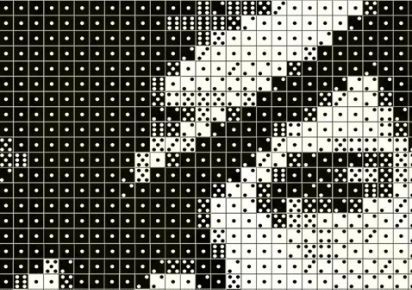 Humphrey Bogart influenced earlier American cinema in a way very few could hope to. In fact, he is widely regarded as being amongst the greatest male stars ever. After his breakthrough role in
Casablanca
(1942) at Ingrid Bergman's side, Bogart's roles changed from those that had him typecast as a gangster in movies like
Angels with Dirty Faces
(1938) to parts in which he tended to play a tough but lovable cynic. The dice portrait above is made of a mixture of black and white dice, thus accentuating Bogart's features and his trademark hat — surely one of moviemaking's most iconic images.
"Audrey" — 1,600 dice, 2 feet x 2 feet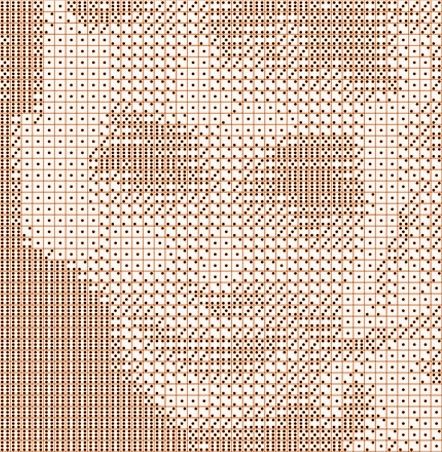 If you Google "Audrey," the very first result you are offered is Audrey Hepburn, glamorous actress and model of the '50s and '60s, and one of the most famous movie stars of all time. Who could forget her stellar performance as Holly Golightly in
Breakfast at Tiffany's
(1961)? Or as Eliza Doolittle in
My Fair Lady
(1964)? Her dice portraits above are striking in their simplicity but are otherwise distinguishable from the others we've seen only by a change in tint. The longer you look, the more details you will discover; it's amazing how well a six-sided dice can capture details and moods.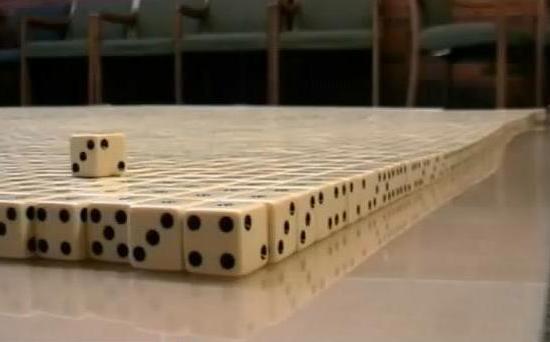 How do Cube Works bring these screen icons back to life? Using special software, each image of a star is turned into a pixelated version that can be replicated with dice. An added difficulty is the color scheme, which requires all the portraits to be created in two tones — usually black and white.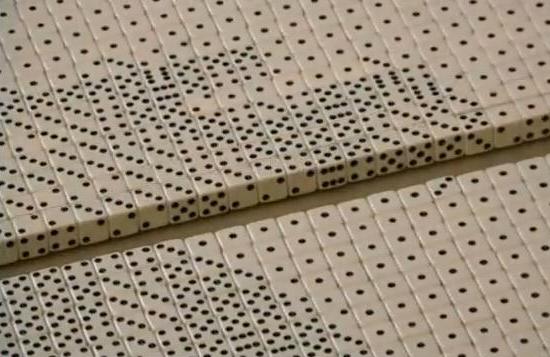 The portrait below is a tribute to Julie Christie in the 1965 movie
Darling
. Christie won the Academy Award for Best Actress, and the film (a story of "A beautiful but amoral model [who] sleeps her way to the top of the London fashion scene at the height of the Swinging Sixties") turned out to be a breakthrough role for her.
"Darling" — 1,600 dice, 2 feet x 2 feet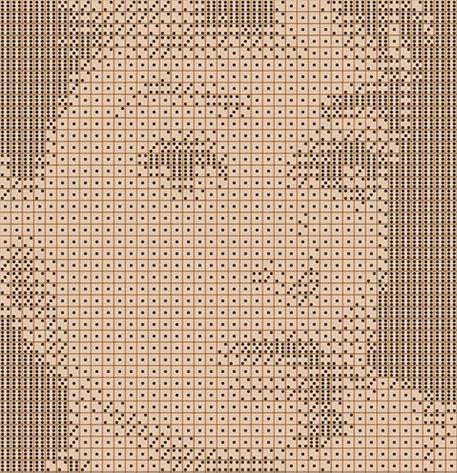 The dice portrait is stunning, capturing Christie in a pose characteristic of her role. Made of cream-colored dice with darker pips, the sixes and ones dominate the portrait, while the remaining dice provide the accents. A truly amazing piece.
"Eternal," with crystal accents — 1,600 dice, 2 feet x 2 feet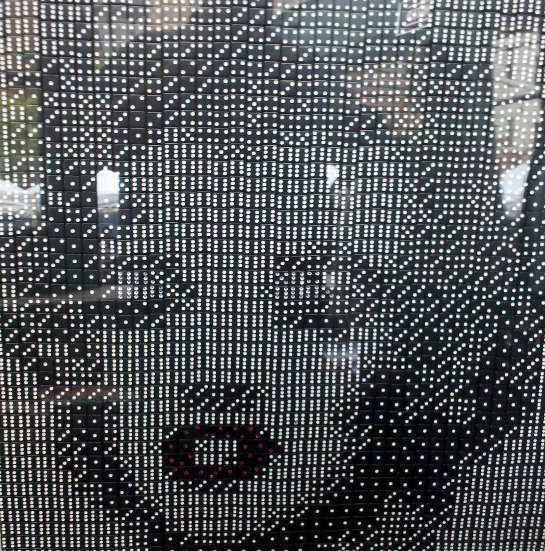 Marilyn Monroe is a movie star who needs no introduction. Who could forget such cinematic classics as
Gentlemen Prefer Blondes
(1953),
The Seven Year Itch
(1955) and
Some Like It Hot
(1959)? No wonder, then, that there have been at least three different dice portraits created in her honor by Cube Works. This one was made out of black dice with white pips. Notice how not only the density of the pips is used for shading, but also their direction: six- and four-dotted dice form straight lines, while twos and threes are used for slanted ones.
"Glamour," with crystal accent — 1,600 dice, 2 feet x 2 feet
Just as striking is this portrait made out of white dice with black pips, using the same technique. Isn't it amazing how few accents it takes to create an iconic portrait? If the images below seem a little crisper than the others, that's because they are considerably larger; the two mosaics, of the ultimate movie icons, James Dean and Marilyn Monroe, each stretch 8 feet by 5 feet and include 14,000 dice.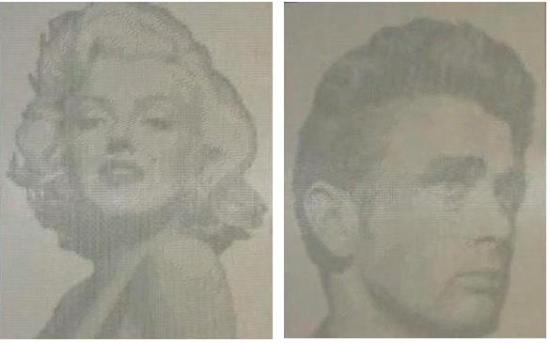 Image via YouTube
Want to see how a dice art portrait is made? Here's a time-lapse video that will put things into perspective. Make sure to watch until the end to see James Dean turn into Marilyn Monroe. Incredible! To see Cube Works' other art pieces made out of recycled and repurposed items like old
Rubik's Cubes
and spools, make sure to visit their
website
. You can also find more information about custom creations there. Until then, ladies and gentlemen,
faites vos jeux
!
Sources: 1, 2, 3, 4, 5, 6