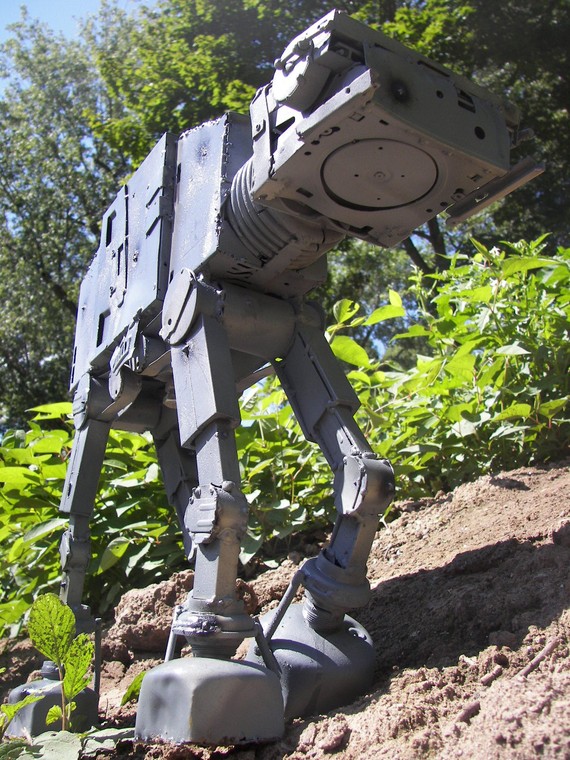 Image: Sage Werbock
The original
Star Wars
trilogy rules, period. The plot is awesome, the characters so memorable that they'll stay with you for the rest of your life and the effects still put most CGI wannabes in the shade. Yet, while the story carries along like you're sat in a Landspeeder, and the human element is undoubtedly entertaining, those movies were visual masterpieces first and foremost, and it was the many amazing vehicles that captured our imaginations as much as anything else.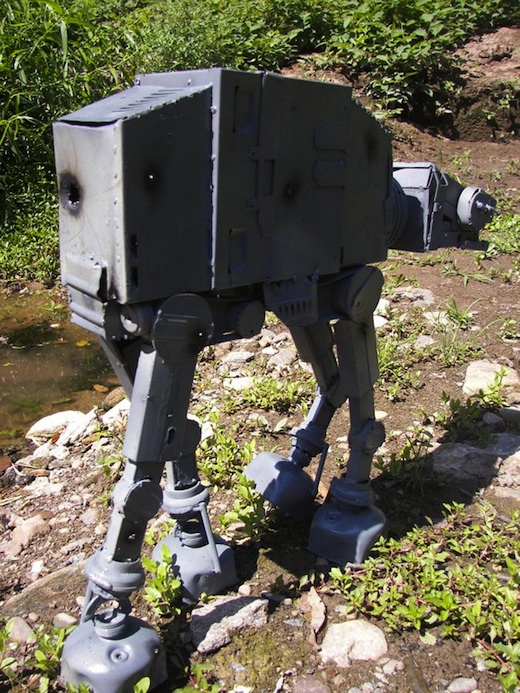 Image: Sage Werbock
What's more, if X-Wing starfighters, AT-ST Walkers, TIE Fighters and, of course, the inimitable Millennium Falcon had drifted from your mind like so much space junk, those of you who are inclined to get a bit crafty from time to time can now construct your own
Star Wars
vehicle of choice — taking inspiration from those that we've assembled today! Here are seven of the best DIY vehicles — all made from recycled and repurposed bits and pieces — to get your creative juices flowing!
7. X-Wing Fighter made entirely from office supplies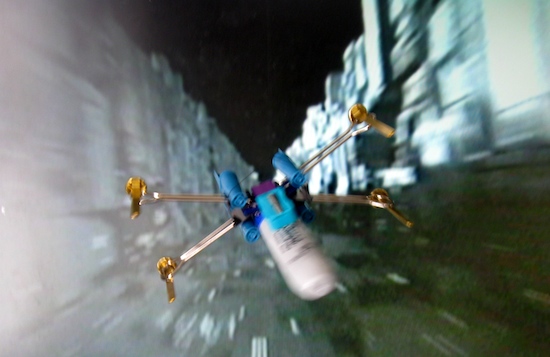 Image: Spookylean
Oftentimes, there are over-orders of office supplies in workplaces, meaning stationery items can spend months if not years gathering dust. If that's the case in your place of work, why not be inventive with all those surplus supplies? (We're sure Chewie and Han would be the first raiding the cabinet for fresh loot!) Instructables user Spookylean constructed this X-Wing fighter from everyday office equipment, like a Sharpie marker, a pencil sharpener and some pen caps.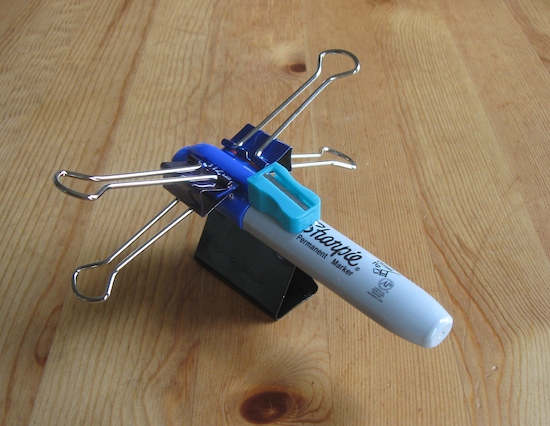 Image: Spookylean
What a brilliant way to reuse stationary that you no longer need and pens that have run out of ink! Following Spookylean's lead, simply attach some bulldog clips to a broken memory card lodged under a Sharpie cap, then glue on a pencil sharpener cockpit…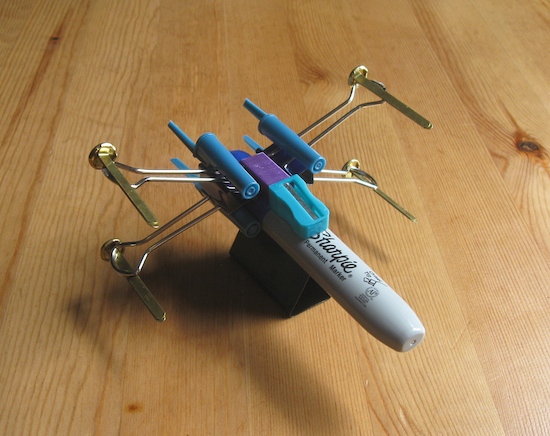 Image: Spookylean
Next, attach some pen cap thrusters, and finally, some brass fasteners as cannons. Now you're ready for battle! Stay on target!
6. Robotic AT-ST Walker made from circuit boards and more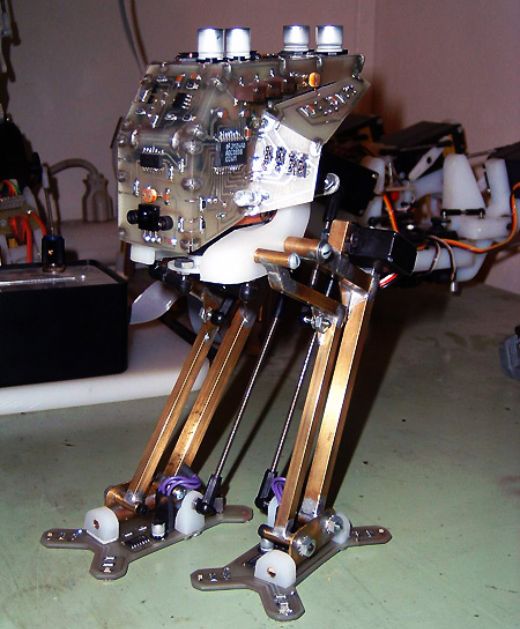 Image: Mike Smyth
Self-confessed
Star Wars
geek Mike Smyth built this AT-ST Walker using brass tubing for the legs and old circuit boards for the main body of the vehicle, plus a random assortment of other electronic parts. With a little technological know-how, a working
Star Wars
model can be made from bits and pieces that you no longer use and might even have lying around the house or garage. The most incredible feature of this robot, dubbed the Minimechadon, is that it can not only walk, but also actually learns to walk on its own! The movements are not programmed, but rather develop as the robot reacts to its surroundings. You can see a video of this awesome creation in motion, above.
5. DIY thrift store Millennium Falcon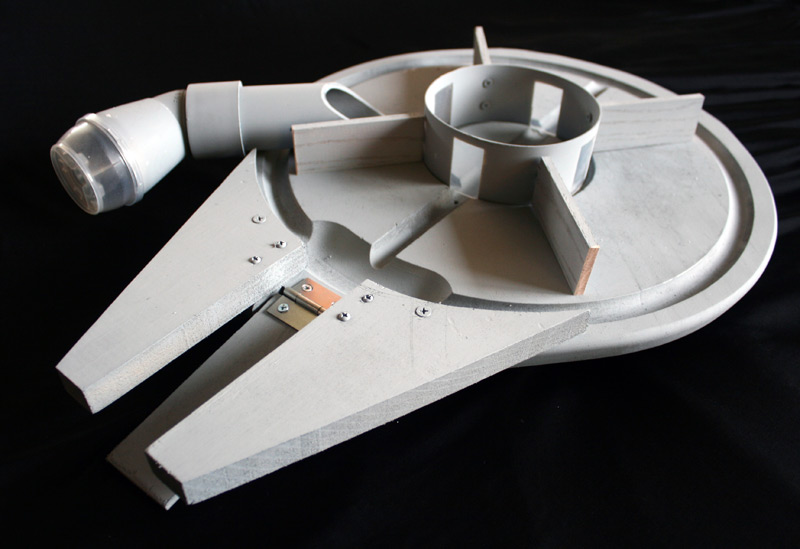 Image: Paulbo
This amazing Millennium Falcon replica was originally made for the birthday of one of creator Paulbo's children. After finding a wooden chopping board and a plastic lid at a local thrift store, he and his partner added some other elements sourced from a hardware store. A spare hinge was used for the cargo bay ramp, which is a simple yet effective solution for creating moving parts.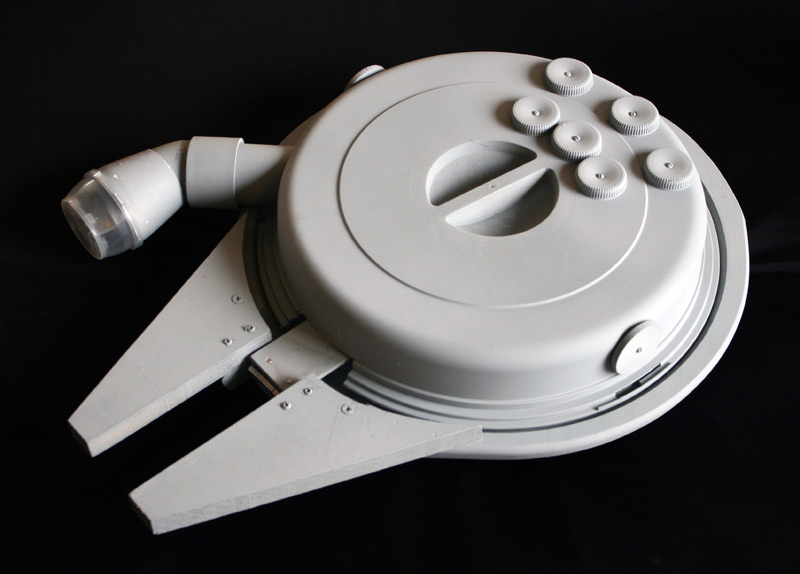 Image: Paulbo
In projects such as these, when using lots of different elements, painting them all the same color clearly adds some much-needed uniformity. The silver-gray tone gives this Millennium Falcon a real space-age tint, making it truly look like the fastest hunk of junk in the galaxy!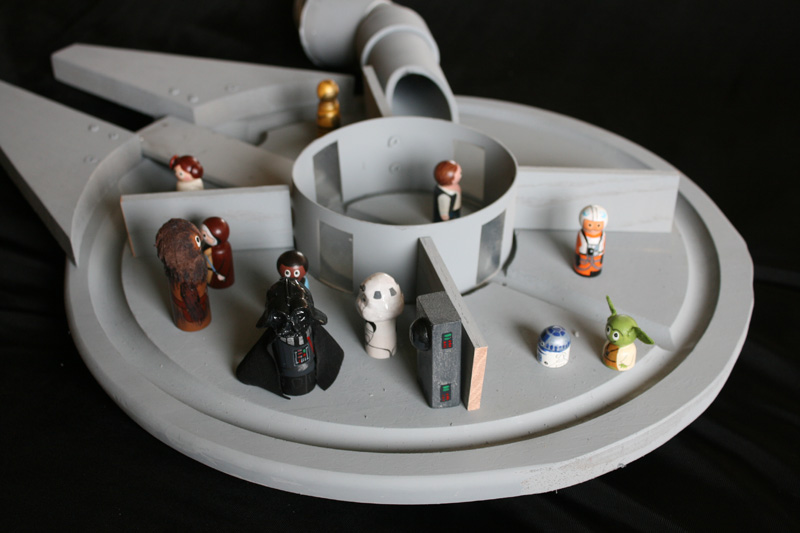 Image: Paulbo
As well as using recycled materials for the spaceship, why not also knock up some
Star Wars
characters using wooden pegs or other junk you might have to spare in order to populate your spaceship. Just be careful, though; you don't want The Empire to discover you're smuggling known Rebels!
4. 3-Foot-Long, 10,000-Piece Lego Sandcrawler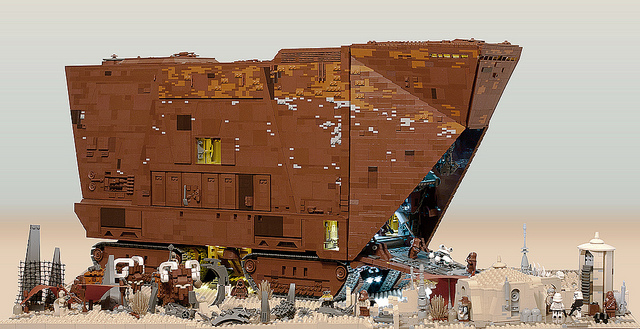 Image: Marshal Banana
Ever found you've had a ton of old Lego bricks that are no longer being used? This Sandcrawler is made from more than 10,000 pieces and measures over 3 feet long. Most impressive! This is clearly a project for those whose children have outgrown making little houses and such with Legos and need something challenging to occupy their time! We're all big kids at heart, after all!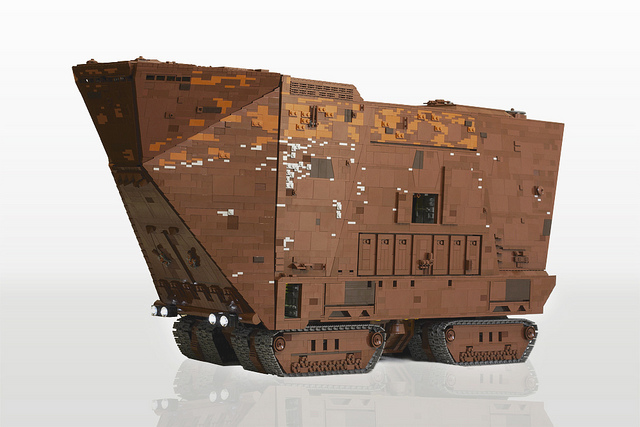 Image: Marshal Banana
The inside of Marshal Banana's Sandcrawler is, if it's possible, even more impressive than the exterior. By reusing the classic old building brick toys, perhaps you too could create a working model. Banana's certainly has a level of detail to make any self-respecting
Star Wars
fan envious, and what's more, it's fully motorized! But then, he did spend nine months building this beast!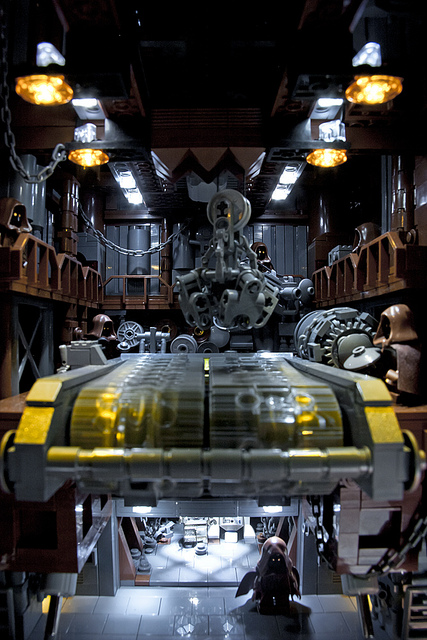 Image: Marshal Banana
The sheer scale of the model means you can really imagine it slowly crawling across the surface of Tatooine! And, lest we forget, the Jawas, who used Sandcrawlers as their mobile homes, were of course the ultimate recyclers!
3. Red Leader paper tube X-Wing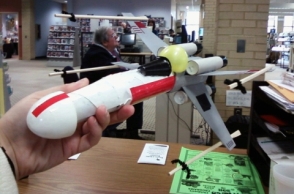 Image: Jawajames
This crafty Red Leader X-Wing was constructed from the most basic of materials, including a paper towel tube, toilet paper tube, chopsticks, a plastic Easter egg, a pipe cleaner, paper scraps and empty glue-stick tubes. Making something similar offers an opportunity to creatively recycle objects that would be normally thrown out, and is also an activity you could safely undertake with children! Incidentally, this X-Wing, and its maker, Michelle Brzozowski, won a
Star Wars
crafts contest, set up by photographer Jawajames, more detail on which can be found
here
.
2. Starbucks cups TIE Fighter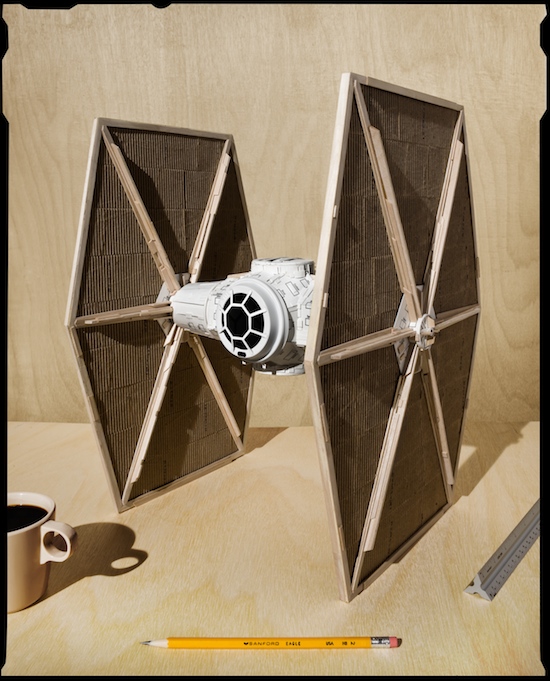 Image: Dan Winters
Perhaps it's not surprising to see huge global corporations leading the fight against the Rebels! This TIE Fighter was constructed from Starbucks' waste, including one tall lid, 10 coffee boxes, 12 small paper cups, 37 large paper cups, 63 paper drink carriers and 216 wooden stirrers! What a brilliant way to while away the time whilst waiting for your next cup of coffee! This recycling win is the work of
Wired
photographer Dan Winters.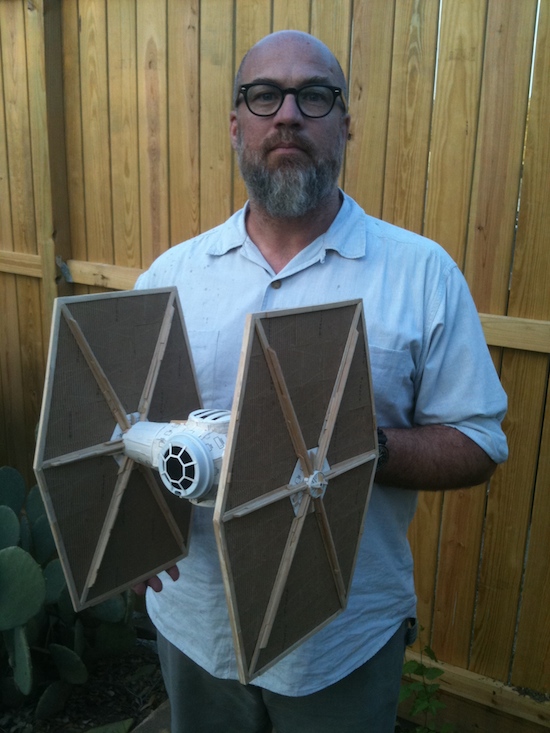 Image: Dan Winters
Winters was inspired to make the TIE Fighter when he saw the ribbing on the side of the cups, and realized it looked like solar panels, which, according to
Star Wars
literature, power the TIE Fighters. This model not only requires a huge amount of patience, but also a huge love of Starbucks products; it's probably best you get a loyalty card if you are planning on replicating this one!
1. Imperial Walker (AT-AT) made from recycled computer parts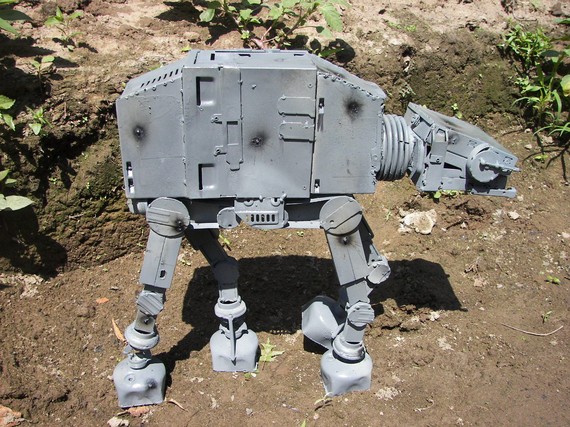 Image: Sage Werbock
This brilliant 18-inch-tall Imperial AT-AT Walker is constructed from the recycled debris of old computers. The torso is made from old power supply boxes, which of course are not difficult to come by — who doesn't have a laptop these days?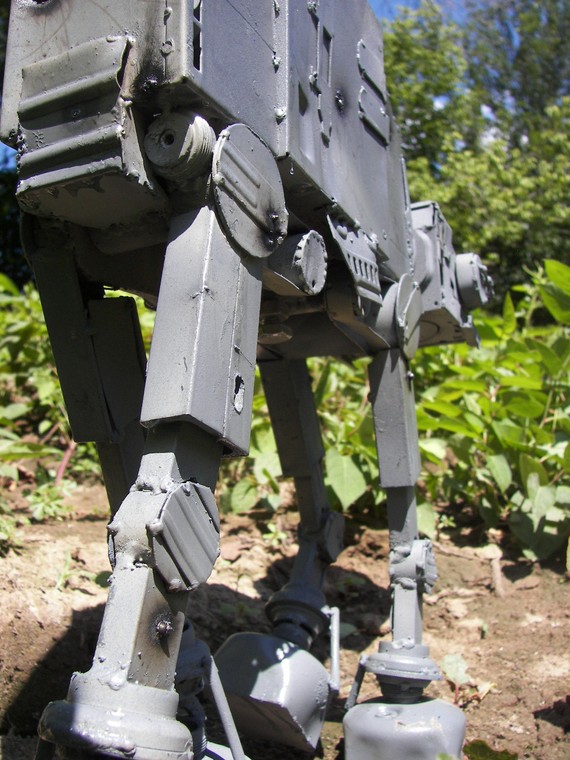 Image: Sage Werbock
The legs and feet were constructed from various pieces of scrap metal. By reusing scraps such as common circular components found in old pipes, bits of electrical appliances and old toy parts, you too could create a fun and visually striking model.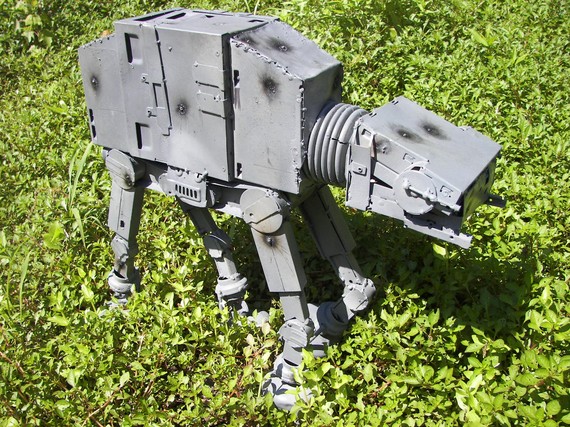 Image: Sage Werbock
Remember floppy discs? Still use them? Thought not, which is great because they made for a brilliant head for this Imperial Walker. Unlike the AT-ATs that attacked the Rebels on the planet Hoth, this model doesn't actually move, but that doesn't mean it can't instill fear into its enemies. You'd better watch out! Or get into your Snowspeeder and prepare to fight back!