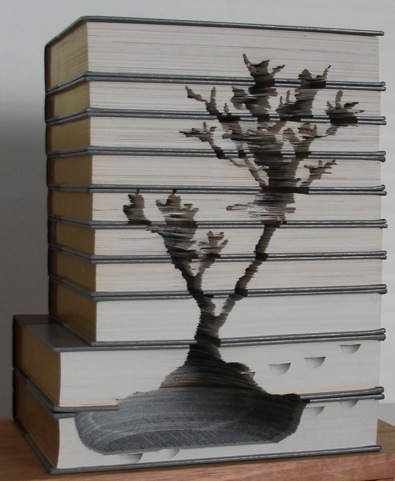 "Barberry," 2007, book carving All images courtesy of Kylie Stillman and used with permission.
For more than a decade, Australian artist Kylie Stillman has perfected carving beautiful artworks into discarded books. For her, big, leather-bound tomes are not frightening prospects, but rather blank canvases for her intricate art. She carves hollow spaces into each and fills them with meaning; a pine tree, an oak or a maple tree slowly appear where previously there was only dusty paper.
"Common Oak," 2007, book carving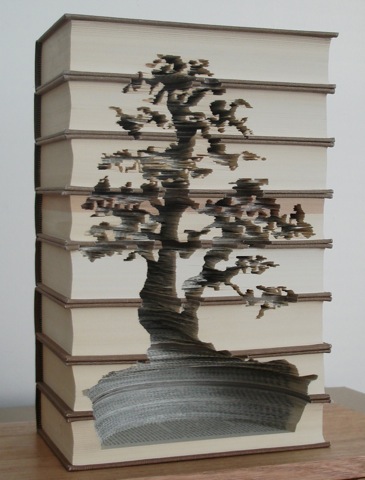 As the artist says: "I like to work with books because they have their own stories and history that they bring to the art. I carve into the pages and the covers of the books create a frame for the pictures."
"Trident Maple," 2005, book carving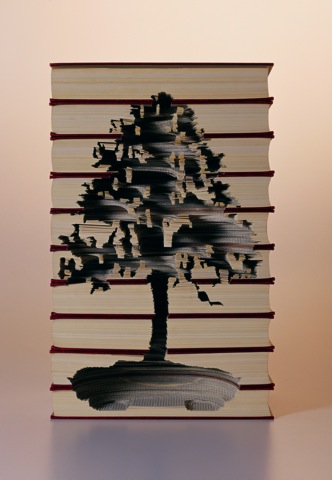 Photography: Maikka Trupp
One of the bonsai trees Stillman has created is among her favorites. It stretches across the pages of volumes of the Encyclopaedia Britannica from 1964 to 1974. The carving process is a bit like playing God (and there is a strong cyclical quality to what Stillman does that echoes the natural cycle) because she creates trees out of the dead
pulp
that of course once made up living, breathing trees.
"Cascading Pine," 2005, book carving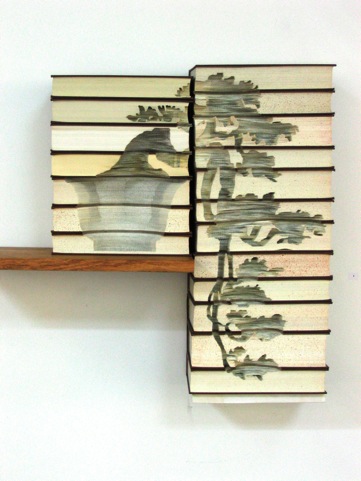 Stillman explains: "The aspect I enjoy when working with the bonsai carvings is the moment you feel you are reversing the process in which bonsais are made. The delicate art of trimming away at a bonsai plant is taking from the tree, but with every cut I make I am adding."
"Semiformal," 2004, book carving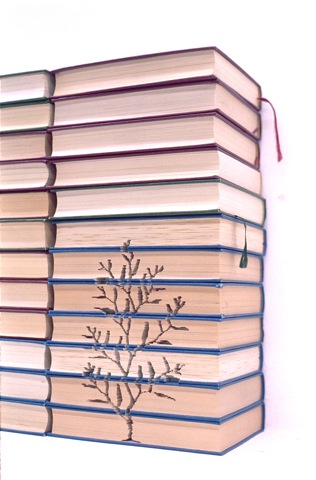 Stillman does not agree with the practice of using an artificial blank canvas, when reclaimed objects with their own history create an interesting bridge between the old and the new. Thus, she sources all books from secondhand shops or friends. She says, "My materials are sourced from a variety of thrift shops and art-loving lawyers, who are my greatest source of outdated volumes and digests."
"Semiformal," 2004, book carving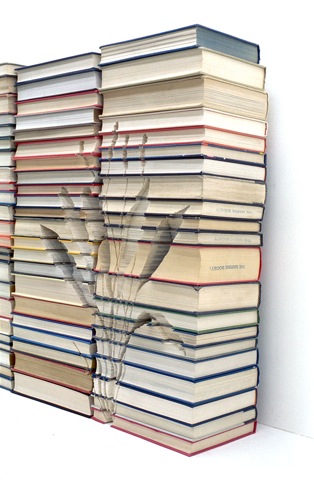 Rather than just allowing the books to grow dusty on shelves or be thrown away, Stillman sees an opportunity. Where many simply view old books as a burden on the environment, Stillman sees fertile ground for the seeds of her own creativity. Her method involves stacking the books and, using only a scalpel, carving away at the written words. She thus transcends the author's boundaries of plot and character to create her own stories, while inviting those who view her artworks to do the same.
"Pine, Eleven Years Old," 2004, book carving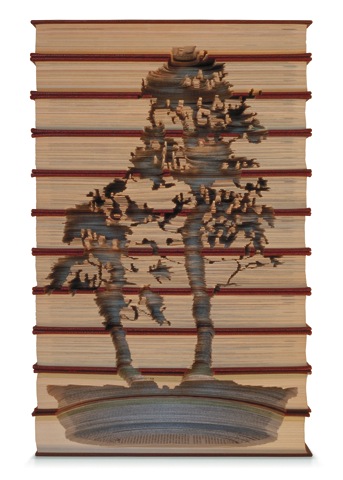 The artist has to slice away carefully at each page of printed matter, and in so doing creates new life, artistically speaking. What's more, given what the books once were, it's a way of working that resonates strongly from the point of view of recycling. It's a time-consuming labor of love, taking a month or more per artwork, but it's worth it, says Stillman. "It is a long process, but I really enjoy it and [it] gives me a time to think and collect my thoughts."
"Semiformal," 2004, book carving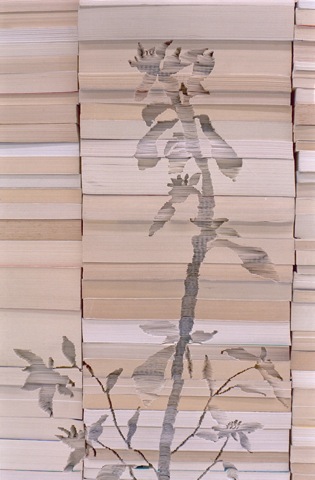 And, as Stillman organizes her creative ideas, she's no doubt thinking about the next project — the next mind-boggling tree, bird or other natural entity miraculously carved out of these discarded cultural objects.
"Lilies in Vessel," 2011, paper carving: ivory A4 45 x 29.7 x 20.99 cm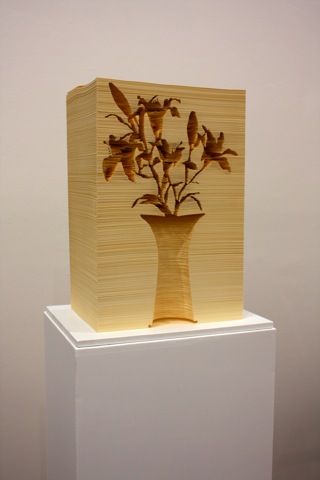 In a departure from working with books alone, Stillman's later works have used reams of paper or stacks of old posters as their medium, thus giving the artworks an additional touch of color.
"Blue Iris in Vessel," 2011, paper carving: blue A4 42 x 29.7 x 20.99 cm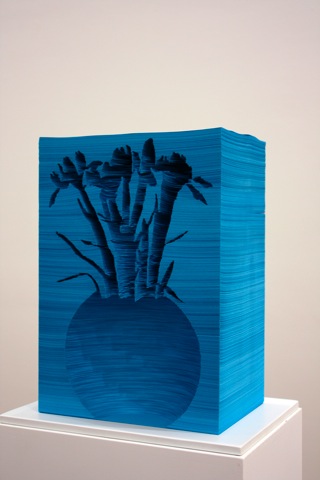 "Crucifix Orchid in Vessel," 2011, paper carving: mint A4 42 x 29.7 x 20.99 cm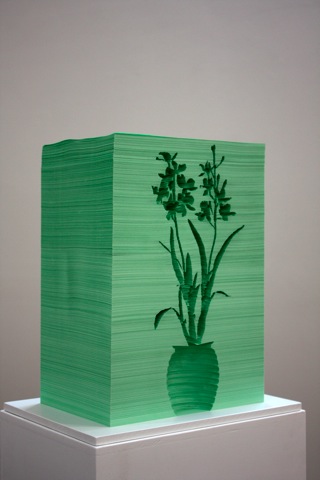 Even Venetian blinds have not remained safe from the artist, who meticulously drilled holes into one set until they reflected the image of a tree, lit up beautifully with light streaming through from behind.
"Park Views," 2003, hand-laced Venetian blinds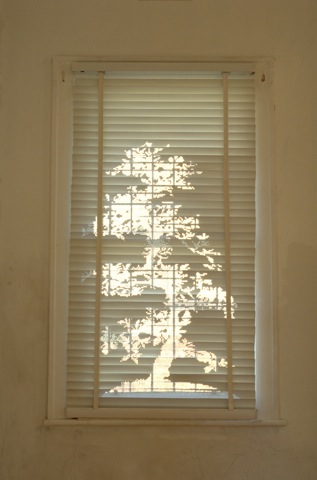 The Melbourne-based artist graduated from the Royal Melbourne Institute of Technology with a B.A. in Fine Art in 1998 and an honors in the same subject (and from the same university) in 1999.
Looking stunning on a book shelf — Kylie Stillman's selected works
Stillman has exhibited her works extensively in Australia since 2003, and has just completed a solo exhibition, "Vessel, New Works by Kylie Stillman," which was held in Sydney and ran through June 2011. She is represented by Utopia Art Sydney. Her
website
shows more of her amazing art — further book and paper carvings, large-scale wood carvings and work on recycled bottles can all be seen there!
Sources: 1, 2, 3, 4, 5