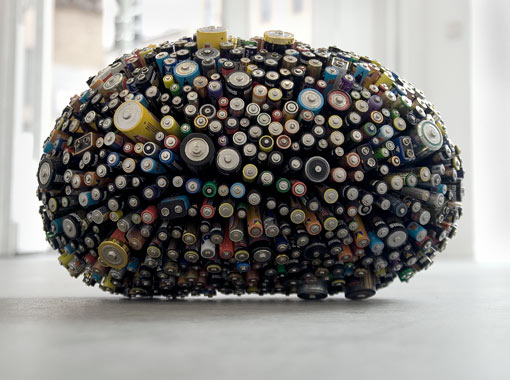 "Dead Star," 2008 (batteries, urethane, polystyrene) All images: Michel de Broin, used with permission of the artist
Michel de Broin's artistic output is one of reappropriation. He works toward the visualization of concepts, often drawing attention to ecological concerns, and, in reusing objects outside of their original contexts, he draws attention to particular and interesting aspects of their functionality, and indeed recyclability. His 2008 piece, "Dead Star," is an almost amoeba-like mass composed of batteries that are on the cusp of running out of energy. The batteries are therefore — in view of their usual purpose — defunct. Just as a dying star burns out, the sculpture will continue to lose energy until it is, for all intents and purposes, dead.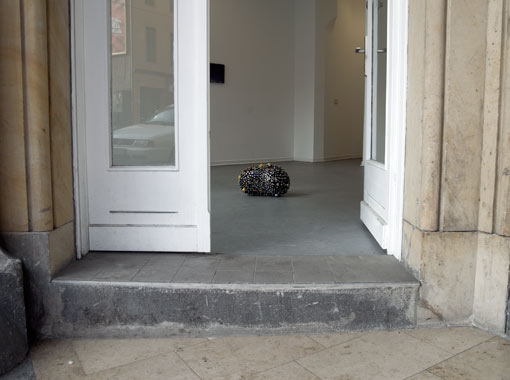 "Dead Star" (2008)
Batteries are chosen here specifically to highlight their recyclability. When left in landfill, batteries can
begin to leak chemicals
into the soil and water supply — although, in recent years, there has of course been a huge push to recycle them. Many supermarkets and high street stores offer facilities for battery recycling. By artistically reusing batteries to create this piece, de Broin highlights not only the option, but also the imperative to recycle.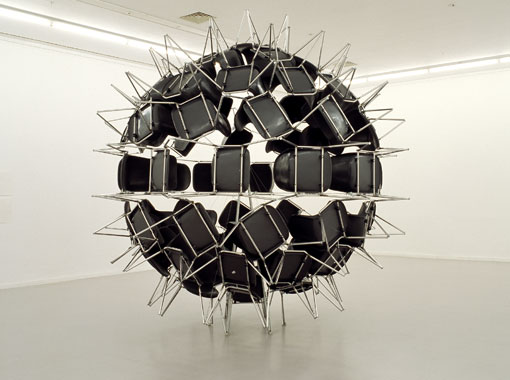 "Black Whole Conference," 2006 (72 chairs, 400 cm in diameter)
In "Black Whole Conference," 72 black chairs are spherically adjoined. Again, the reuse of an object outside of its typical context goes some way toward transforming its meaning. These chairs remain recognizable as chairs; however, in this arrangement, they are functionless as chairs. What's more, as they lose their typical functionality, they do not appear to gain a new one. In fact, what is substituted for function is association. These chairs might lead us to to assume that they are defending themselves, or indeed the space that occupies the center of the sphere, due to the way they have been positioned with their legs pointing out. This leads to a contradiction, as the audience senses that the chairs are acting protectively even though, at same time, we know that the artist has arranged them in this way, and the chairs themselves remain inanimate.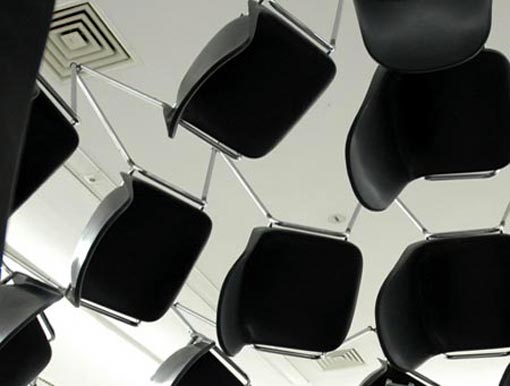 "Black Whole Conference" (2006)
The absurdity of this situation (imagine an actual conference taking place with the chairs arranged like this!) goes some way to highlighting what a chair both can and cannot do. You cannot sit on a chair that is attached the 71 other chairs in a sphere (at least not without somehow defying the laws of gravity!). However, these chairs allude to structural forms. There are clear links here to domes and spherical architecture, which allow for the largest possible volume with the smallest possible surface area. Perhaps, in this light, the chairs suggest an (absurd) solution to overcrowding and the rising price of physical, as opposed to virtual, spaces. A conference like this could never work, but through the repurposing of one of the physical manifestations of a traditional conference (in this case chairs), it highlights the fact that new space-saving solutions can be theorized.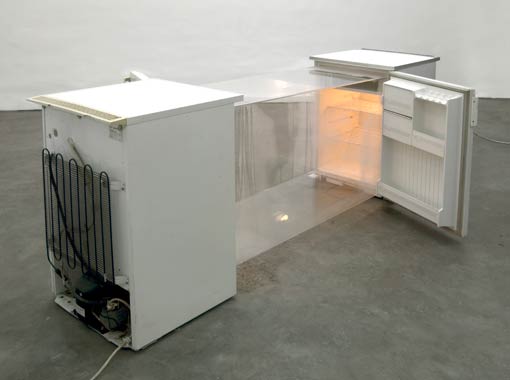 "Great Encounter," 2008 (two refrigerators, plexiglass shape)
In a similar vein to "Dead Star," "Great Encounter" takes items whose recyclability is prominent. Two refrigerators are arranged facing each other with their doors open. In the home, the opening of the fridge door reduces its effectiveness, as the cold escapes and the contents of the fridge can go off and become inedible. The cool food-storage areas of these two fridges are connected via a plexiglass tunnel, letting the cold from the two fridges meet and form a mist.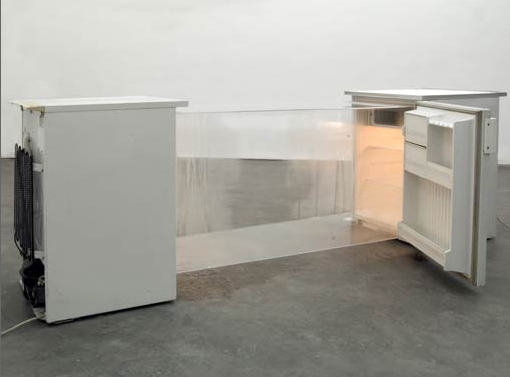 "Great Encounter" (2008)
This esthetic representation of the energy produced by the refrigerators can also be seen as a physical representation of the ozone-harming pollution associated with fridges. Rather than offering us the image of unsightly fridge mountains that a dump might, de Broin recontextualizes both the fridge as a concept and its energy as artist output — and not as pollution.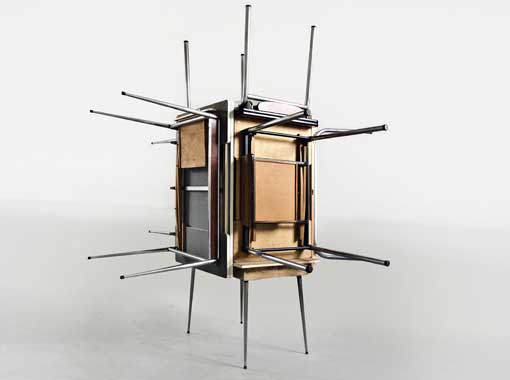 "Shelter," 2009 (six tables, fixation system, 240 x 270 x 270 cm)
"Shelter" is created in a similar way to "Black Whole Conference," but this time, instead of chairs, tables are arranged to create a freestanding sculpture. The relationship between design and art is highlighted in pieces such as these, where a functional item, designed to be practical and ergonomic, is reused so as to form an art object, the purpose of which is to convey ideas. Instead of people sitting round the tables, we see the tables sat in the gallery, surrounded not by workers and diners, but by viewers. As well as the recycling of objects, de Broin is also interested in the recycling of the component parts of objects to create new fuels and energies.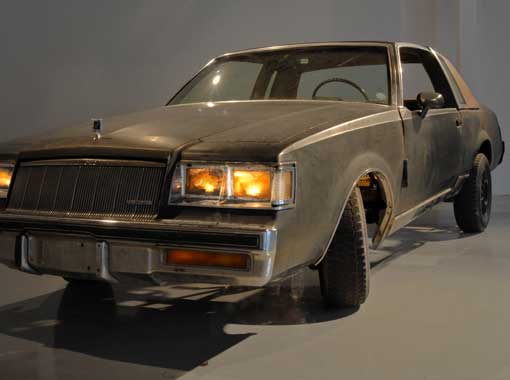 "Shared Propulsion Car," 2005 (car body, pedals and gears)
In "Shared Propulsion Car" a 1986 Buick Regal is fitted out with manual pedals at each of the passengers' feet to replace the traditional motor parts found within motorized vehicles. The pedals require four passengers to operate the car at any one time, in a sense enforcing car sharing.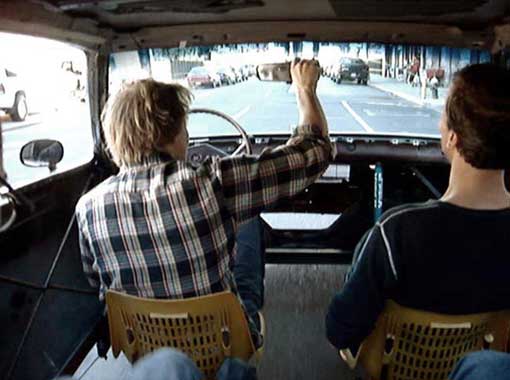 "Shared Propulsion Car" (2005)
When driven, the car requires no fossil fuel consumption, although it can only travel at 15 km/hour. The tradeoff between the eco-friendly and the practical here seems to relate to the pace at which we live. This car has the appearance of the monstrous gas-guzzling cars still typical of America, but is in fact environmentally friendly. Much as in "Black Whole Conference," this solution is not practical, but portrayed visually it does suggest ways in which we can think about reusing and recycling (vehicles) to reduce pollution. Continuing with the idea of highlighting the human race's consumptive appetites, de Broin fitted a generator, a smoke machine and an exhaust pipe to a vintage bicycle in "Keep On Smoking."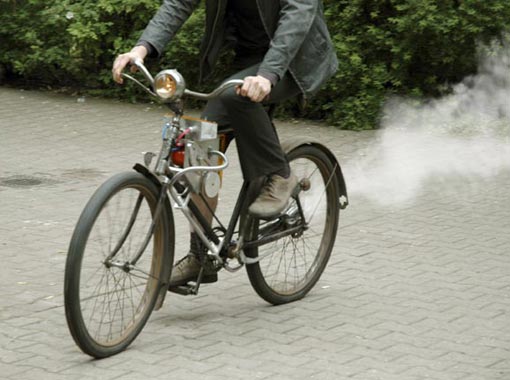 "Keep on Smoking," 2006 (bicycle, pedal power generator, smoke device)
A bicycle, usually seen as one of the most environmentally friendly ways of getting around, is here transformed into a device that splits the rider's kinetic energy two ways. First, the pedaling pushes the bike forward, allowing you to move. Second, it powers the generator, which in turns powers the smoke machine, producing apparently waste smoke (which resembles the exhaust of a motorized vehicle).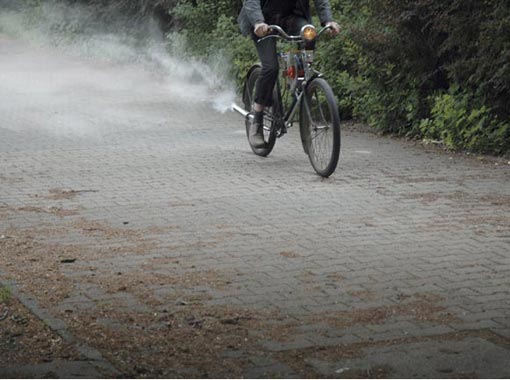 "Keep on Smoking" (2006)
With both "Keep on Smoking" and "Shared Propulsion Car," de Broin creates solutions to the world's over-dependence on petrol and oil, which as concepts have merit but as objects are absurd.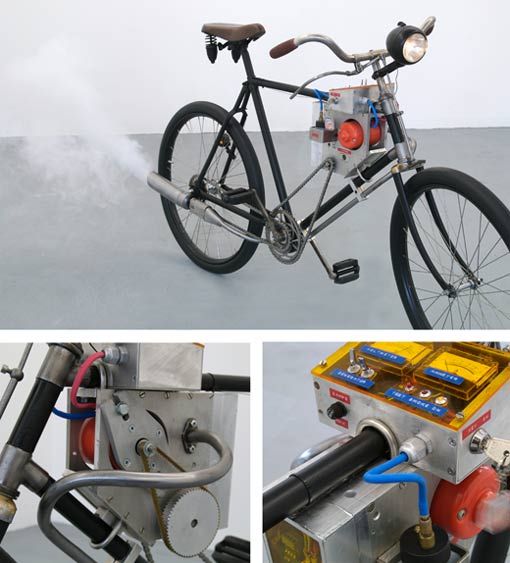 In this case, the mixture of mechanical components attached to a bicycle transforms its appearance. We know that bicycles are environmentally friendly, but we are then suspicious of one that produces smoke. By taking everyday objects and combining them with other visual stimuli we associate with pollutants (such as smoke), de Broin highlights the invisibility of the pollution around us, and the need to tackle it. Through the often absurd recycling and repurposing of everyday objects, de Broin subtly urges us to rethink our relationship with the environment in which we live. An artist for more than 10 years, de Broin has been widely exhibited around the world and won the Sobey Art Award 2007. Check out
the artist's website
to see more of his fascinating work.