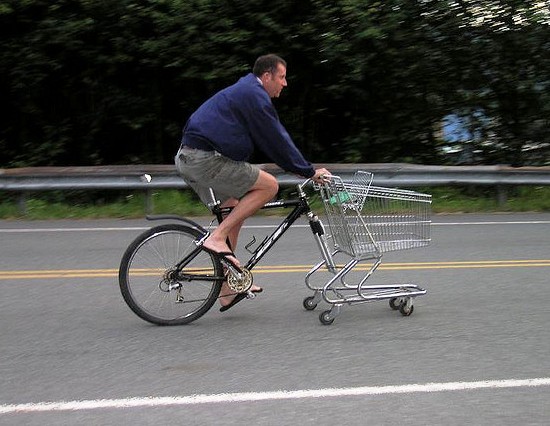 Image: Ryan McFarland
The bicycle, in itself probably one of the greenest means of transportation, never ceases to amaze. As the following examples show, it can be "hacked" and combined with the most unlikely vehicles, objects and machines to create über-cool recycled hybrids.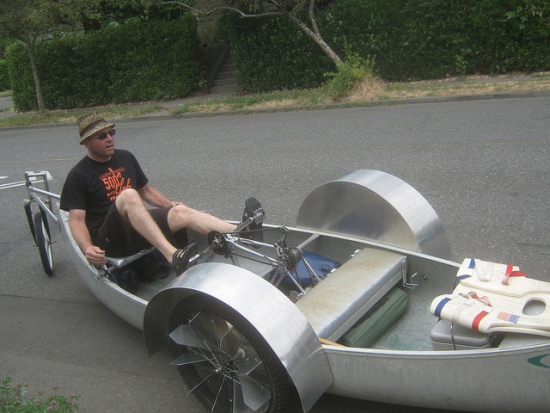 Image: Megulon Five
There are a great many bicycle mutations out there, but to make our list, part of the new "bike" had to have been repurposed and must have originally been, or come from, something totally different. Get ready for some fun surprises!
10. Surf bike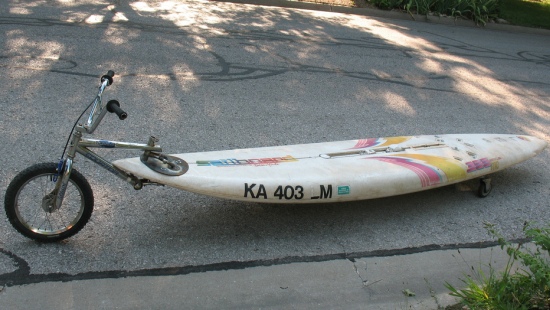 Image: Eric Farnsworth, used with permission
Though a surf bike might be something that we landlubbers don't come across too often, Eric Farnsworth, creator of this one, and owner of Farnsworth Bicycle Laboratory, says there are places where they are a dime a dozen. As he told us: "You might be interested to know that I have been calling Lawrence, KS, the 'Surf Bike Capitol of the World.' Or galaxy, or whatever other large place comes to mind."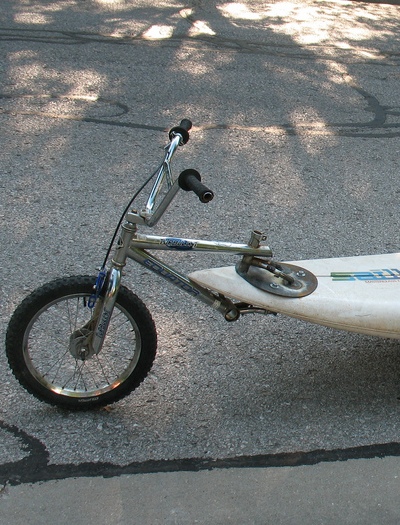 Image: Eric Farnsworth, used with permission
And why? "This is based on the number of surf bikes per capita here," Farnsworth says. "However, I will happily cede the title to anyone who can demonstrate that their constituency contains more. Until I make a few more surf bikes to reclaim the title." OK, the challenge is on! But they have to be as cool as the surf scooter pictured here. It has a 16" BMX front and shopping cart rear wheels — as well as that sleek surfboard, of course. How's that for repurposing?
9. Bulldozer bike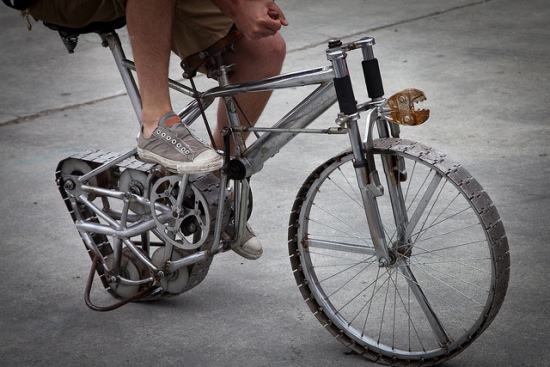 Image: Bikejuju.com
Here's a bicycle that looks like it had a run-in with a bulldozer. And that wasn't a bad thing. As bike and bulldozer crashed, the bike's front wheel profile changed somewhat, while the rear wheel morphed into a set of continuous tracks. An intricate mechanism of smaller wheels, gears and the old pedals allow this bike to move. In all seriousness, we're not sure where the parts came from to make this cool contraption, but it definitely looks like salvaging of some sort has gone into its inception. Plus, it looks just awesome! However…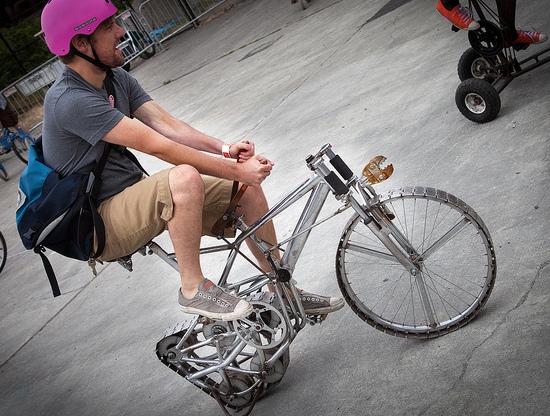 Image: Bikejuju.com
Make sure to wear a helmet: The handlebar has been replaced by two simple levers that allow you to steer this elaborate contraption, though you may find yourself clinging on for dear life! If this sounds fun, head for the traveling bike festival that is the Tour de Fat — it may be stopping at a town near you — where you might find one to try out.
8. Formula 1 trike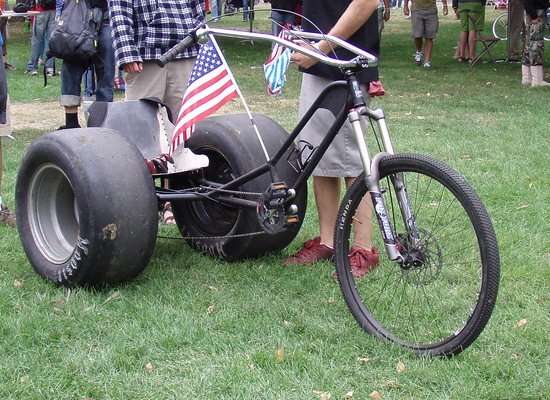 Image: Emerson12
With its bicycle chassis and awesome old race car back tires, this beast of a trike was clearly made out of at least two forsaken vehicles — probably three. The long handlebars of this low-rider are particularly impressive, as is the saddle — or rather, seat — which looks like it's been reclaimed. This trike might be carrying a bit of weight, but with those kinds of tires, no terrain should be too rough! Mad Max would have dug it. Wouldn't you?
7. Treadmill bike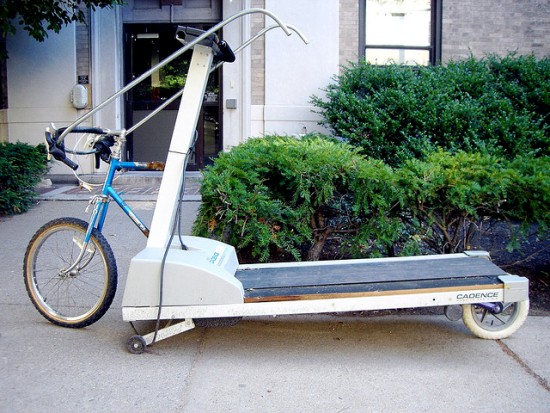 Image: Frank Hebbert
For fitness freaks who can never do enough, this bike hack is just perfect. It's half bicycle, half treadmill, so those who'd rather jog than pedal — while clocking up some real miles — will be more than pleased. It was spotted on the MIT campus a few years ago by photographer Frank Hebbert, who reckoned it might work because there was contact between the conveyor belt and the rear wheel. And you thought all old treadmills went to treadmill heaven? Cool reclamation!
6. Lawnmower bike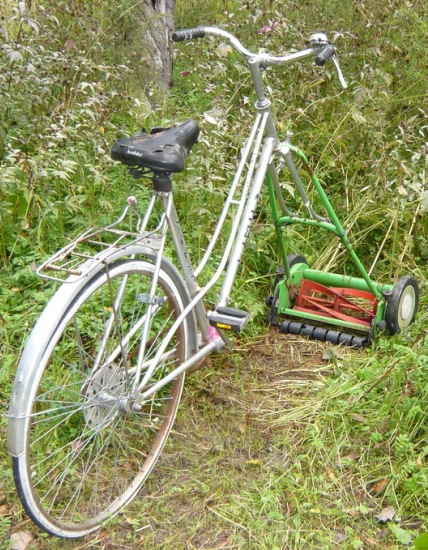 Image: Aah-Yeah
This invention might give motorized ride-on mowers a run for their money. Not only does it utilize an old manual cylinder mower and a discarded bicycle — right on (ride on?) on the recycling front! — it also makes sure you get some cycling exercise while mowing your lawn. And from what we can see, it doesn't require much work to hack this bike into shape. Just remove the front wheel and replace it with the hand mower. Simple yet oh so ingenious!
5. Broomstick bike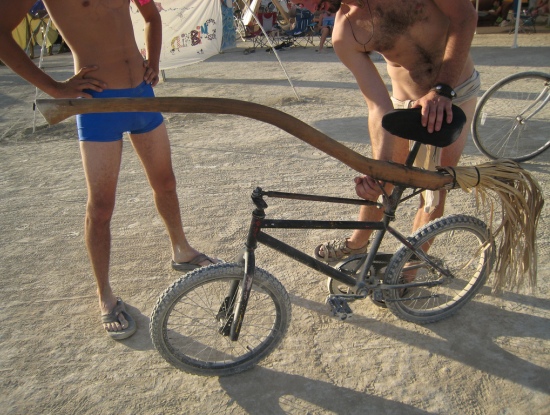 Image: Christian Aeschliman/Redteam, used with permission
Yes, we know, in the age of Harry Potter obsessions it was just a question of time before we saw the first broomstick bike mods — like this "Nimbus 2000," seen at
Burning Man
back in 2007. Still, Hogwarts notwithstanding, what convinced us to start searching for a matching piece of old wood for our own broomstick bike was that you actually get something of a "flying" feeling on this bike, because you're actually steering it with the broomstick.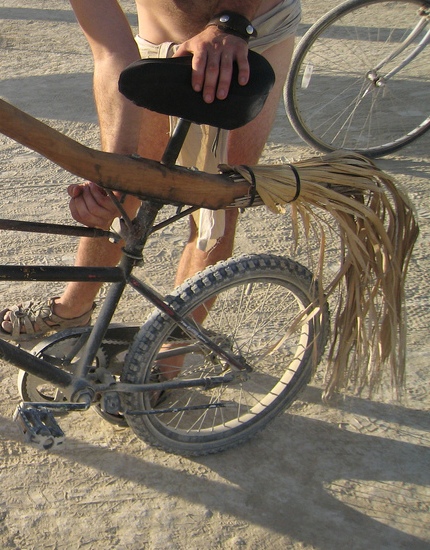 Image: Christian Aeschliman/Redteam, used with permission
One Flickr user described his experience of riding this contraption: "The ride was a great floating/flying feel because you watch the broom steer further than the bike in both directions." And, according to another report, "You steer with the broom that is mounted to that bracket that pivots around the seat post. The bracket is linked through a push rod to the steering stem by that little steel side bar." Looks simple, but there's actually so much more to this "bike." Cool stuff.
4. Wheel de wheel bike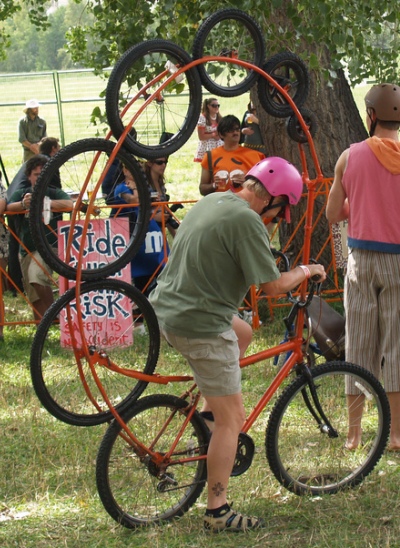 Image: Charles Willgren
"Eight wheels are better than two" is what the creator of this bicycle must've thought. One mountain bike forms the base, and of course there's another frame holding the wheels of everything from hybrid to children's bikes. Cool idea!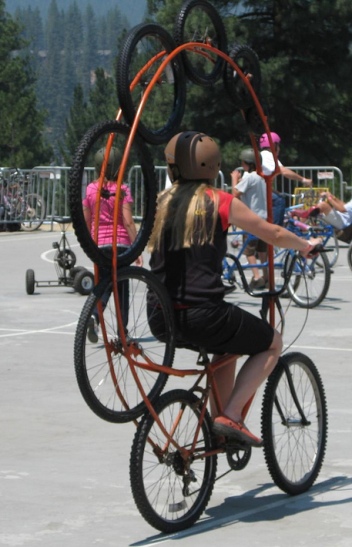 Image: Jeff Moser/BikeCarson.com
From behind it looks quite comfortable to ride. We're wondering how much extra weight that contraption adds, but it sure gets points for aesthetics and surprise factor. Check out the way the wheels are arranged according to size, starting with the rear wheel, which is the biggest.
3. Cart bike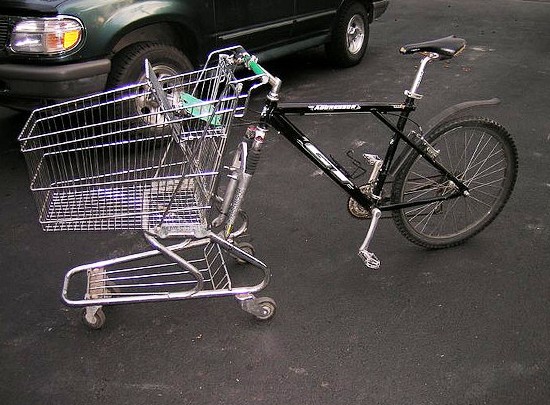 Image: Ryan McFarland
Ryan McFarland
's helpful
Instructable
has more details on how to make this bike mod. The basics are, of course, an old bicycle and an abandoned (not stolen!) shopping cart. First, remove the bike's handlebars, front wheel and front brake as well as the shopping cart's handle; then, install the brakes and stabilize the fork on the cart's frame, and you're done! (It's not quite as simple as that sounds, but you get the idea!)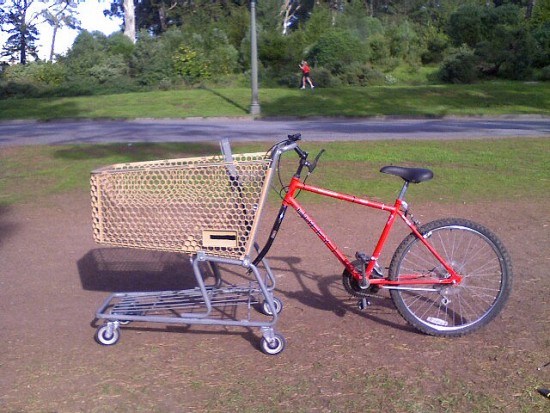 Image: Ryan McFarland
Now for the test ride. Take into account the fact that the shopping cart, as a "front wheel," will cause the bike to take really wide turns when rounding corners. But, on the plus side, you'll have lots of storage space when you cycle back from that shopping trip. As McFarland says, "It is quite the head turner, but not a good corner turner. This is a nice way to save a shopping cart and a bike that might otherwise end up in a landfill." We couldn't agree more!
2. Shoe bike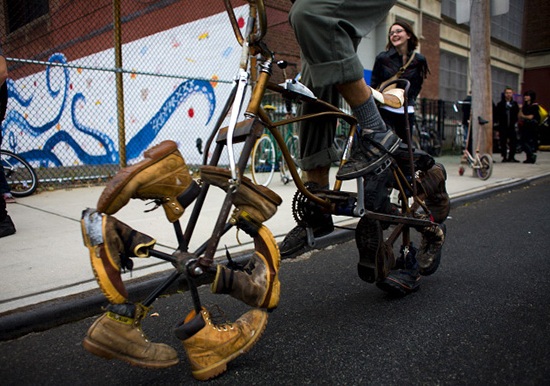 Image: Bryan Derballa, used with permission
Journalist Bryan Derballa spotted this inventive shoe bike at Bike Kill 2008 in New York City. Though not the fastest bike around, it sure is one of the most creative. What's more, it takes care of the problem of what to do with all your old work boots. OK, so maybe yours and your buddies' — as you'll need six pairs for the two wheels!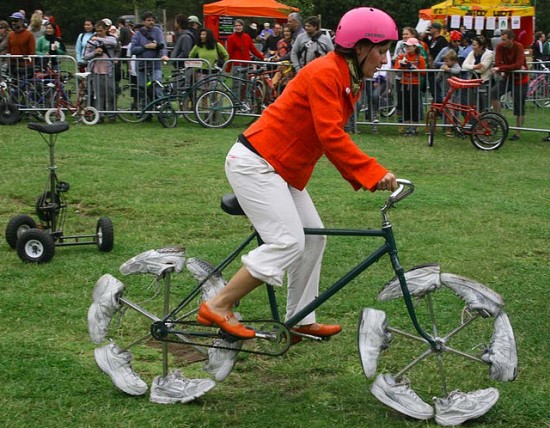 Image: Swift Benjamin
If it's old sneakers you have a surplus of, no problem. The shoe bike isn't picky and can be recreated with almost any kind of footwear, apart from heels, maybe. One possible advantage of the shoe bike is the grip it might give you on rough and more uneven terrain like grass and sand. We're ready to try it; in fact, we're off to rummage through our shoe collection right now! Just think of the good work Imelda Marcos could have done…
1. Boat bike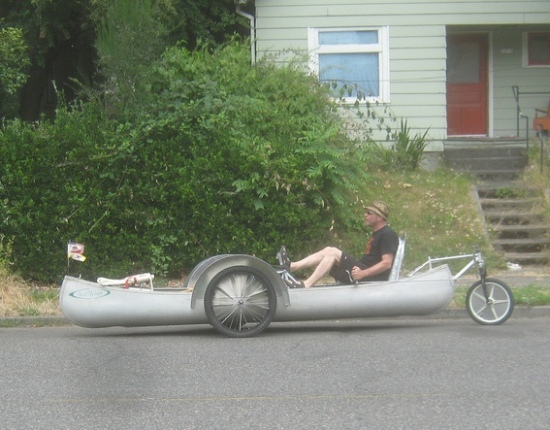 Image: Megulon Five
This awesome "aquachopper," called the "Sea Nymph," is sure to cause anyone spotting it to rub their eyes in disbelief. Pedaled like any regular bicycle, the bike-boat combo looks like a boat gliding along the asphalt when it's in action. Strange, to say the least.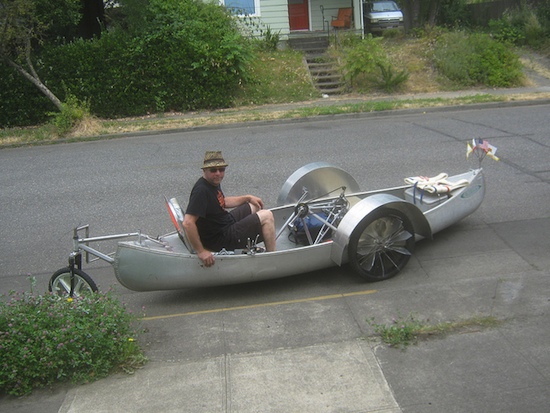 Image: Megulon Five
It's an awesome utilization of an old boat, not to mention an old bike, which has been almost completely dissected. A look at the life vest inside and those wheels with paddles is enough to suggest that this bike mod actually takes to the water, too! Thus, pedaling can also be paddling! Seriously, hybrid vehicles don't come much cooler.
Bonus: Chair bike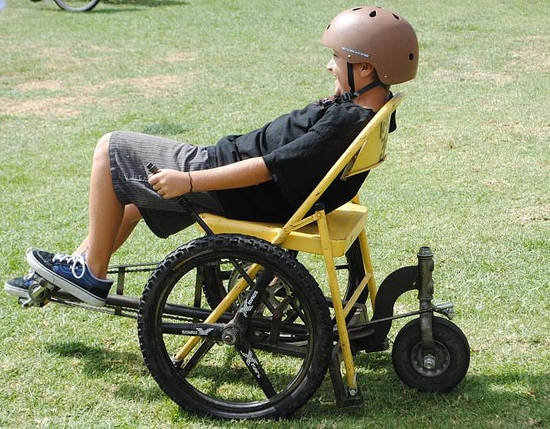 Image: Alex
Of course, not everyone has an old boat, treadmill or surfboard at home, but how about an old chair? These metal folding seats are pretty uncomfortable but always seem to be near a large gathering of people. Compared to your average bicycle seat, though, it does offer something more in the way of comfort.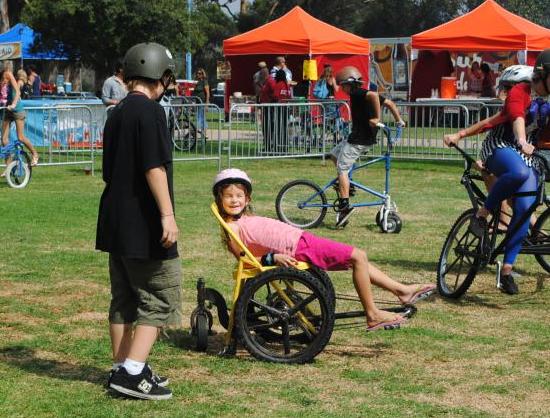 Image: Alex
Add an old wheelchair wheel or something similar at the rear for extra support, and off you go. This bike mod certainly gains points for the simplicity of the idea and a relaxing user experience. One laid-back camper certainly seemed to like it! We're sure there are so many more amazing creations out there, as the bicycle is such an amenable vehicle to temper with. If you've seen any that are marvels of recycling like those listed here, let us know and, who knows, we may do Part II…