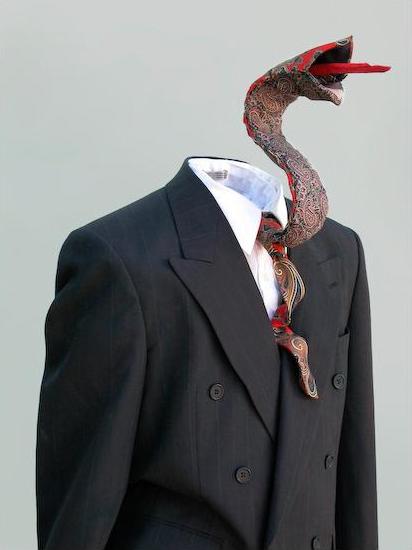 "Snakecharmer" Portrait (2007) All images courtesy of Guerra de la Paz and used with permission.
In a corporate setting where gray, black and navy blue are the dominant colors, the humble tie is the one accessory that can give a bit of color to a man's attire. Yet ties are hated by many who have to don their business uniform daily, as they find this piece of clothing too constricting — in many respects. Here we'll find out just how right they are to feel this way.
"Snakecharmer" (2007)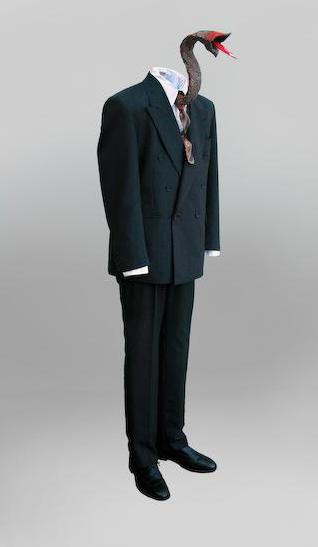 Cuban-born American artist duo Guerra de la Paz have picked up on this common gripe and spun the thread — literally — a bit further. In their "Power Ties" series, neckties turn people into corporate enemies, constricting their wearers and taking over their personalities until only an empty suit is left. Then, the snake ties are left to fight it out with each other in a truly frightening display of corporate rage and aggression.
"Dueling Snakes" (2006)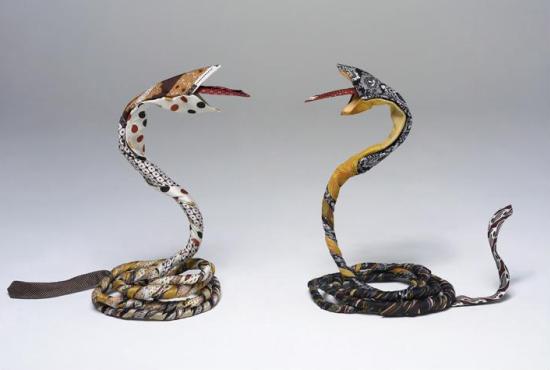 The series started with the artists' large accumulation of ties, gathered while the pair were sourcing materials for other works — discarded clothing collected from secondhand and army surplus stores that form part of the Little Haitian rag trade in Miami, where the artists reside.
"Red Carpet Keeper" (2009)
The artists only work with discarded clothing because their pieces are, as they say, "relics that once helped define an individual's personality and communally speak of environmental issues, mass consumption and disposability." Each snake is thus completely made out of castoff and repurposed ties — even the serpents' red tongues. All the suits and other clothing items were also once used and were obtained through secondhand sources.
"Snake" (2006)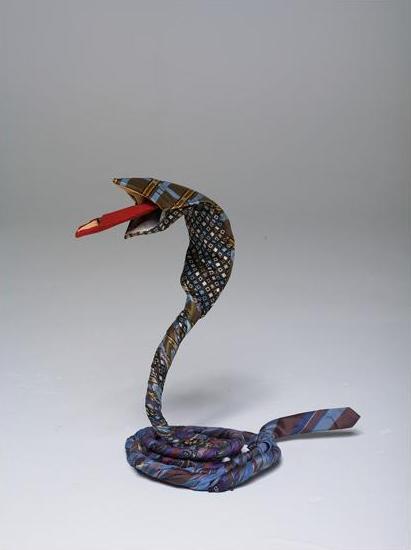 Explaining the themes behind the "Power Ties" series, Guerra de la Paz say: "Sacrificing one's liberties, and to an extent, one's dreams and aspirations for the security of a weekly paycheck has resulted in an unfulfilling, mundane existence for many in the oppressive environments generated by the corporate movement. It has given rise to a social backlash of various sub- and counter-cultures that view the necktie as a representation of submission and even slavery to the corrupt elite of society — a symbolic chain around one's neck.
"Sealing the Deal" (2008)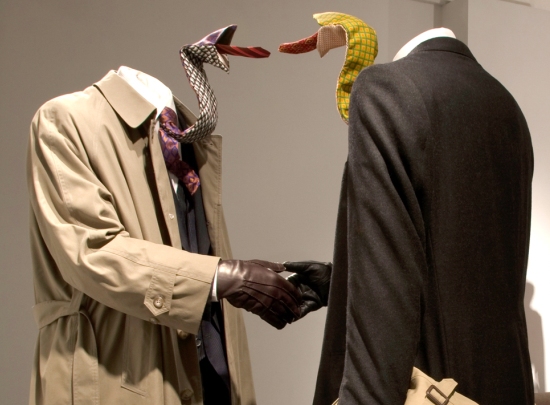 "Enticing yet deadly, the snakes act as emblems of deception," the artists add. "[They] serve as analogies of the compromised position of the laborer and a reminder of the personal price that is paid for the desire of monetary prosperity."
"Red Carpet Keeper" (2009)
While ties have been part of the uniform of white-collar workers for decades, the term "power tie" came into play only in the 1980s, thus adding, according to the artists, "another dimension to the accessory's characteristics, defining one's place in the hierarchy of the corporate world."
"Feeding Snake" (2007)
And a look at a witty definition from Urban Dictionary suggests that the power tie is not only an accessory, but also a status symbol that comes with its own complex set of associations and meanings: "A [power tie is] principally red or blue tie with conservative patterning tied in a double windsor. The most common pattern is a simple stripe but anything conservative works. The style is easier to recognize than to describe. Often accompanied by an overly aggressive handshake, gaudy Rolex, and ample cologne."
"Double Threat" (2008)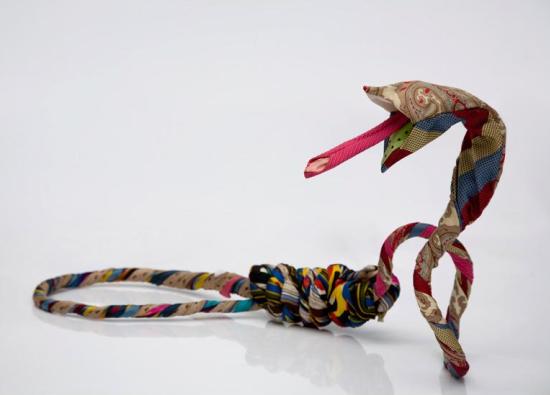 The artists' preference for silk ties supports the installation's message: beware the "power tie" — smooth to the touch and finely spun from a luxury material, it will caress you one minute and then kill you softly the next. In fact, the higher the wearer has climbed up the corporate ladder, the quicker the power ties — or rather, the people who wear them — can turn to treachery, like vipers turning on one another. "Double Threat" (above) highlights the twofold cruelty of betrayal and exploitation in the form of a snake and a noose.
"Sealing the Deal" as part of the "Powerties" installation, New York City, 2009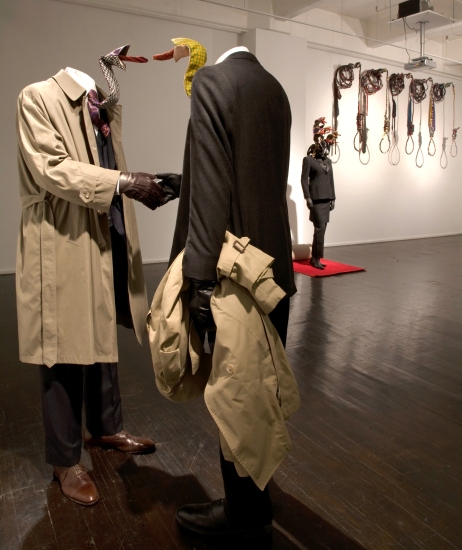 Mega conglomerates with corporate snakes at the helm are of particular concern for the artists: "As mergers among corporations become more common and make way for mega corporations, we can't help but wonder whether eventually a single massive network controlled by a new ruling class of board-appointed emperors who preside over a faceless superpower will control the masses of our economically driven society, like tyrannical monarchs that have been given the authority to seduce their victims with promises of lucrative earnings, benefits and bonuses."
"Powerties" (2005-2007)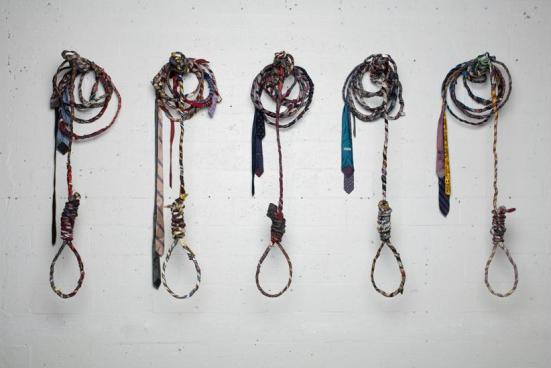 Many readers will be able to identify with this next installation, in which the ties have become nooses, ready to strangle their wearers. Each of the five nooses represents one day in the business week — Monday, Tuesday, Wednesday, Thursday and Friday. For the artists, the nooses "represent the personal sacrifice one makes in order to survive within the system. As emblems that evoke fear and oppression, they hang from the wall ready to be put to use and stand as a reminder of the high price associated with social conformity and compromising one's principles on a daily basis in order to achieve financial freedom."
Noose "Monday" (2005)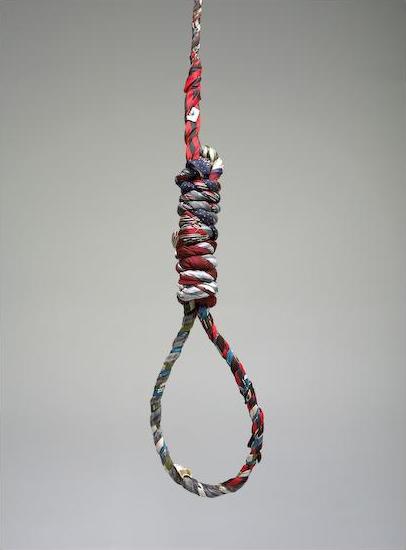 The focus in "Money Makes the Man" (below) is not on a tie, but it is nevertheless a powerful piece in the series. The wearer has become a mere "money suit" with a vanity mirror for a face, reflecting whatever his counterpart wants to see. And instead of the heart, there is a drawer — one that does not spill emotions, but bundles of notes. Is this really what we have become? A chilling thought.
"Money Makes the Man" (2007)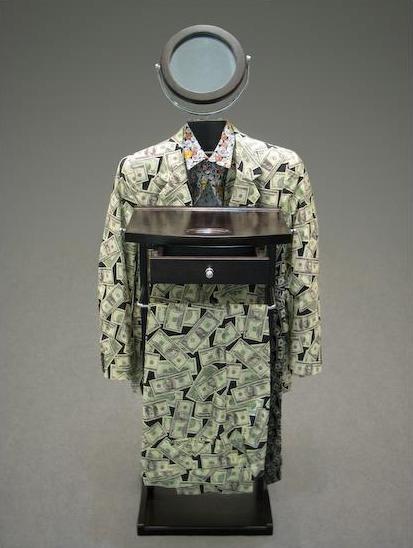 The artistic duo of Guerra de la Paz consists of Alain Guerra and Neraldo de la Paz. Guerra graduated from the School of the Art Institute of Chicago in Chicago and de la Paz from Northern Illinois University in DeKalb, IL. The artists have been working collaboratively since 1996, using discarded and recycled objects and materials. Their work has been exhibited widely throughout the U.S. and Europe.
"Red Carpet Keeper" (2009)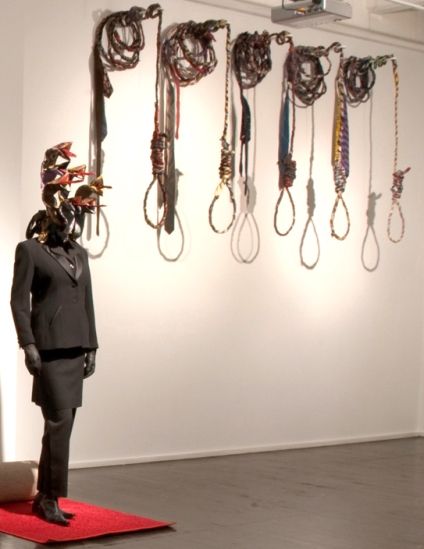 What's interesting about Guerra de la Paz's output is that they don't work on one series and finish it in a few months, but instead work on various series simultaneously, often over the course of years. Even for "Power Ties," a new piece is scheduled to come out in late September/early October, 2011. Check back then for an update. In the meantime, you can read more here about the artists'
"Camo" series
. Also, make sure to check out
Guerra de la Paz's website
for more thought-provoking artworks.
Sources: 1, 2, and artists' statements sent via email