I have a complicated relationship with door-to-door salesmen. Several months ago, someone rang my doorbell. When I answered, the person at the door wanted to inform me of the
enormous plastic bag island
. I told the woman I knew of it. She was from
Environment California
, claiming the organization was working to ban plastic bags throughout the state. (
LA County
and the City of Santa Monica have already passed such bans.) The very polite lady at my door asked me for a donation to spread the word about their cause. Since I had cash on me, I gave her some money. It's a cause I can get behind.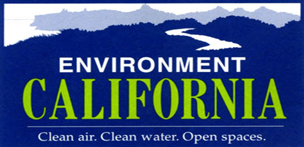 Two weeks ago, another doorbell. Another plastic bag ban proponent raising money for the cause. I told him that I'd already given money to them, but I still checked to see if I had cash. I had a 20, which is a tad more than I was able to give at the time. The man offered another payment option — their preferred option — automatic donations straight from my bank account. Eek. This rubbed me the wrong way. I told him that I couldn't sign up for automatic donations at that time, and I asked him to leave. The Environment California
Monthly Giving Program
is designed to "minimize fundraising cost and maximize efficiency so your contribution achieves even more results for California's environment." According to the program's
FAQ page
, the minimum contribution is $10 per month, which lasts indefinitely (until you cancel or change your payment options). So, what are the results of these reoccurring donations? The
results page
lists many talking points, including making California a solar energy leader with the Million Solar Roofs Initiative, helping to establish the California Clean Cars Program and fighting over-fishing. While none of the results directly correlate to the disgusting plastic bag island, it seems that Environment California is doing real work in the environmental community. Unfortunately, I didn't think to ask what exactly the organization did with the money until after she left. Whether we enjoy people knocking on our doors and asking for money is irrelevant. Door-to-door salesmen aren't going anywhere. It's our job as consumers to stay educated on what we buy, what organizations we donate money to and what programs our money helps to advance. Don't be afraid to ask questions. It's OK to take a pamphlet or write down an organization's name to research later. And sadly, I failed you, dear readers! It wasn't until weeks later that I even thought of these things. When the second visitor came to my door, I wondered, what is my money going toward exactly? How can we check on these organizations that claim to be working for specific causes close to our hearts?
A note on the upcoming plastic bag ban taking effect:
I usually shop for groceries at Albertson's, a chain grocery store that has a location a block from my apartment. Recently, I noticed signs in the parking lot and inside the store notifying customers that no plastic bags would be available on September 1 and beyond. While I knew that Santa Monica had banned plastic bags, I wasn't sure when this would take effect. An employee of Albertson's told me that paper bags would be available for a 10¢ fee, and reusable tote bags could be purchased for $1. The ban is citywide.