When you think of Savannah, GA, visions of gracious Southern living, impeccable manners and beautiful estates come to mind. It's hard to imagine residents of this genial city even have to deal with garbage. And it's even harder to believe that until the
Recycle Savannah
program began in 2009, Savannah residents had to haul their recyclables to their local recycling center. Here's how it works: Savannah residents who have an active utility service account with the city receive a 96-gallon yellow and black recycling cart. The cart arrives with literature describing the recycling program, and there are also instructions on the lid and side of the cart. The recycling program uses a
single-stream recycling
method, which means all recyclable materials are stored in one recycling cart, thereby negating the need to sort anything. Residents simply place their materials into their cart.
Accepted materials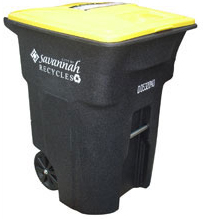 Plastic bottles and jugs Nos. 1 through 7, such as soda, juice and water bottles, or detergent and shampoo bottles (emptied, rinsed, without tops or lids)
Tin, steel and bi-metal used food cans (emptied of food residue and rinsed)
Aluminum beverage cans (rinsed)
Glass bottles and jars (clear and colored; emptied, rinsed, without caps or tops). Paper items such as newspapers and inserts, junk mail, magazines, catalogs, phone books, paperback books, office paper, white and colored paper (without wax coating; wet paper products will not be accepted and are considered contamination)
Cardboard boxes (flattened), paperboard, brown bags (wet and damp items will not be accepted and are considered as contamination)
Prohibited materials
Household waste, food waste or food-tainted items
Yard waste or dry trash
Plastic bags or Styrofoam cups, containers or packaging
Hazardous, automotive or electrical parts or materials
Building and construction materials
Medical waste or pharmaceuticals
Wet or damp cardboard, pasteboard or paper products
Once the recyclables are collected, they are taken to a
materials recovery facility
, where they are sorted into different categories. After separation, they are then sold to various markets and made into recycled products. Now residents of Savannah can add "graciously green" to their list of cordial habits.