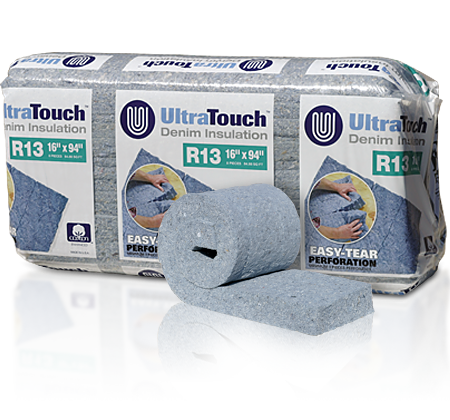 My family recently discovered an issue with our plumbing. Long story short, after it was fixed, we had some damaged insulation we had to replace. The research began. Was there a better, more sustainable and healthier product we could use? Enter recycled denim insulation. Specifically,
UltraTouch Denim Insulation from Bonded Logic
. Recycled denim insulation looked like a promising alternative to traditional
Fiberglas
insulation. It is made from the scraps left over from the manufacturing of jeans, and it not only keeps waste out of the landfill, but also compares well to Fiberglas' insulation properties. And as previously reported on
1-800-RECYCLING.com
, Bonded Logic Inc. boasts a "zero-waste manufacturing process — it shreds any edge trim that does not pass quality control and returns it to the raw material supply, keeping 200 tons away from landfills each month." My family's evaluation:
The warmth factor: Denim insulation has an R-value that is comparable to Fiberglas insulation; it's available in R-13, R-19 and R-30 batts. The thickness of the denim insulation also allows it to perform well in extreme temperature-change environments.
The nontoxic factor: Denim insulation doesn't contain formaldehyde or other volatile organic compounds. And although formaldehyde-free Fiberglas insulation is now available, there are still many Fiberglas insulation products that contain formaldehyde.
The sound factor: Denim insulation provides better sound insulation than Fiberglas material. According to Bonded Logic's website, "UltraTouch is made from high-quality natural fibers. These fibers contain inherent qualities that provide for extremely effective sound absorption and maximum thermal performance."
The installation factor: You install denim insulation the same way you do Fiberglas, but the cotton fibers of the denim don't have any of the "itch" associated with Fiberglas. We could handle it without special gloves. Denim insulation, however, has been known to dull cutting tools faster than Fiberglas. Although, at the advice of our local store manager, we used a circular saw and it worked well.
The cost factor: Denim insulation is priced at about a 15% to 20% premium over traditional Fiberglas insulation. To us, the cost difference was worth keeping harmful chemicals out of our home and reducing landfill waste.
In the end, we were happy with our decision to use the recycled denim insulation, and I've since found out my family is in good company. Many buildings around the country have installed denim insulation, including the
LEED Platinum Academy of Science building in San Francisco
. The academy's conclusion about the insulation:
"[It] provides an organic alternative to formaldehyde-laden insulation materials. Recycled denim insulation holds more heat and absorbs sound better than spun Fiberglas insulation. It is also safer to handle. Even when denim insulation is treated with fire retardants and fungicides to prevent mildew, it is still easier to work with and doesn't require installers to wear protective clothing or respirators."