While Rhode Island was one of the first states in the U.S. to instill a recycling program through the Rhode Island Resource Recovery Corporation (RIRRC), it is unfortunately one of the last states to upgrade its recycling facility. RIRRC, located in Johnston (about 10 miles west of
Providence
), is home to the state's central landfill and materials recycling facility and manages the solid waste and recyclables. Currently, RIRRC only accepts #1 and #2 plastics. While these are the most commonly consumed plastics, unfortunately not
all
#1 and #2 plastics are accepted — just the ones that have necks on them, such as soda and detergent bottles. While RIRRC plans to upgrade the facility to accept up to #7 plastics by 2013, right now all other plastics go straight to the landfill.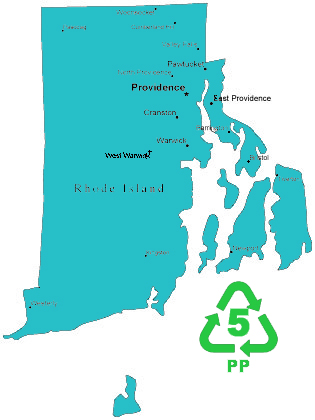 For Rhode Islanders and others concerned about not being able to recycle these plastics, there is a solution through Massachusetts-based
Preserve
, a company that is committed to turning recycled plastics (and
post-consumer
paper) into a range of innovative products. Additionally, at the end of the product's life, it can then be sent back to Preserve in postage-paid labels and mailers to be recycled yet again. But it gets easier than that. In addition to mailing your #5 plastics back to Preserve, you can also drop them off at
retail locations
such as Whole Foods through Preserve's Gimme 5 program. While this is a great program for those who have drop-off locations near them, it's difficult for those who don't have this option close by. For example, in Newport, RI, the closest drop-off location is almost 30 miles away. However, there is a business in Newport taking the lead for residents and surrounding towns, making it easier than ever to recycle plastics. Patagonia on Thames, located in downtown Newport, launched a recycling program in its retail store to recycle #5 plastics, which include yogurt containers, medicine bottles, plastic take-out containers and any other plastic pieces that have a #5 on them. The team at Patagonia on Thames collects residents' #5 plastics and drives them weekly to a Whole Foods location where they can be properly recycled. While Patagonia is known for being one of the most sustainable companies in the U.S., it is inspiring that a smaller, locally owned retail location is taking the initiative one step further to be a leader in the community. For a landfill such as Rhode Island's, which has less than 30 years left before reaching capacity, it's just one more way to divert waste and turn it into something useful.