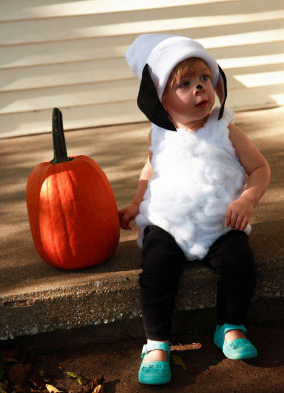 It's that time of the year again: Spooky creatures, black cats, frightful amounts of sugary treats and the horror of synthetic materials as costumes. The waste created on Halloween can be truly scary. Enter
Green Halloween
, a program founded by Corey Colwell-Lipson, a mom who was tired of the waste and the terrorizing amounts of unhealthy treats that Halloween created. She decided to find a better way to celebrate the holiday. What began as a conversation between Colwell-Lipson and her local Whole Foods Market store in Bellevue, WA, quickly turned into a movement with other organizations and businesses wanting to take part in making Halloween healthier and safer for our children and for the environment. Today, Green Halloween is an official program of the nonprofit organization,
EcoMom Alliance
. Some simple steps to green your Halloween from Green Halloween:
Plan ahead to avoid last-minute shopping, which often limits your choices.
When it comes to costumes and décor, reuse, borrow, trade, purchase used or do it yourself.
Treat bags can be anything. For extra fun, match the bag to the costume using something you own already, like purses, flower pots (remember to cover the hole at the bottom beforehand), cloth sacks, backpacks and lunchboxes.
Choose healthier treats. Take baby steps with organic candy and honey sticks, two child-favored choices. (Honey is not for children under 2).
Choose fun treasures instead of conventional sweets. Think of the treasures your child collects in his or her pockets: pretty rocks, coins, etc.
If you're throwing a party, avoid disposables, including napkins, plates, cups, tablecloths and other décor.
Walk from house to house instead of driving.
Compost pumpkins and any other food, including leftover candy.
Collect candy wrappers and help your kids recycle them into gift items like purses, bracelets and picture frames. You can find directions on the Internet.
Avoid purchasing any treats made with palm oil.
Check out
greenhalloween.org
for more Halloween ideas.
Costume conservation
Dressing up is one of the most fun things about Halloween. It also can be one of the most wasteful, as millions of Americans purchase ready-made costumes, wear them once, then toss them out. Instead of filling up landfills with once-used plastics and synthetic fabrics, get crafty and make your own costume with reused and recycled materials. You'll save money and reduce your impact on our planet. Here are some DIY costume ideas: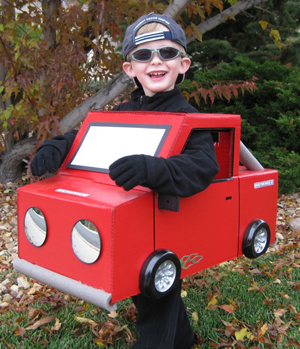 Be a little lamb (above).
Simply take an old pillow, forgotten stuffed animal or cotton balls and glue the stuffing on an old T-shirt or onesie to create a little lamb, puppy dog, cow or other cuddly animal of your child's choice. Check
Care2
for more information on material ideas.
Be a monster truck (right).
Raid your recycling bin for cardboard boxes and old plastic bottles and your child will be trick-or-truckin' around the neighborhood in no time.
ParentMap
includes photos and an easy, printable pattern to follow.
Be a black cat.
Use black clothing, a black headband (you can easily attach two black felt ears) and an old scarf or boa for a tail (stitch to the waistband or attach with a safety pin). Use black eyeliner or washable markers to draw on cat eyes and whiskers.
Check out the article "Greening the Kids' Halloween Costumes" for more DIY costume ideas.