It's not just about the turkey! One of the most time-consuming tasks during Thanksgiving and the holidays (besides cooking the dinner) is preparing for your guests.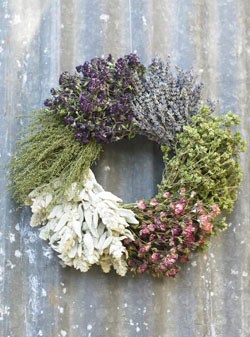 Whether they are out-of-towners staying for a while or just visiting for the feast, we like to have our homes clean, tidy and festive. With the prepping tips below, it's a great time to reflect on what local and sustainable mean to you, not to mention a great conversation piece at the dinner table.
Decorate the front door with a natural wreath and your table with fresh cut flowers. To be festive, also gather dried leaves, acorns and pinecones that have fallen from the trees. A clear bowl full of the season's harvest, like pears, apples and clementines, also makes a colorful centerpiece. Channel your creativity!
We love personalized place cards so guests know where to sit. Tie together sprigs of fresh, fragrant herbs like rosemary, sage and thyme and tuck in a paper leaf-shaped place card with your guest's name on it.
Typically, a tablecloth needs to be dry-cleaned or ironed. And how many times does it get stained with red wine? Take a simpler approach by using a table runner instead. There are lots of options out there, like organic cotton, linen and other natural fibers. We like this festive one from Pottery Barn made from ramie, a woody fiber that resembles flax.
Avoid paper, single-use napkins and opt for cloth ones instead. There is already so much waste headed to the landfill during the holidays, why add to it when you can simply wash your napkins?
Turn down the lights! Create a festive dining room with candles (without adding to your electricity bill). Avoid paraffin candles, as they are made from petroleum and emit nasty fumes. We love these pure beeswax candles from Littlefield Bee Farm on Block Island, RI. Not only do they have a delicious smell, but they are also all-natural.
Whether you're the one cleaning prior to the big day or you have help, stock up on green cleaning products. There are plenty of options available in just about every grocery store and local food market across the U.S. And, if everyone pitches in to help with the cleanup, you want to make sure they're reaching for the green goods, too.
Lastly, if you have guests that are traveling to your house for Thanksgiving, encourage them to offset their carbon emissions through programs such as
TerraPass
, which fund carbon reduction initiatives. Remember to keep it simple! Your guests will be happy celebrating with you and giving thanks. Enjoy it with them.