Finally! Warm summer weather means you can release your feet from the confines of those stuffy shoes and boots and let them bask in the sunshine. Unfortunately, lots of those beach
flip-flops and sandals
are made from
polyurethane
, which comes from crude oil. If you've been trying to decrease your use of oil and other petroleum products, here are some eco-sandal styles that will leave a greener footprint!
Women
Aphrodite
by
Chabah ($19):
Cloth cross straps and woven seagrass combine to create the Aphrodite sandal, an alluring mix of sophistication and primal beauty.
Classic
by
Okabashi ($15):
Extra durable, one-piece construction makes this flip-flop stand out from the ordinary. It is made from Okabashi's signature Microplast Material that is antimicrobial, anti-slip, anti-odor and is vegan friendly. Best of all, Okabashi's microplast is easily recycled through the company's
takeback program
.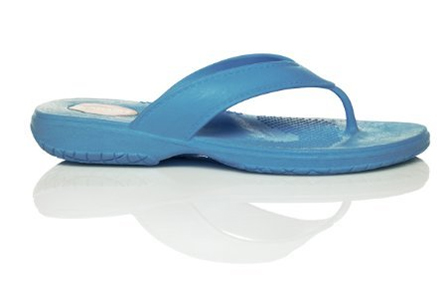 CityWalker
by
EcoDragon ($29):
A very elegant pair of sandals perfect for dressing up or down. Made from 100% hemp canvas uppers and hemp fiber soles with natural rubber and raw hemp twine for natural comfort.
Romano
by
Nomadic State of Mind ($46):
If you're looking to make a Gladiator-like fashion statement, these handmade, adjustable, lightweight, vegan sandals are the perfect choice. Crafted from a super soft
polypro
rope, these sandals are machine washable and great for walking just about anywhere.
Teetoe
by
Simple ($65):
Hailing from the Green Toe line of Simple Shoes, these terrific vegan sandals are extremely fashion forward. Constructed with silky organic cotton, and featuring a natural latex and cork top sole, these sandals will keep your green conscience clear as you strut your stuff.
Men
Torino
by
Okabashi ($15):
This is an updated version of the classic Weave style, featuring supreme comfort, arch support and an appealing basket-weave design. The Torino features a massaging insole, an ergonomic footbed and superior arch support, and is waterproof and dishwasher safe for easy cleaning.
Lazy Boy
by
Splaff ($50):
This classic flip-flop style features an authentic, recycled, race car tire sole complemented by recycled bicycle inner tube straps lined with natural hemp fabric. Even the footbed is made from 100% recycled rubber and foam.
Sprout
by
R.A.S.T.A Project ($55):
This sandal is all-sustainable, mon! The Sprout features a hemp-wrapped latex foam footbed, a recycled tire outsole, a hemp strap upper with jute (vegetable fiber) detail panel with the R.A.S.T.A logo and a comfy recycled
PET
liner and toe post.
Flippee
by
Simple ($30):
This amazing biodegradable sandal is constructed of recycled PET soda bottles. Featuring post-consumer recycled paper foot form inserts and water-based glues, the topsole is made of EVA with BIO–D (which helps the sandal to biodegrade quickly) and the outsole is made of 30% recycled rubber and 70% natural rubber with BIO–D.
Hemp Sandals
Rainbow ($40):
Rainbow sandals have been a staple at the beach for almost 40 years, and now the company is branching out into more eco-friendly product lines. This version features 100% natural hemp fiber, single- and double-layer arches and the patented Rainbow Trac bottom to keep you from slipping.
Prices are approximate and subject to change.