"Cradle to cradle" is a term applied to items that are designed with a second or even third life in mind. So, instead of being recycled, cradle-to-cradle items simply become something else useful and environmentally friendly after their initial purpose is fulfilled. As you might imagine, this concept is the complete opposite of the way things are designed today. But, until someone comes up with a way to design cradle-to-cradle
printer ink cartridges
, we're stuck finding clever ways to turn them into something other than landfill fodder. Here are a few of the best ideas:
Bike path
Plastic (the major ingredient in ink cartridges) does not break down easily when buried or exposed to the elements. While this makes cartridges bad for the landfill, it also means that they're great for outdoor upcycling projects. In 2010, an Australian company teamed up with the National Park Service to create a smooth, mud-free 10.6-mile
bike path out of old printer cartridges
in West MacDonnell National Park. The recycled plastic path only cost $330,000 to install — including a viewing station — and is sturdy enough to withstand the park's 120,000 yearly visitors.
Chandelier (and lamp!)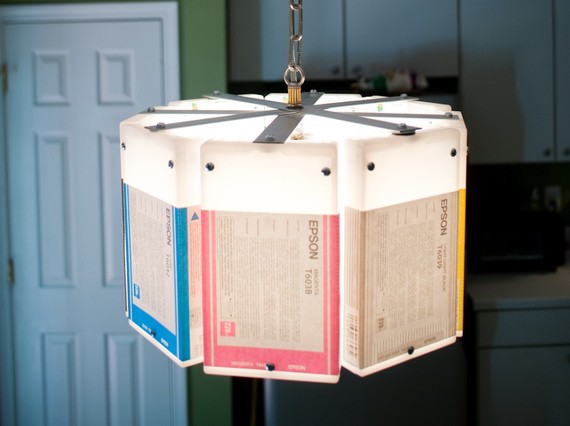 Recently, indie designers Lowell & Louise made headlines with their whimsical and brightly colored lighting fixtures made from upcycled printer ink cartridges. The chandelier uses all of the ink colors: cyan, yellow, magenta, black, light cyan, light magenta and both grays. The custom-cut aluminum bar and cathedral-style chain give it a modern look, and the subtle ink colors work well with any palette. Unfortunately, their quick success (and subsequent marriage to each other) means that their
Etsy shop
has been empty for the past few months, but stayed tuned for more lamp designs to debut soon.
Sci-fi art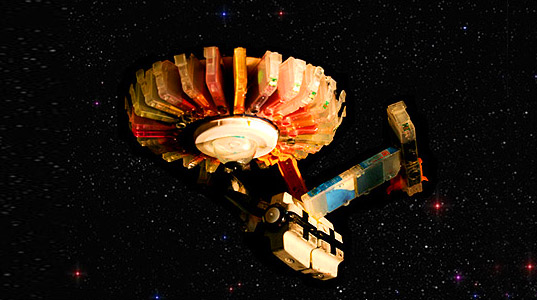 Not all upcycled uses for ink cartridges need to be practical. That's why we love these sci-fi recreations by artist Faith Pearson. When presented with different brands and styles of spent ink cartridges, Pearson did what any good geek would do: She set about bringing the most iconic sci-fi scenes and props to life. Her
rendition of the Starship Enterprise
has been featured on websites all over the world, and her scenes from
Godzilla
and
King Kong
aren't too shabby, either.
ReLife ink cartridge stamp
You know what's even more shocking than all the used ink cartridges that end up in the landfill every year? The fact that most of them aren't even out of ink! To combat the premature trashing, designers Kim Jungwoo, Kim Yoonsang and Park Eunsung came up with a creative way to utilize the last bits of ink. Their handy design turns
spent cartridges into stamps
with color-coded messages. Cyan's message is "Recognition," magenta's is "Confidential" and yellow's message is "Reuse Old Paper."
DIY USB drive
Flash drives (aka
USB drives
) are essential for anyone who works or plays on a computer. These handy hardware devices can be plugged into the USB port of any modern electronic device to store or share information. But this floppy disk replacement can get pricey, especially if you have a lot of info that needs storing. Why not follow this
Instructables guide
to making your own out of a used printer ink cartridge instead? (Hint: This also makes an awesome and affordable gift for the geek in your life!)