Background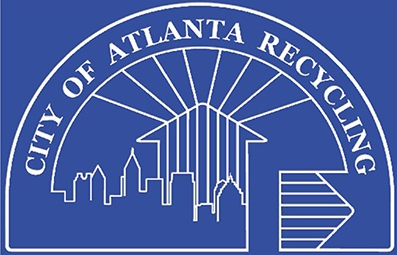 Single-stream recycling is the name of the game in Atlanta (pop. 443,775), with a simple approach to curbside collection. Atlantans can utilize a city-provided bin when recycling service is set up, or they can opt for a larger 95-gallon bin or use their own container (provided it is properly labeled "RECYCLING"). The
ReCART
(Rewards for Collecting All Recyclables Together) program, designed to incentivize recycling by offering rewards to participants, is currently being tested at some 10,000 households in the city. The
Recyclebank
-fueled rewards program, which aims to increase city recycling rates, will continue to run its pilot testing at households representing a cross-section of area recyclers.
Materials recycled
Paper
Including all clean paper products except for paper towels and tissues. Shredded paper is accepted in tied clear plastic bags. Dry, flattened cardboard that fits inside the bin is accepted.
Plastics
Plastic bottles and containers numbered 1 through 7 (rinsed) accepted. No plastic bags or Styrofoam products.
Metals
Aluminum, steel cans and aerosol cans accepted (must be clean).
Glass
Glass bottles and jars accepted (rinsed; no lids).
Frequency
Curbside pick-up occurs on a weekly basis, same day as trash collection. Collection information is available
online
.
Other programs
The City of Atlanta also collects compostables on a weekly basis (same day as recycling and trash pick-up). On average, the city collects more than 30,000 tons per year. E-waste collection events are held regularly from 8 a.m. to 4 p.m. on the third Saturday of the month at Grady High School (929 Charles Allen Dr. NE). More information can be found on the
Keep Atlanta Beautiful
website
.
More information
Visit the
City of Atlanta Department of Public Works website
for more recycling program info.