There's a certain point where that fresh, out-of-the-package sponge starts looking a little grungy. Depending on the cleaning job that you take on, an absorbable cellulose rectangle can go from slightly iffy to tattered relic in record time. Washing it vigorously with dish soap, sterilizing it in the microwave for 1 minute and running it through a complete laundry cycle — all worthwhile rescue attempts — may not be enough to restore a beaten and battered sponge to its former glory. Sorry, little sponge, time to meet your new garbage can buddy. Oh, if only it were easy to drop it in and move on with your life, but no, that's when the internal dialogue starts rearing its ugly head.
I really shouldn't. I've only used my sponge for two weeks.
That seems too wasteful.
Then again, with so many nooks and crannies, this thing must be teeming with bacteria by now.
It's not like a new sponge is all that expensive. Another plus: Since I use a planet-friendly brand, it'll probably biodegrade in record time.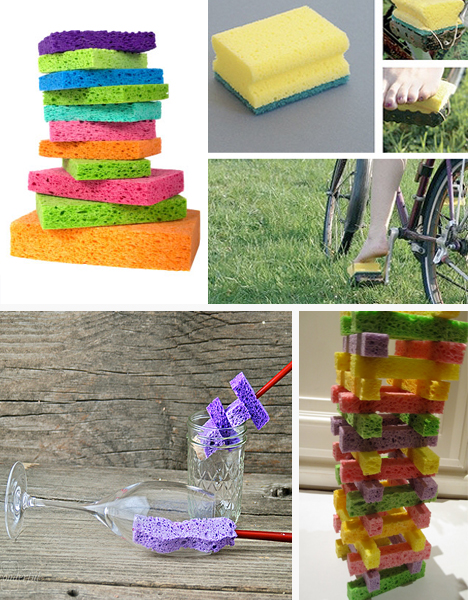 Garbage is garbage, though. What is a conflicted eco-steward to do? Keep your old sponges out of the waste stream, at least for a little while longer, by trying out some of these tips:
Your old sponge is in relatively good condition, aside from some minor discoloration
Hand-me-down shoes that children have not quite grown into can be temporarily modified by adding a small piece of sponge inside the toe region (just cut the piece with sharp scissors to customize the fit).
Demote your sponge from kitchen duty to task-specific jobs, whether you use it exclusively in the bathroom, on floors or simply for pet cleaning needs.
Reserve an old sponge for unexpected leaks or spills.
Place the bottom of a small potted houseplant on top of a sponge, trace around it with a pen, cut the circle out and then use it as an absorbent coaster that will prevent surfaces from getting water stained.
Engage your toddlers in some fun time by crafting a stackable, recycled sponge tower.
Create summer-worthy sponge water bombs for the kiddies just by cutting and securing 1-inch-wide strips with durable thread. Another option is crafting a sponge sailboat for bath time or pool play.
Fashion a multi-tiered bottlebrush that will successfully clean the hard-to-reach interior of glass containers merely by stacking 2-inch sponge squares together, stabbing them with a sharp bamboo skewer and finally securing the sharp ends with two recycled wine corks. If that sounds too complicated, just place an old sponge around a ruler with a few rubber bands for a quick and easy scrubbing wand.
For a finger-painting upgrade, show your children how to make hand-cut stamps using sponge remnants. When they are done, dip the same sponge stamps in permanent fabric paint in order to dress up old kitchen towels.
Apply paint inside paper stencils with old sponges.
Make summertime two-wheeling a bit more comfy by strapping old sponges on your bicycle pedals. Whether you ride your bike with flip-flops or bare feet, it will end up being a breeze.
Use small sponge squares to separate toes while working on your pedicure.
Create a makeshift mini greenhouse by starting seeds on a damp sponge covered with a clear glass bowl.
Prevent decorative objects from scuffing delicate surfaces by upgrading them with mini sponge "feet."
Your sponge is a mangled eyesore
Add it to your compost pile (only if it is made of biodegradable cellulose).
Use it to apply shoe polish to scuffed footwear.
Cut assorted sponges into confetti bits so they can be later used as shipping or cushioning storage material.
When repotting houseplants, cut old sponges into smaller pieces in order to cover drainage holes. In a similar vein, add fully intact sponges to the bottom of pots when transplanting particularly thirsty varieties.
Enhance the visual appeal of your home's interior with faux painting, reserving individual sponges for each unique color.
Dress up a gift with a festive, multicolored, sprinkle-studded letter-shaped sponge topper.
Place an old sponge inside the bottom of an umbrella stand to absorb excess moisture.
Garden tools are mucky already, so wrap those unsightly sponges around shovel and rake handles so your hands catch a cushioned break. (Be sure to secure them in place with zip ties or strong cord.)
Grace your laundry or mudroom sink with a soap "coaster" to reduce goo accumulation.
Discourage mice from infiltrating your home by saturating old sponges with peppermint oil and placing them in front of suspected entry points.
Artists: rather than washing acrylic-dipped paintbrushes prematurely, keep them moist for next-day use by placing them in a plastic storage container lined with damp sponges. Top with a tight-fitting lid and you're good to go!