Paper is one of the most recyclable materials out there, but it is also one of the most reusable. Here are some suggestions for reusing common types of office and household paper.
Office paper
Print on both sides of the paper. This saves money and means each piece of paper gets used twice. Make sure you do not reuse confidential documents, and keep in mind that this works better with a laser printer (although even ink-jet users can save those barely used pieces of paper for reuse). When reusing, it may be helpful to draw an "X" through the already-printed text so others know which side they're supposed to be looking at.
Turn it into notepads. Every so often we end up with a bunch of leftover fliers. I cut the paper into quarters and use the small squares for notepads. All you need is a binder clip at the top to hold the pages together.
Make a journal. Check out this cool homemade journal from Martha Stewart, which uses recycled office paper for the interior pages. It is a really easy project; almost everything you need is probably already in your house.
Magazines
Fold them into envelopes. Most craft stores have templates that can help you transform magazine pages into envelopes. You will also need stick-on labels (or some recycled paper and tape) to make an address block. Think about how much your grandma will love getting a letter in a colorful, custom-made envelope.
Use them for notebook dividers. This works best with oversized magazines that have pages larger than your typical piece of notebook paper. Choose one with good photography, such as Martha Stewart Living.
Make a collage. This is a great activity for kids, but even adults can have fun with it. The first task: Make an awesome collage to go on the front of your new recycled journal!
Donate them. Nursing homes, homeless shelters, schools and plenty of other places in your community may love old magazines. Give them a ring and find out.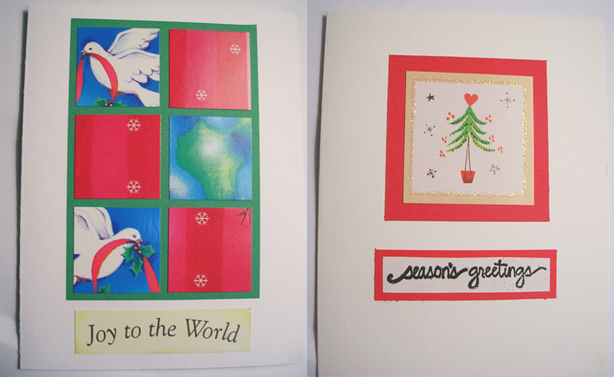 Greeting cards
Reuse them. My best friend cuts off the front page (the part with the artwork) and uses cards again. Put it in a recycled envelope made from a magazine page and score bonus points.
Make them into new cards. Every year, I go through old Christmas cards and look for ones that can be cut up and transformed into new cards. They are free, and the results can look quite nice.
Give them to kids in need. Charities have the same idea and often make transforming old cards an activity for children. Consider donating your leftover cards to an organization like St. Jude Ranch for Children. Note: some organizations place restrictions on the types of cards they will take or when they will accept them, so be sure and research carefully.
Newspaper
Put it in the compost bin. This is especially handy in the summer, when "green" materials such as food scraps and lawn clippings far outnumber "brown" materials such as leaves. Only newsprint should go in the bin. Ads and anything else printed on shiny paper is bad for the composter.
Use it for wrapping paper. My dad has always used the funny pages for wrapping gifts. In recent years he has started adding his own speech bubbles or other comments to the comic strips to personalize them. Hilarious, and green!
A couple miscellaneous hints
Make grocery lists on envelopes. Bonus: If you have any coupons, you can tuck them inside so you won't forget them.
Use magazine subscription cards for bookmarks. I always have magazines sitting around, and it is so easy to grab one of those cards whenever I need a bookmark.
What ideas do you have for reusing paper? I would love to hear your suggestions. More ideas include
reusing paper bags
and
reusing tissue paper
.