Thanksgiving is just around the corner, and what better time to go over a few simple reminders to get the most out of your provisions – and the least amount of waste. The bulleted list below includes several handy steps to ensure a successful, sustainable Thanksgiving celebration (or two) year after year.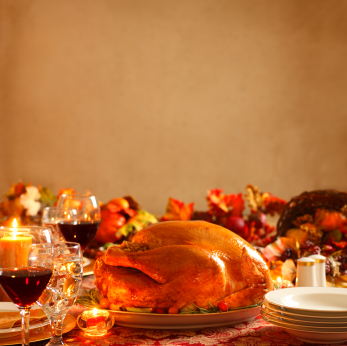 If you are traveling a far distance, consider purchasing carbon emissions offsets. You can do it online for cheap from a number of organizations.
Go local! Aim to source all of your food, including your turkey or turkey alternative, from within a 100-mile radius of your celebration spot. It might be easier than you think!
It's not too late to decorate! We have three easy-to-make recycled Thanksgiving decorations that you can get started on right away.
Strongly mull over using your own plates and silverware (or look into renting reusable dinnerware) instead of opting for throwaway paper or Styrofoam plates and plastic utensils.
As well, opt for cloth napkins instead of single-use paper napkins.
Decorate your front door with a natural wreath of flowers, twigs and greens, as opposed to a store-bought fake that you can take out annually.
Choose a table runner instead of a full tablecloth when preparing for your feast. They are less likely to get stained, which means fewer trips to the dry cleaners.
Get in the spirit with natural light. Dinner by candlelight is a great ambiance touch, and it lessens your dependence on electricity.
Make it easy to recycle. Keep bins out in plain sight during your celebration. Your guests are more likely to recycle if you make the option obvious.
Stock up on green cleaning products to make your home sparkle after the crowds have gone and the feast has been cleared.
(Note: As you prep beforehand and clean up afterward, pull this list up on your smartphone or tablet to avoid using unnecessary paper.)