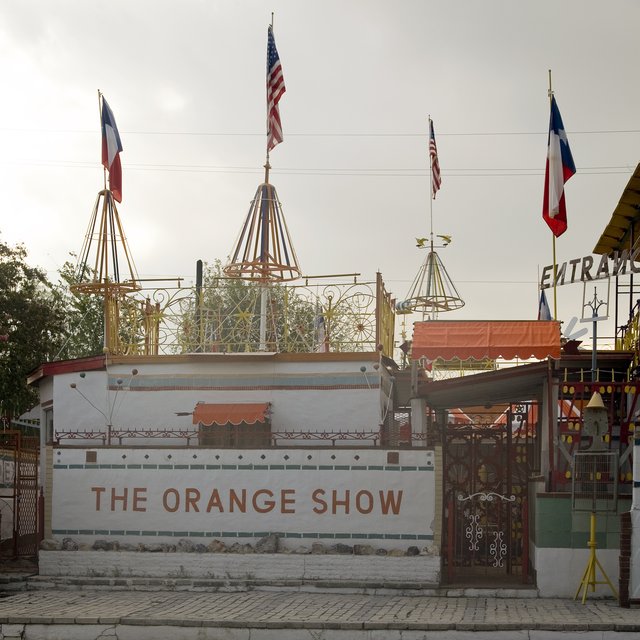 For most of its short run, Munger Street cuts a fairly unassuming path through a quiet neighborhood in southeast
Houston
. As you drive along, you might not take much notice of the one-story ranch houses and live oaks that make it look like any other street in the suburban South. But, just a few blocks from busy I-45, you see something a bit stranger: Rising above the surrounding homes are spinning turrets that sprout up through a maze of colorful wrought-iron gates and awnings. It looks like a small amusement park, or maybe a roadside art stand run amok, but in fact it is
The Orange Show
, a wonderfully weird Houston landmark and a testament to the artistic possibility of recycled and found materials. The Orange Show is the vision of one man, the late Jeff McKissack, a postal worker and devoted lover of all things orange. He started the process of turning his home into a monument to his favorite fruit in 1956, and continued working on it until his death in 1980. Using only found materials, McKissack created a maze of exhibits and open spaces that celebrate the amazing breadth of materials that we cast aside every day. There are rooms lined with mannequins, funny old signs and other assorted treasures. Outside, old wheels have been repurposed as railings to create an amphitheater that is decorated with revolving weathervanes and colorful tiles. (If you would like to see more, there is a great
video interview
and guided tour with McKissack available on YouTube). Today, the effects of McKissack's work still reverberate in the Houston art community. After his death, a group of prominent Houstonians gathered together to purchase The Orange Show and made it the centerpiece of a nonprofit that promotes art and individual artistic expression throughout the city. The Orange Show Center for Visionary Art hosts festivals, concerts and art education activities at The Orange Show and also runs the city's annual Art Car Parade.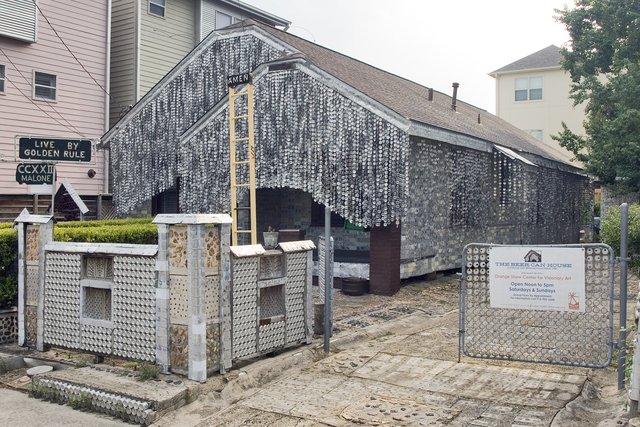 As The Orange Show Center has grown, it has acquired a number of other landmarks that focus on found materials. In 2002, the center took over another Houston monument to recycled art:
The Beer Can House
. Over the course of nearly 20 years, the home's owner, the late John Milkovisch, saved all his empty beer cans (an accomplishment that led to the somewhat dubious honor of his being a Spike TV "Man of the Week"), and after his retirement, set about covering his entire home, inside and out, with his beer can art. It is estimated that Milkovisch used more than 50,000 cans to create his masterpiece, which includes floor-to-ceiling beer can "wallpaper" as well as elaborate garlands, walkways and fences in the yard. The Orange Show Center spent several years restoring the house after Milkovisch's death, and today it attracts folk artists and beer enthusiasts from around the country. So, if you ever find yourself in Houston, take a little time out of your day to enjoy The Orange Show and The Beer Can House. Both offer a chance to appreciate the amazing things that can be accomplished with a little bit a of trash and a lot of ingenuity. And, who knows, maybe you will be inspired to start a recycled art project of your own.
For more information on The Orange Show and The Beer Can House, visit orangeshow.org.