Don't you hate it when your pen runs out of ink, or when your pencil's eraser and lead is all gone? Or, how about when your marker gets down to the last drop, or when your highlighter no longer makes clean neon lines across a page?
I share your frustrations. It is easy to throw away these everyday office and school supplies, but wouldn't it be better if you could recycle and reuse these items that have become such staples in our lives? Fret no more; you just need to be guided in the right recycling direction. Before you know it, you will be a whiz when it comes to recycling and repurposing pens, pencils, markers and highlighters.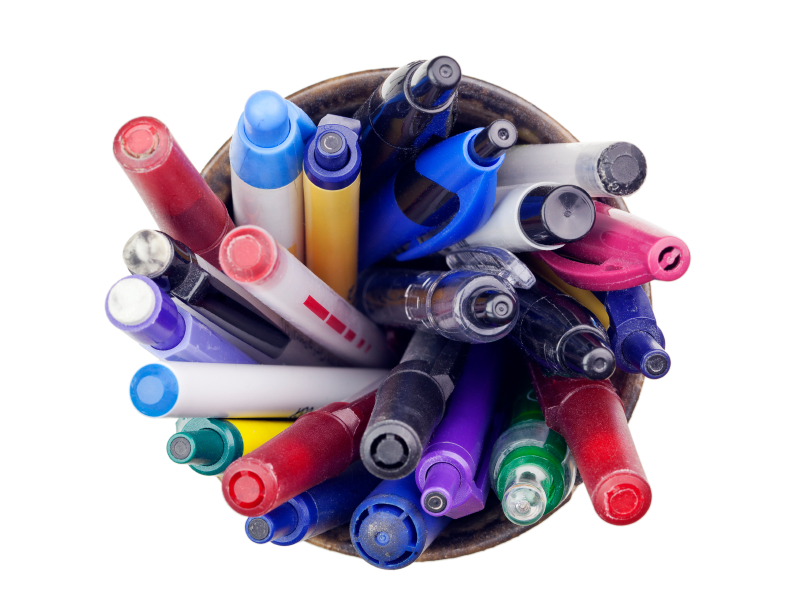 Create recycled art
One simple way to get the most out your writing utensil is to create recycled art. Here is a great example: Gather all of your old pens, pencils, markers and highlighters and send them over to
The Pen Guy
, aka Costas Schuler. He collects old writing utensils to create recycled art. Be sure to check out
Schuler's art
and
the car
he covered with pens. This just goes to show you that pens can be used for all sorts of extraordinary things. Recycled art is a great way to repurpose items instead of throwing them in the trash.
Make a donation
Donating and giving back is extremely important, so why not donate everyday office and school supplies to those in need? By donating to organizations like
Pens For Kids
and
Pencils for Kids
, not only are you transforming the lives of those in need with a pen or pencil, but you are also ensuring writing utensils are being put to good use and not being prematurely trashed.
Biodegradable and eco-friendly writing utensils
There all kinds of eco-friendly things these days. Did you know there are eco-friendly writing utensils? You can choose from biodegradable pens and corn pens, to bamboo pencils and bamboo highlighters. Here are a few brands to try out:
DBA
,
Biopla Products
,
Stubby Pencil Studio
and
Paper Mate
. Now, you will definitely be writing for an eco-cause.
TerraCycle writing instruments
Another way to recycle pens, pencils, markers and highlighters is to send them directly to
TerraCycle
. This
recycling program
collects nonrecyclables or hard-to-recycle waste and converts them into materials and products. All you have to do is fill up a box with writing utensils, print out a prepaid shipping label and ship the package to TerraCycle. The eco-organization handles the rest. Pens, pencils, markers and highlighters are four essential office and school supplies that we use every single day. It is important to pay attention to the little items when it comes to recycling. Just think, you will never have to throw away another pen, pencil, marker or highlighter ever again.