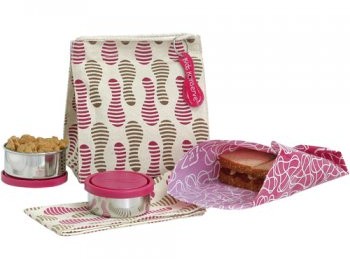 As we finally spring into summer-like weather, one of my family's favorite things to do is go on picnics. Whether we are at the park or in our own back yard, picnics are a great way to enjoy the great outdoors. I endeavor to make the experience enjoyable for my kids and easy on the environment, so I want to pack a fun, healthy and waste-free picnic. Since packing a waste-free picnic can sometimes pose a challenge, I am always looking for ways to make it a little easier. My newest discovery is
Branch's Waste-Free Snack Kit
. Not only is this kit a great way to pack a picnic without having to use disposable materials, but it is also adorable. Here are the details:
The waste-free snack kits are made in India and China for Kids Konserve in green-minded facilities that are supportive of Kids Konserve's mission to reduce waste. Independent agencies audit the working conditions and environmental impact to ensure that these facilities adhere to fair and safe labor practices and environmental standards.
The kits include a recycled cotton bag, a cotton napkin, a LDPE (low-density polyethylene that is free of BPA, phthalates, PVC and lead) food kozy, two food-grade stainless steel containers with LDPE lids and a recycled aluminum nametag.
Branch also carries a
Waste-Free Lunch Kit
that has all of the components of the snack kit and also includes a food-grade stainless steel beverage bottle. These kits are perfect for picnics, taking the place of the longstanding go-to, the brown paper bag. Branch's kits are so easy to tote around. You could use them for school lunches, taking lunch to work, road trip lunches and so on. For more information, visit
branchhome.com
.