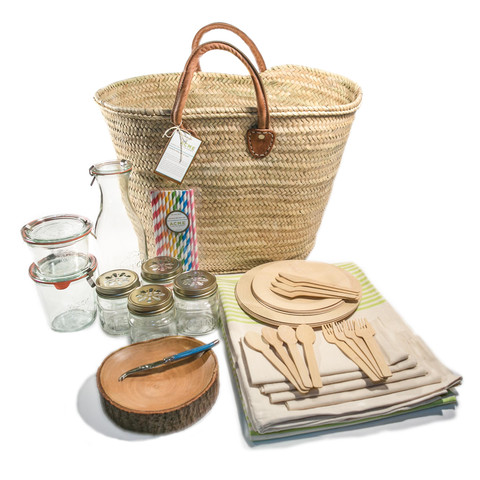 Summer is the perfect season to have a picnic. The sun is shining, birds are chirping, outdoor activities are in play and family and friends join together.
Despite all of the bright and happy moments, picnics can actually be one of the most wasteful warm-weather experiences. From plastic utensils and paper plates, to napkins, Solo cups and food scraps, wastefulness resonates from these remnants. This doesn't mean that you can't conserve and have your picnic, too.
ACME's compostable picnic basket
will transform your traditional picnic into one that lets you have fun and respect the planet at the same time. As you can see from the photo, this party box includes every picnic essential. Check 'em out one by one:
Forget plastic dishes and utensils, and instead use compostable bamboo plates and cutlery instead. This particular box includes eight plates and four sets of silverware (knives, spoons and forks). All are crafted from 100% organically grown bamboo, and can of course be thrown into the compost bin when you're finished.
Cutting boards are so last year. This mango wood cheeseboard is sustainably harvested and even has a rustic bark trim. It makes the perfect platter for cheeses, and it also comes with an accompanying Laguiole forked cheese knife with a pearlized handle.
Paper napkins do not make for a great picnic. It is better to use 100% cotton napkins — like the four included here — that are machine washable and will not end up in the trash.
The party box also includes one carafe, two glass storage jars, four wine glasses or four mason jars and an optional striped woven cotton blanket. Even the picnic basket itself is eco-friendly, as it is made from sustainable seagrass and woven out of palm leaves. It will hold all of the above picnic supplies, and it even makes a great beach bag! This picnic party box is a little on the steep side pricewise — ranging between $192 to $268 — but you can reuse most of the items again and again. ACME is a sustainable company that does some unique things to support the planet. If you are looking for other eco-party items, then definitely visit
ACME's official website
for sustainable decorations, linens, lighting and many other accessories great for every occasion and celebration.