With the housing market back on the rise, many consumers are looking to sign on the dotted line.
Seattle
's first sustainable condominium/hotel,
Olive 8
, not only offers living benefits for its residents, but also the planet as well. Olive 8 begins with luxury in mind. Complete with Italian-designed
Pedini kitchen systems
and cabinetry and
Liebherr stainless steel
, every space is beautifully composed. All spaces feature stone slab countertops with glass or stone tile backsplash and top-of-the-line fixtures. Throughout the 229 units, hardwood flooring is a given, reflecting high ceilings and glass walls that maximize interior natural light. All homes also include a balcony with a panoramic setting of Seattle's finest skyline and Puget Sound views. Being the first LEED condominium and hotel building in Seattle, Olive 8 brings a nationally recognized green standard to its residents. Olive 8 uses 36% less water than other buildings of its size, saving 2.4 million gallons per year. In addition, both the Hyatt (located at the base of the building) and Olive 8's residential units contain Energy Star-rated appliances that reduce overall power usage by 23%. During Olive 8's construction, more than 96% of construction waste was diverted from local landfills and instead recycled or reused. To continue the sustainable practices, Olive 8 practices a green housekeeping standards and ongoing recycling programs. Low- or no-VOC finishes provide healthier indoor air for residents. To ensure the usage of natural lighting, nearly 90% of regularly occupied areas have outside views. There is also a no-smoking policy throughout the building, including surrounding public areas. Olive 8 also features a green roof to add more vegetation and lessen heat island impact to the surrounding environment.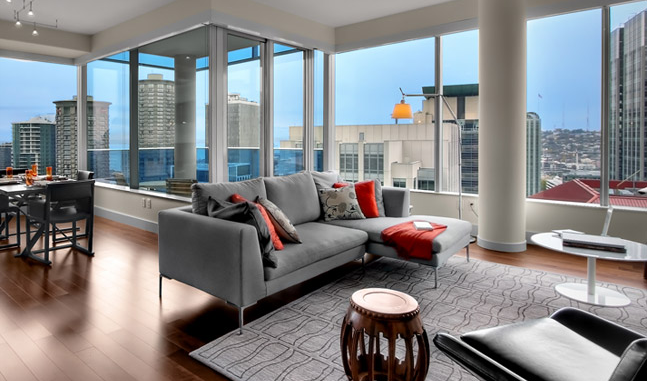 Olive 8's prime location makes transportation easy. By walking or taking a free bus service, one can enjoy the many downtown amenities and the wealth of Seattle. A light rail commute to SeaTac Airport is just two blocks away. Access to I-5 and SR-99, major regional throughways, could not get much closer. Olive 8 even rewards residents that choose more sustainable transportation options. For example, Olive 8 provides preferred parking for highly fuel-efficient vehicles and outlets for electric cars. Yet, due to its prime urban location,
Walk Score
gives Olive 8 a near-perfect 98 score and rates it a "walker's paradise." This virtually assures that one does not necessarily need a car to run errands, buy groceries or find entertainment. At the corner of Olive Way and 8th Avenue in the trendy Belltown district, potential Olive 8 residents have the option to live in one of the building's city homes or sky collections. Ranging from one to three bedrooms from 650 square feet to 2,200 square feet, Olive 8 accommodates the spatial needs of all of its residents. Tenants also enjoy private elevators and controlled access to residential parking and storage. Every resident is an exclusive member of the club lounge that includes an outdoor terrace, dog run, billiards room, gas grills, a caterer's kitchen and an entertainment room. Living at Olive 8 is the best combination of both a luxury home and hotel services at one's convenience. Residents enjoy the Hyatt's
amenities and other services
, such as room service, housekeeping, green dry cleaning, the Elaia Spa, a fitness center a pool and valet parking. Consumers these days are not only concerned about price but the overall sustainability of their home. Weighing the balance beam for Olive 8, this complete living setup in a prime Seattle neighborhood is actually quite reasonable. At time of publication, some luxury and sky collections are still available on the market. However, these units will not be for long, because Olive 8 is selling quickly and efficiently.
Home prices start in the mid-$500,000s. For more information, see olive8.com.