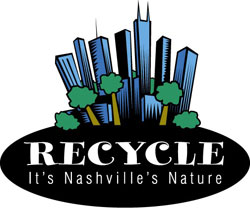 America Recycles Day is November 15, and cities all across the country are getting involved throughout the month to celebrate and educate about the importance of recycling. One city taking part with several different events is
Nashville, TN
. Established in 1997, ARD is the only nationally recognized day promoting recycling and buying recycled products in the U.S. Events are held all over the country on or around this day in order to encourage others to learn more and make decisions about helping keep the environment clean and safe. Anyone who wants to register his or her own event can do so on the ARD
website
. Residents of Nashville will have the opportunity to recycle and learn more about recycling at four different events going on through the week surrounding ARD.
Electronic waste collection event at Nashville International Airport
Nashville International Airport's Consolidated Services Facility (815 Hangar Ln.) is one place residents can go to take part in ARD. On Saturday, November 9, from 9 a.m. to noon, the airport will be working with
Metro Nashville Public Works
to take electronic waste for recycling at no cost. Accepted e-waste includes cell phones, computers, printers and more. The full list of acceptable items can be found
here
. Compost bins and recycling containers will also be available for purchase at the
event
.
ARD with the Tennessee Department of Transportation
ARD will also be celebrated at the Tennessee Performing Arts Center (505 Deaderick St.), where the Tennessee Department of Transportation will educate co-workers, colleagues and friends about recycling. Items such as batteries, CDs, cell phones, eyeglasses, hangers, outdated prescription medicines and more will also be collected for recycling. The event takes place Wednesday, November 13, from 7 to 9 a.m.
Downtown Nashville electronics recycling
On Friday, November 15, from 9 a.m. to 1 p.m., the Nashville Downtown Partnership and Sims Recycling Solutions will host a
collection event
at Fifth Third Center (424 Church St.) for used electronics. Various electronics will be accepted, including laptops, printers, speakers, keyboards, mice, PDAs, radios, stereos, MP3 players, DVD/CD players, VCRs, cell phones, CPUs, servers and hard drives. Information about recycling will also be handed out at the event.
Community e-waste collection and recycling event at Lipscomb Academy
Finally, one more event collecting e-waste and other household items will be held by Lipscomb Academy (4517 Granny White Pike) and Lipscomb University (at the football field at Caldwell and Lealand lanes) on Friday, November 15, and Saturday, November 16, from 9 a.m. to 2 p.m. each day. A wide variety of household items and electronics will be accepted, but there are some exceptions. To see what is not accepted, you can head over to Lipscomb University's
website
.
Stay tuned to 1-800-RECYCLING on Twitter and Facebook for much more on America Recycles Day events.