Baylor is a winner on the court and in the concourse, where recycling bins are plentiful for Bears fans.
It was an exciting opening week in the 2013-14 college basketball season as current #2, Michigan State, beat #1, Kentucky, in Chicago. Kansas, which is currently ranked #5 in the AP poll, figures to inch higher in the polls after beating #4 Duke in the second matchup of top-five teams at
Chicago
's United Center. One top-25 team, the Baylor University Bears, ranked #23 in the AP poll at press time, played two games the first week of the season. The first, at a neutral site in
Dallas
, was a victory against former Big 12 foe Colorado. The second game, the season home opener against a tough South Carolina team, resulted in a 66-64 win for the Bears. The Bears might credit the friendly confines of the Ferrell Center in aiding them to victory over the Gamecocks earlier this week. The 10,284-seat arena at Baylor's Waco, TX, campus has been the home of the school's men's basketball, women's basketball (ranked #9 at press time) and women's volleyball squads since it opened in 1988.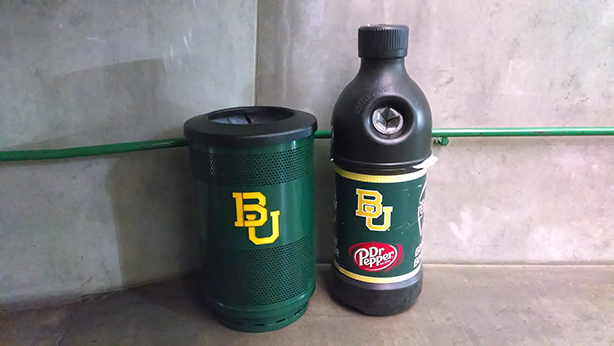 All those fans at approximately 60 home games between the three teams can yield a mountain of waste for the Ferrell Center to process. 1-800-RECYCLING checked in with Paula Young, Event Management Coordinator for Baylor's Athletics Department, to see what kind of waste-cutting measures the Ferrell Center has in place for this season. "We have [glass] bottle and [aluminum] can recycling containers located in the 12 portals (arena entry points) for special events and all home basketball and volleyball games," Young says. "We also have paper recycling and can/bottle containers located in the office areas and concourse areas of the Ferrell Center." The concourse-area bottle/can recycling bins are provided through a partnership with Dr. Pepper, the iconic soft drink that was created in Waco in the late 1800s. The bins are designed to look like modern Dr. Pepper bottles. Though the arena operations team does not track waste diversion statistics, Young says that the recycling bins are placed next to trashcans to encourage Baylor fans to make good decisions when tossing their waste items. To further boost recycling rates, fans can find recycling bins at all other Baylor athletics facilities, including the 50,000-seat Floyd Casey Stadium. Public address announcements are also made at Bears games to remind fans to make green decisions. So, Bears fans, alumni and students, as your teams continue to climb the ranks of the nation's elite programs, make sure to do your part to help Baylor athletics recycle as much as it can. Go green, Bears fans!
More Ferrell Center recycling resources
Twitter:
@BaylorAthletics
Facebook:
Facebook.com/BaylorAthletics
Facebook:
Baylor Sustainability
Ferrell Center website
Baylor University Sustainability website