A toy made from recycled materials that is recyclable at the end of its life — now there's a gift that would make anyone feel like a superhero. This winning combination is what consumers get with toys and games from
Play from Scratch
, a
St. Paul, MN
, company.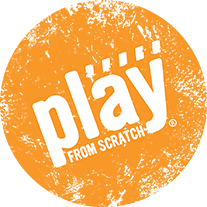 "When we started the company we didn't want to put a lot of plastic out into the world," says Play from Scratch founder and CEO Jeff Freeland Nelson. "We set a really high environmental standard for ourselves, and so far we're doing really well." Play from Scratch's primary goal is to encourage creative play among kids. They started by selling cardboard boxes and tubes that children could use to put together forts, rocket ships and plenty of other things. It seems simple, but Nelson says it can be challenging to find the right box and the right tube. "These are designed for creative play," he explains. "They're perforated, so kids don't need scissors or saws to cut holes. You don't need tape to hold them together." Kits come with a deck of cards that suggests what kids might make, but there are no instructions on how to do it. Nelson says the goal is to make kids the inventors. A box of boxes or a tube of tubes retails for $19.99. The company also has a giant box that sells from $24.99, and an "everything" box that sells for $59.99. The company released two new products just in time for the holidays. YOXO (pronounced "yock-so") kits contain a series of Y-, X- and O-shaped pieces made from heavy-duty cardboard that attach to each other and common household items like paper towel tubes and cereal boxes. The pieces can be used to build robots, cars or anything else a young engineer might dream up. Kits come in two different sizes, with prices ranging from $12.99 to $19.99.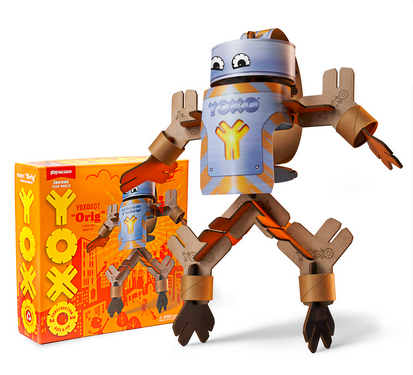 Play from Scratch also has a downloadable game called Instant Superhero. Players are dealt cards that describe different superheroes on a mission. As kids play each card, they roll die that gives them an action, such as drawing the hero's costume or singing the person's song. All the pieces are printed on a home computer (including the dice, which can be quickly assembled with tape), so they're easy to recycle once they've worn out. The cost of the download is $1.99. The cardboard in all the company's products is made with 70% post-consumer waste. Any paper comes from certified sustainable sources. Soy-based paints mean the toys are easily recyclable. The only thing that cannot be tossed in the recycling bin is the decorative tape that comes with each kit. Nelson says the majority of his materials are made within 30 miles of the Play from Scratch warehouse. However, 100% of their products are made in the U.S. YOXO kits are available at various
independent toy stores
 across the country, including all
Creative Kidstuff
 locations in Minnesota. Those that are not near a retail location can order the company's products through its
website
.