How many times have you been walking the beach and pass by a shovel that has been buried in the sand? Or, a beach bucket that looks as though it has been washed up and broken in pieces through time?
So often beach toys are accidentally left behind to be washed out to sea, where they will break down over the next 500 years or so into tiny pieces. We touched on this subject this past fall when we highlighted Surfrider's "Rise Above Plastics" campaign, which focused on getting involved in protecting the marine environment.
One company, Zoë b Organic, believes that beach toys are for playing, not for littering or killing marine life. Its Fantastic Beach Toys ($22) are the first in the world that are actually biodegradable. They are made in the U.S. with Mirel bioplastic derived from corn, so, in other words, if washed out to sea, these toys will completely biodegrade in two to three years. This also means that the beach toys are BPA-, phthalate-, and PVC-free, making them safer for the kids as well.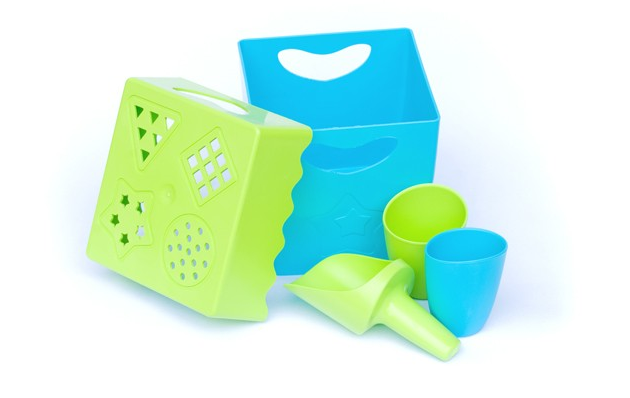 Zoë b Organic's Fantastic Beach Toys come in blue/turquoise and pink/orange, and each five-piece set includes a bucket with built-in handles that won't break off, a sifting lid with geometric cut-outs for learning shapes, two cups for sand and water play and one tough, virtually indestructible shovel. In the off-season, Zoë b Organic says the toys are great for the bathtub, plus the bucket can double as a container for crayons and toys.
Valerie Lecoeur, founder of Zoë b Organic, is a mom to three young children, and whenever her family visits the beach they do "trash and treasure hunts" with the kids. Over the course of several trips, Lecoeur picked up a lot more trash and a lot less treasure. She says that is ultimately what led her create the world's first biodegradable beach toys. Lecoeur even embarked on a 19-day, 2,600-mile research expedition organized by Algalita and 5 Gyres to study plastic pollution in the North Pacific Gyre, or the "Western Pacific Garbage Patch," to see the problem of plastic pollution in our oceans for herself. It only solidified her mission.
As Lecoeur says, "Why not buy the only beach toys on the planet where the toys disappear, instead of the wildlife around them?"