Background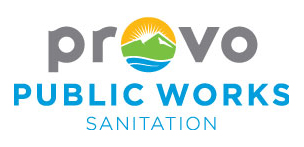 A vast web of more than 25,000 blue single-stream recycling roll carts spans across Provo (pop. 115,919), Utah's third-largest city behind
Salt Lake City
and its western suburb, West Valley City. Home to Brigham Young University, Provo is often mentioned as a top place to live, learn, work and play. It made
Forbes
' 2010 list of Top 10 Places to Raise a Family. Though Provo does not offer curbside glass recycling, it is home to an otherwise stellar curbside recycling program and a network of regional recycling drop-off facilities.
Materials recycled
Paper
Accepted items include loose paper, junk mail, books, catalogs, magazines, newspaper, paperboard and shredded paper (placed in a secure clear plastic bag).
Plastics
Plastic containers numbered 1 through 7 (including milk jugs, beverage bottles and shampoo and detergent bottles) and plastic bags (placed in a secured plastic bag; not loose) are accepted.
Metals
Aluminum cans and tin/steel cans are accepted.
Glass
Glass items are not collected in Provo's curbside recycling program.
Frequency
Provo residents take recyclables to the curb on a biweekly basis, same day as refuse collection. Blue carts must be at the curb by 6 a.m. on day of pick-up and must be returned to property within 24 hours of collection. Place carts at least 3 feet from all obstructions (other carts, vehicles, poles, etc.). A collection
calendar and map
are available online.
Other programs
Yard waste and food waste are collected at the curb in Provo from March through November on the same day as regular refuse pick-up. All items can be tossed into the green roll cart. Acceptable organics include grass clippings, leaves, weeds, tree branches (must fit into the green bin), wood/wood chips, fruit, vegetables, bread, tea leaves, coffee grounds, eggshells, pasta, rice and compostable paper bags. Free recycling dumpsters are placed across Provo for those living in townhouses or apartments not serviced by curbside pick-up (or those that do not elect to pay curbside recycling fees):
Kiwanis Park, 820 N. 1100 E.
Fort Utah Park, 200 N. Geneva Rd.
Western Metals, 1776 S. Colorado Ave.
SUVSWD Compost Station, 1625 S. Industrial Pkwy. (compostables can be dropped off at this location and compost can be purchased here)
Electronics and household hazardous waste can be dropped off at the SUVSWD Transfer Station (2450 W. 400 S. in nearby Springville). Also, a free e-waste and HHW collection event for Utah County residents occurs every spring. For further details, click
here
.
More information
Visit the
City of Provo Recycling website
for more recycling program info.