If you're like my me, you have a few pairs of jeans tucked away that you never wear – either they don't fit quite right or you're hoping they might fit again. I have two ways you can rid yourself of those precious-closet-space-fillers.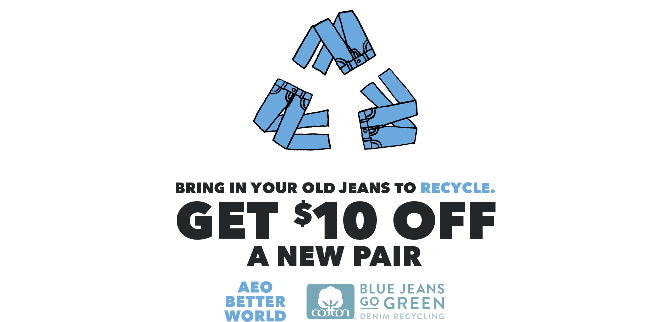 The first will give you $10 towards a new pair of jeans at American Eagle. Not only will they give you $10 off a pair of brand-new AE jeans just for bringing in your old jeans (any brand), they'll recycle those jeans and plant a tree (up to 25,000 trees) to help with the wildfire devastation in California. Win for you and win-win for the planet.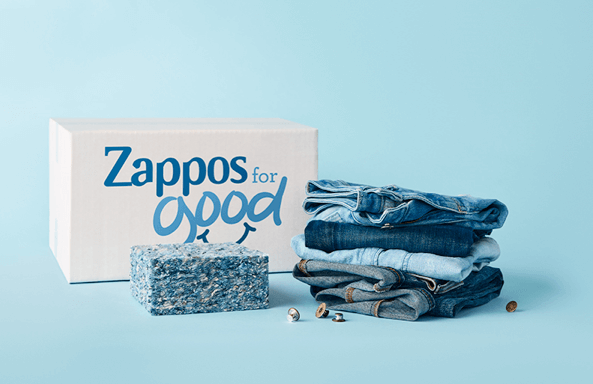 The second doesn't even involve leaving your house. If you don't need a new pair of jeans but want to rid yourself of your old pairs and help the planet while you're at it, Zappos for Good lets you mail in your denim for free. Just box it up, print the shipping label and send it away.
Both programs are possible through a partnership with Cotton's Blue Jeans Go Green™ program. They will recycle your old denim into housing insulation. As their site explains, "Since denim is made mostly from cotton, a sustainable fiber, it can be broken down to its natural state and recycled. This means the all those old jeans can be diverted from landfills and upcycled into natural cotton fiber insulation. Each year a portion of insulation from Cotton's Blue Jeans Go Green™ program is distributed for building efforts to communities across the country."
By recycling your old denim, Cotton is diverting it from ultimately joining the millions of pounds of textiles thrown into our local landfills each year.
If you aren't familiar with recycled denim insulations, check out the research I did for one of our home improvement projects.
To find out more about Cotton's Blue Jeans Go Green™ program and find additional ways you can recycle your denim, visit https://bluejeansgogreen.org/recycle-denim/.