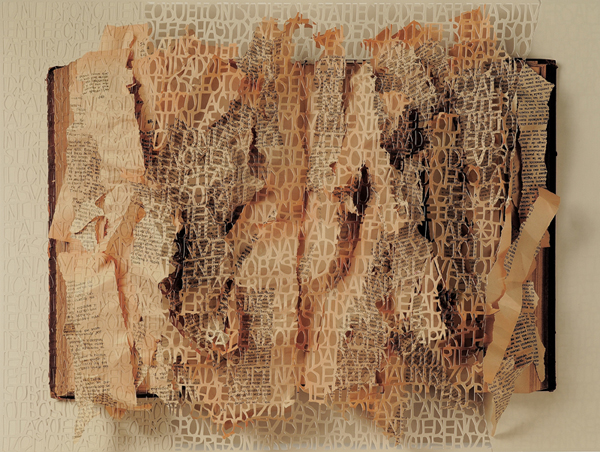 In the ongoing quest to discover artists who recycle and reuse to creative ends, we've happened upon a trend: the art of the altered book. Here we take a brief look at the work of artists inspired by the book — by virtue of it being a venerated commodity, often saved from the dump, but left to the dust. Below are images of the work of six artists who have taken a book off the shelf, imbued it with new meaning and rewritten its fate.
Pablo Lehmann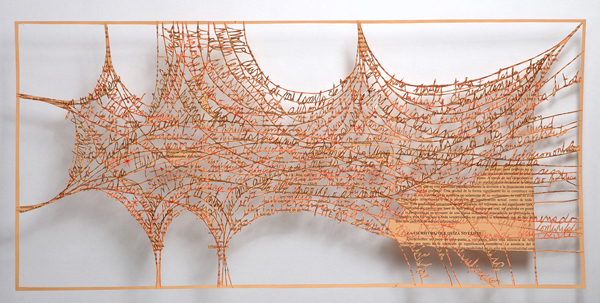 First up is Pablo Lehmann. Buenos Aires-born Lehmann produces exquisite work renewing books from his personal library. The image above, called simply "Cut-out Screen 1," is formed from pages cut with startling precision. The image at the top of this article is of "Lesson 1," part of Lehmann's latest body of work. One step removed from the altered book, the sculpture is made from a cut-out photograph of torn pages. Below, is his "Encyclopedia," the leafy design bringing to mind the "tree of knowledge" contained within the book's leaves.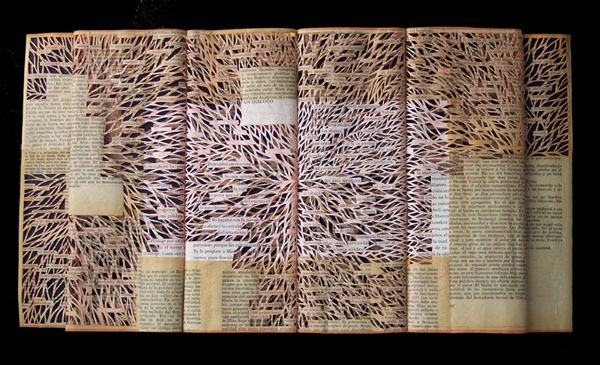 Nicholas Jones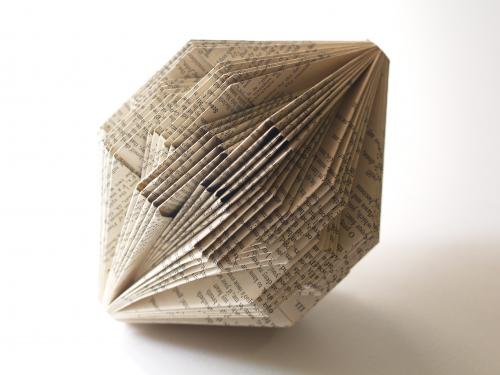 Nicholas Jones is a Melbourne-based sculptor and bibliopath whose work aims "to question the manner in which books are 'read.'" He folds, tears and sews pages from unwanted, though elegant, books to form beautiful compositions, highlighting "the poetic nature of the book as form." Shown are his works "Macbeth" and "Christ's Object Lessons."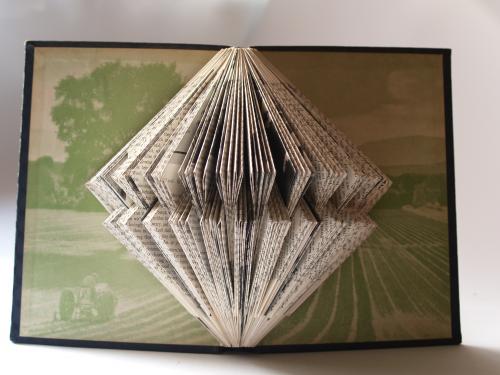 Brian Dettmer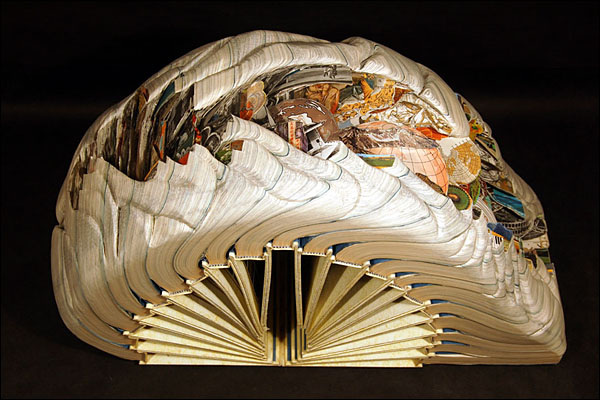 Credit: Brian Dettmer, New Books of Knowledge, 2009, Altered Set of Encyclopedias. Image courtesy of the Artist and Packer Schopf.
This is not the first time 1-800-RECYCLING has featured the work of Atlanta-based artist Brian Dettmer — you can see his skull sculpture made from old cassette tapes
here
. A man whose artistic
raison d'etre
is to manipulate pre-existing materials into new forms, he finds old books and obsolete maps a flexible medium for exploring new concepts and hidden meanings. With the following statement, Dettmer encapsulates the cultural relevance of probably all the work featured in this article: "The book's intended function has decreased and the form remains linear in a non-linear world. By altering physical forms of information and shifting preconceived functions, new and unexpected roles emerge."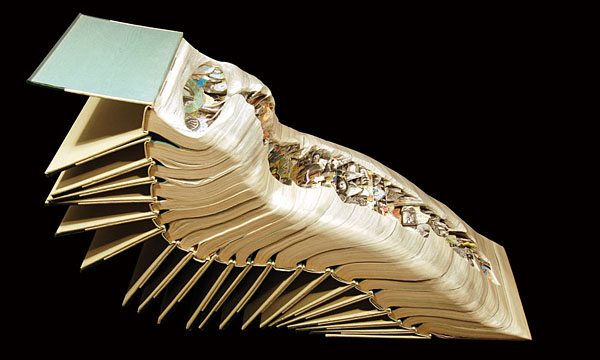 Credit: Brian Dettmer, World Books, 2009, Altered set of Encyclopedias. Image courtesy of the Artist and Packer Schopf.
Lisa Kokin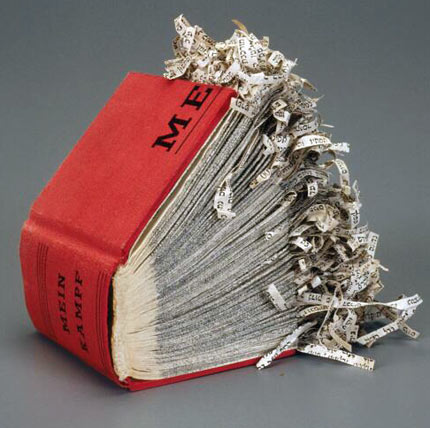 Lisa Kokin is another artist whose work we have admired
before
. The stitch frequently threads itself through Kokin's work and it does so both literally and metaphorically in her altered books. Appropriating and combining discarded texts about religion, history, self-help, business and sociopolitical ideology, Kokin likes to subvert their intended meaning to weave new stories. Shown are "I Love Only What I at Least Know" and "Partial History of Jewish Life in Modern Times
."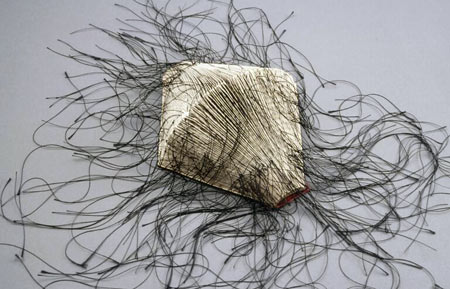 Brooke Schmidt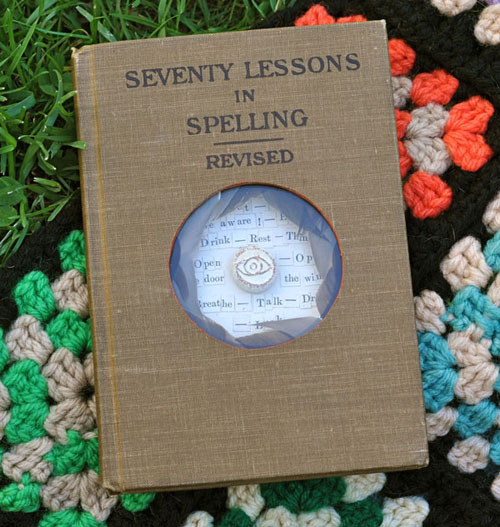 The Pennsylvania-based artist Brooke Schmidt transforms vintage books into frames or vessels for new, compact pieces of literature. Windows are cut into found hard-back books, showcasing short poems decorated with materials such as feathers, chalk and glass. Shown are "Seventy Lessons"
and
"Sea Glass."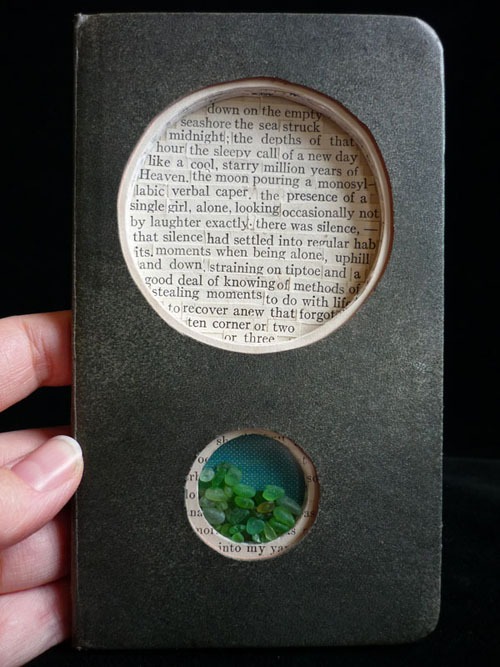 Paul Octavious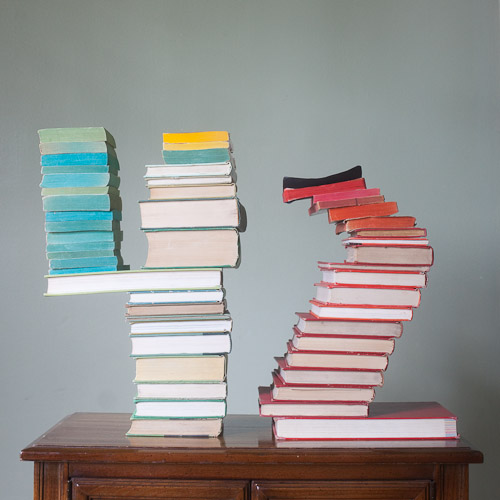 Paul Octavious doesn't alter books so much as challenge their identity. Most frequently associated with words, with touching and opening, Chicago-based Octavious represents them as numbers, piling them in a precarious balancing act, for admiring from a distance and keeping shut. This project he calls "The Book Collection."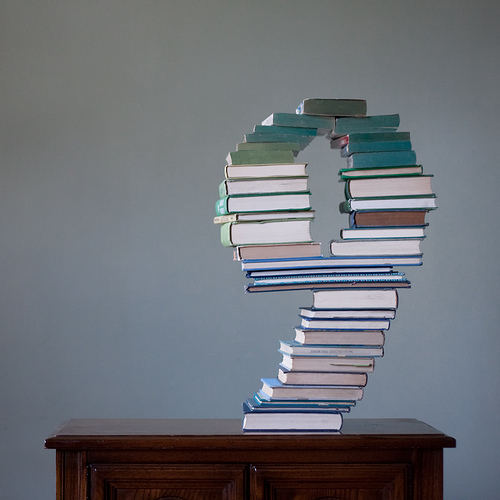 Find out more about each of the artists featured here
:
1, 2, 3, 4, 5, 6