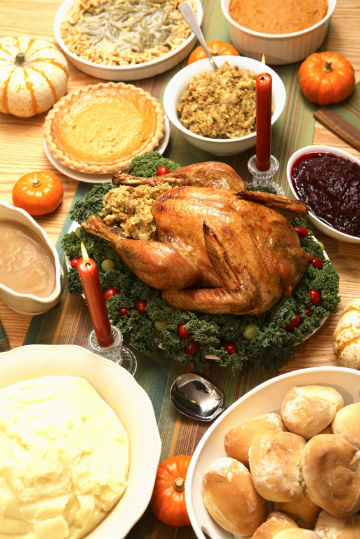 Thanksgiving is a holiday surrounded by friends, family and an overflow of food. While eating turkey with reckless abandon and giving thanks for the things we love, what can we do to make the holiday season a little greener? Shooting for a no-waste Thanksgiving can be a fun way to educate children and other family members on the importance of lessening our impact on the environment. If no waste is too daunting, there are lots of smaller steps you can take to reduce, reuse and recycle for Thanksgiving.
The feast
If your family is like most in America, Thanksgiving can mean a week (or more!) of leftovers. Most of us get tired of daily turkey sandwiches with reheated stuffing. How can we prepare just enough food? Plan accordingly — know how many people are attending your Thanksgiving feast and then resist the strong urge to cook enough food for an army. If you have a smaller group to feed, consider stuffing a chicken to bake — they're smaller than a turkey, which likely means less wasted food. Also, don't be afraid to share leftovers. Instead of letting them go bad in the refrigerator, bring them to your office, a local church, school or community center, or give them to an eternally hungry college student. You can search for food drives and food donation centers in your area, but that can be difficult if the food is cooked instead of canned. And a lot of that leftover food can go into a
backyard compost
. More ambitious environmentalists might try the
100-Mile Thanksgiving Challenge
. As the name suggests, this means using only foods grown (or raised, if we're talking meat) in a 100-mile radius from your home. Finding food at your local
farmers market
is a great way to procure fresh fruits and vegetables while supporting local agriculture. The less distance the food has to travel from the farm to your plate, the better it is for the environment.
The decorations
Are decorations really necessary? If you were my mom, you'd say, "Yes, of course!" But, instead of store-bought decorations, get creative. Gather some smaller fallen branches and collect them in a vase for a rustic autumn feel. Fall vegetation like gourds, pumpkins and squash make lovely centerpieces, and when the feast is over you can send them home with family members or keep them to eat later. Send your kids into the yard to collect pinecones, acorns, colorful leaves and twigs to use as decorations. This simple touch will remind guests that nature is all around us, and that lessening our impacts will help preserve and protect the earth.
The utensils
Resist the urge to buy disposable plates, napkins and silverware during the holidays. If you must buy disposable utensils, look for the
biodegradable options
to help conserve. Your best bet is to use real silverware, plates and cloth napkins.
The travel
Do you have to take an
airplane
to see friends and family this holiday season? Due to time constraints, airplanes are often the best way to travel. Purchasing
carbon offsets
for your traveling can help make a difference and reduce your personal carbon footprint. If your Thanksgiving guests are in town, encourage them to carpool or take public transportation. What are your plans to add some green to your Thanksgiving?