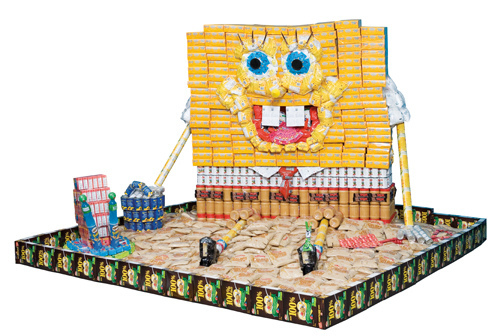 "SpongeBob" (2006) All images courtesy of Canstruction Vancouver. Photo credits: Marina Dodis and Dave Roels
Canstruction is a creative recycling project that really does have a purpose. Not only does the charity create astonishing works of art, but also, more importantly, it is a global anti-hunger initiative. The concept is simple: Build a structure of your choice from cans of food, wait for a winner to be chosen from all the entries, exhibit the structures to the public for a week, then donate the food to local food banks. Simple? Yes, and very successful as well.
"Pac-Man" (2008)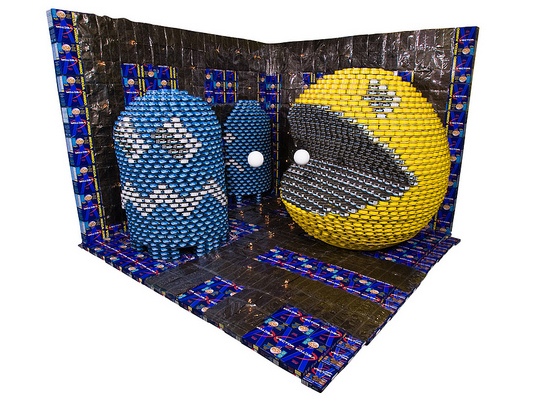 As well as a seminal video gaming franchise, Pac-Man also had his own animated series, and for an ever-hungry hero, a canned reconstruction is a perfect match.
Since 1992, when the first building competition was held in New York City, Canstruction, the brainchild of the Society of Design Administration (SDA), has held design and building competitions in more than 140 cities across North America, Europe and Australia. It has to date donated more than 15 million pounds of canned food, thus becoming one of the largest contributors to food banks in the world. While tackling hunger and malnutrition, builders, volunteers and visitors are having tons of fun as well.
"Terasen" (2009)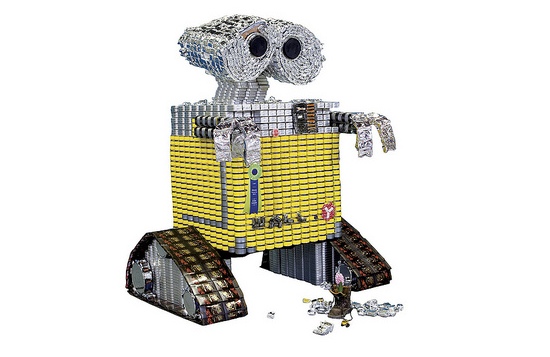 WALL-E might have been looking a little rusty, but the original wasn't actually made out of old cans… we don't think.
"Mr. Mike" (2006)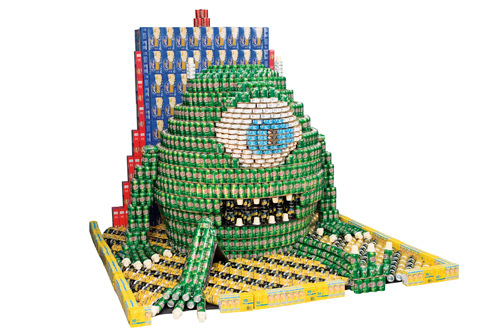 Another Pixar hero, Mike was the green, cyclopean monster in Monsters, Inc. who made his living by scaring children until he, thankfully, reformed.
Canstructionists have taken their inspiration from a huge range of sources, but one of our favorite themes from the competitions are all the animated heroes who crop up amongst the sculptures. Whether it's SpongeBob SquarePants or Pixar's cartoon mascots, we can't get enough of it! In fact, Canstruction Vancouver is holding its ninth annual building competition from February 27 to March 6, 2011 at the Vancouver Cruise Ship Terminals at Canada Place; so if you're in the area, it's a great time to drop in! You could catch a glimpse of this year's WALL-E, or maybe even a brand new R2, if robots are to your taste.
R2's claim to fame might have been the Star Wars movies, but he also pops up in The Clone Wars and, of course, the classic cartoon series, Star Wars: Droids.
The teams get two days before the official beginning of the exhibition to build their structures, which usually take around 13 hours from start to finish. That requires quite a bit of planning and logistics beforehand! Banned items include cans that contain alcohol or pet food, glass containers, perishable food or open packages of food — because while they might make great building components, they cannot be donated onward.
"Oscar the Grouch" (2006)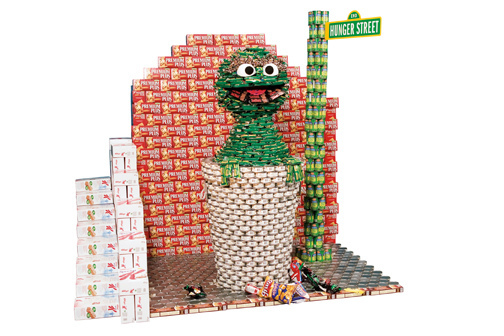 Oscar the Grouch, the greatest if most miserable of The Muppets, lived in a trashcan — that's repurposing in action!
The food cans can only be joined with tape, Velcro, wire, rubber bands or by methods that allow easy dismantling, ensuring that none of the labels are damaged.
"Concert" (2009)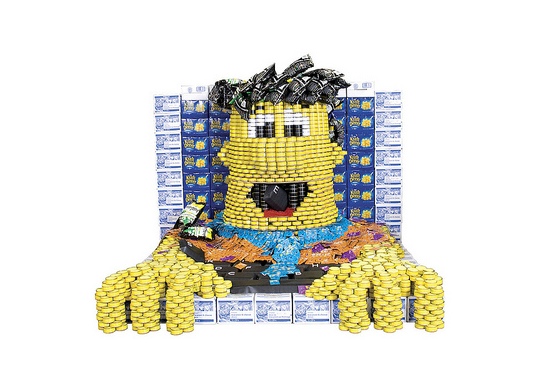 Poking fun at the nuclear family life of 1950s America, Fred Flintstone was the original iconic, animated dad.
That means none of the sculptures you see here have been glued or welded together, or otherwise permanently fixed. All of them are pretty much just cans of food stacked on top of each other. If you want to find out how tough it is, try a mini sculpture at home. You may want to wear a helmet!
"Pac-Man Eating" (2008)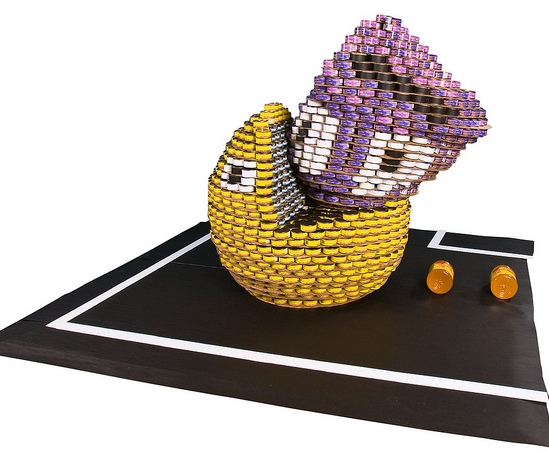 You might not believe it, but there really are times when Pac-Man isn't eating…
All sculptures must be also be completely self-supporting, and any kind of framework or other structural support is banned. Thus, each team must contain at least one design professional to guarantee structural stability.
"Optimus Prime" (2008)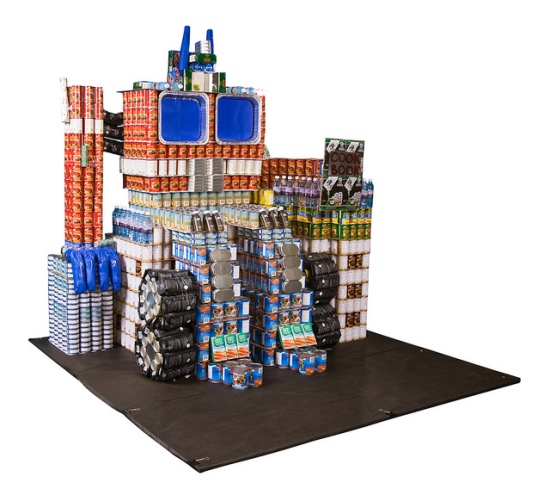 Combining trucks and robots, Optimus was one of the great animated heroes of the 1980s — and is still pulling in the big bucks at the box office today.
Participants have a chance to win in one of the five international categories: Jurors' Favorite, Best Meal, Best Use of Labels, Structural Ingenuity and Honorable Mentions. The five winners of all local competitions are submitted for the international competition.
"Mr. Potato" (2006)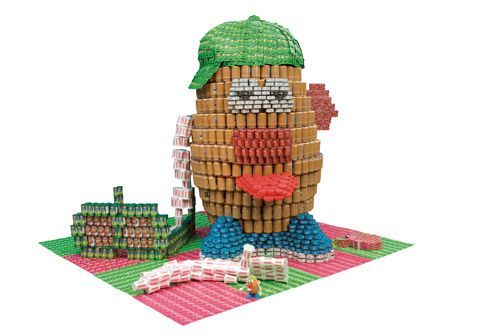 One of the few real world toys to appear in the original Toy Story, Mr. Potato Head has seen something of a renaissance in the last decade.
In eight years, 956,505 cans of food have been used to build 147 sculptures by 24 teams. That's a total food value of $1,913,010, or $13,013 per sculpture! In 2011, Canstruction Vancouver hopes to collect its millionth can of food.
"Poo Bear" (2008)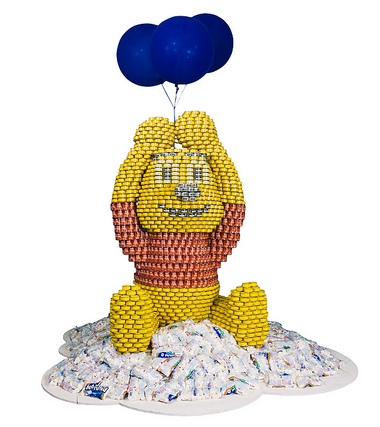 Winnie the Pooh, the bumbling bear, as brought to children around the world by none other than Walt Disney.
Asked about the preferred type of food used and received in the competition, Janice Podmore, Chair, Canstruction Vancouver, said: "As the food our designers prefer for their sculptures is canned fish (makes for nice small pixels of color) it is a HUGE hit for the food bank, as protein is the most expensive portion of the meals they serve. They will probably get over 100,000 cans this year alone."
"Fluor" (2009)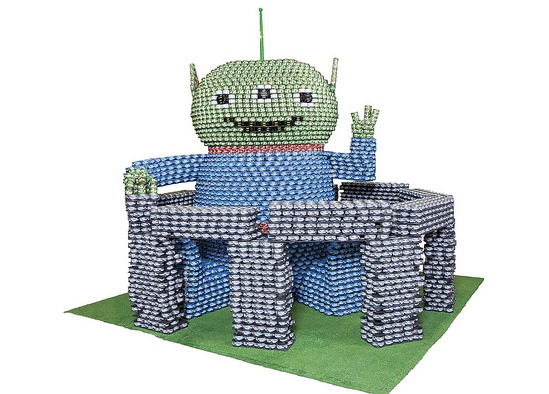 Yet another Pixar icon, it's one of Buzz Lightyear's alien buddies, first seen in Toy Story 2.
From the examples provided here, can you guess the themes of previous years? Not quite? Here they are: "Playtime" (2006), "Books and Bites" (2008), "From Caveman to Spaceman" (2009), and "Imagine!" (2011). Those who want to see Vancouver turn into Cancouver can visit the exhibition daily from 10 a.m. to 5 p.m. Instead of an entry fee, visitors are encouraged to bring food donations in the form of canned food. Those who would like to participate can still do so: teams can still register, though it is recommended to get all the food logistics taken care of by early February.
Special thanks to Janice Podmore and Canstruction Vancouver for information and images; all photo credits: Marina Dodis and Dave Roels.
Sources: 1, 2