The beds, marketed by the Society of St. Vincent de Paul of Lane County, are made from recycled mattresses.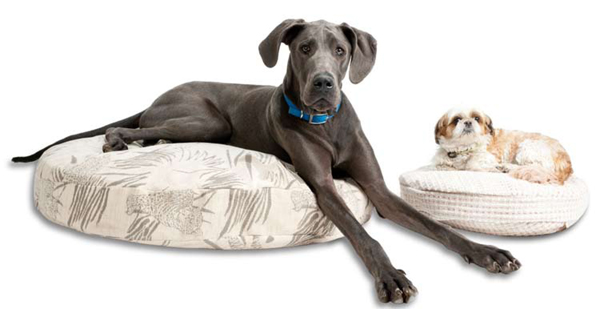 Dogs don't only have to be
man's
best friend. With reusable and recycled products like Dogma Pet Beds, created in the Pacific Northwest by a charitable institution, their kinship can be shared with Mother Nature. Some, like software magnate Bill Gates, think
small-scale yet consumer-friendly green ideas
are "cute." But for many, especially for nonprofits like The Society of St. Vincent de Paul, reusable and recycled products serve as the gateway to a more ecologically stable future. While Gates' behavior is directed more toward promoting sustainable energy, others are focusing on greening our daily lives. And for that, kudos are worthy. The Society of St. Vincent de Paul of Lane County in Oregon has been marketing this green product for the betterment of our four-legged friends. If you happen to be around the
Eugene
area, perhaps you have run into someone with the earth-friendly
Dogma Pet Bed
. These beds come in various sizes and offer all the environmental benefits of recycled and long-lasting products. According to the charity's website, "The beds are made from recycled mattress materials," though we're not told which ones specifically. The filling, however, is of particular interest. It is referred to as EcoFiber ("soft batts of recycled cotton") and it offers both comfort and landfill-saving properties. Simply put, the more stuff that's reused, the less that gets dumped in a hole somewhere. And the Dogma Pet Bed is helping to see the detrimental waste process slowed. This earth- and pet-friendly dog bed isn't the first or only St. Vincent project to jump on the sustainability bandwagon. The Oakland, CA-based
Alameda County branch
has been featured on 1-800-RECYCLING for its efforts to recycle electronics waste. And surely there are other St. Vincent de Paul locations with projects or services that promote social justice while conserving natural resources. Whether or not these West Coast charities are having more success launching sustainable ideas than others, the Dogma Pet Bed is further proof that eco-consciousness and business (or charity) can merge successfully.