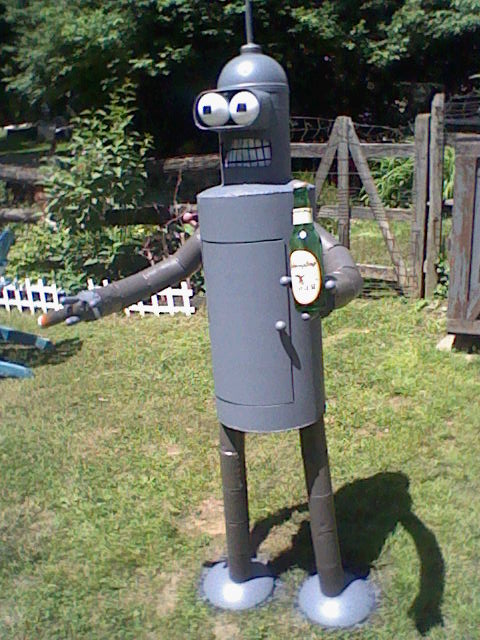 Image: The Great Nippulini
All images used with the permission of respective photographers and artists.
The robot sidekick is a staple of both sci-fi movies and cartoon adventures. These trusty companions are often not only the most likeable characters, but are also pivotal to the story. From
Futurama
's paradoxical Bender, who "hates all humans," save for his best friend, Fry, to the camp eccentricities of C-3PO, these mechanical oddities are often able to steal the limelight.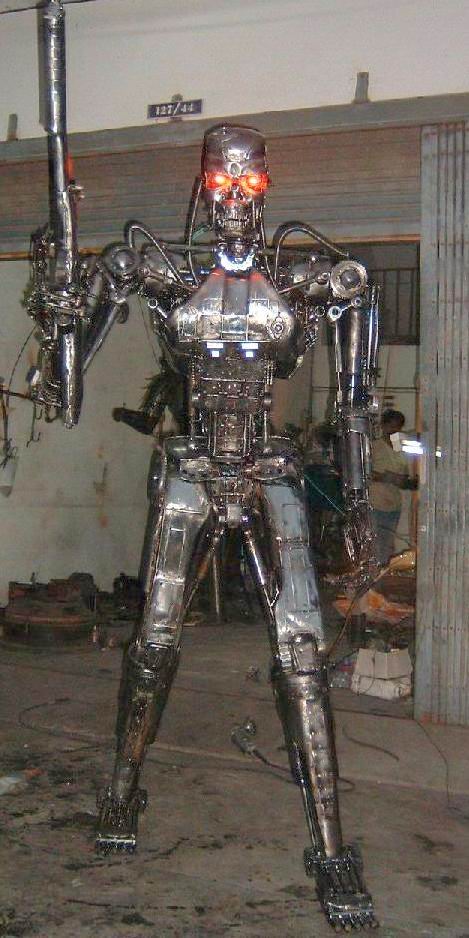 Image: YumiModal
On the other side (the dark side!?) of the coin we have the baddies, from the Terminator's unrelenting struggle for supremacy over mankind, to the ED-209 running amok in
RoboCop
's Detroit. Would you believe that awesome movie icons like these could be built from nothing more than scrapyard junk? These seven incredible reconstructions prove that it can be done!
7. ED-209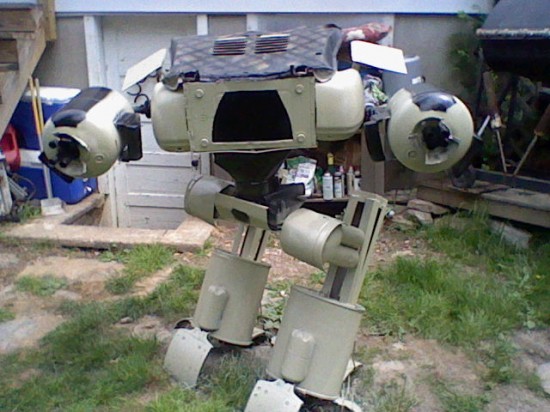 Image: The Great Nippulini
The ED-209 was the hopelessly flawed predecessor to
RoboCop
. The battle-bot's inability to recognize threats (anyone unfamiliar with the machine should look up the "only a glitch" scene on YouTube), and unsuccessful attempts to undertake its law enforcement duties meant that it wasn't quite perfect, even if it did look amazing. This reproduction captures its hulking size well (despite being considerably smaller): The whole piece weighs more than 300 pounds.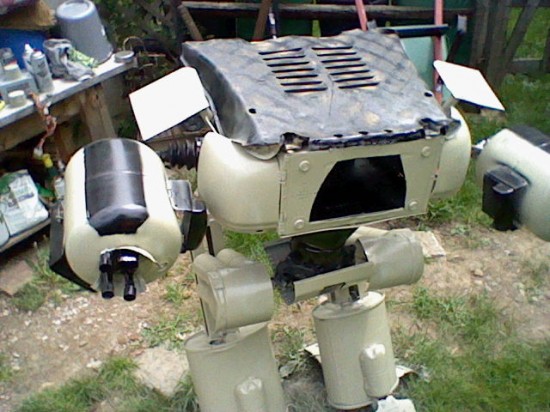 Image: The Great Nippulini
The combined weight of the components meant that it was necessary to be able to break the model up into five pieces so that it could be moved it around. This ED-209 can also swivel on a joint constructed from a water pump.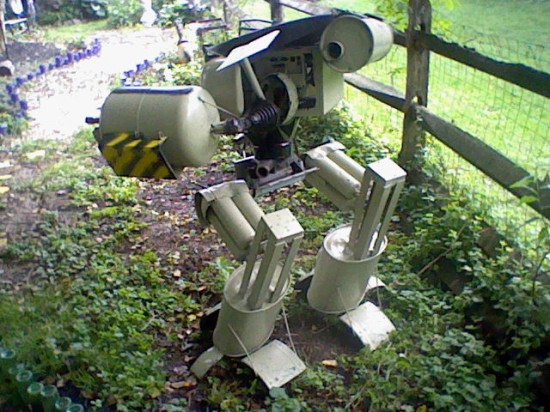 Image: The Great Nippulini
The piece was made from random, leftover pieces of metal, boding well for the possibilities of recycling! To protect and serve, indeed.
6. C-3PO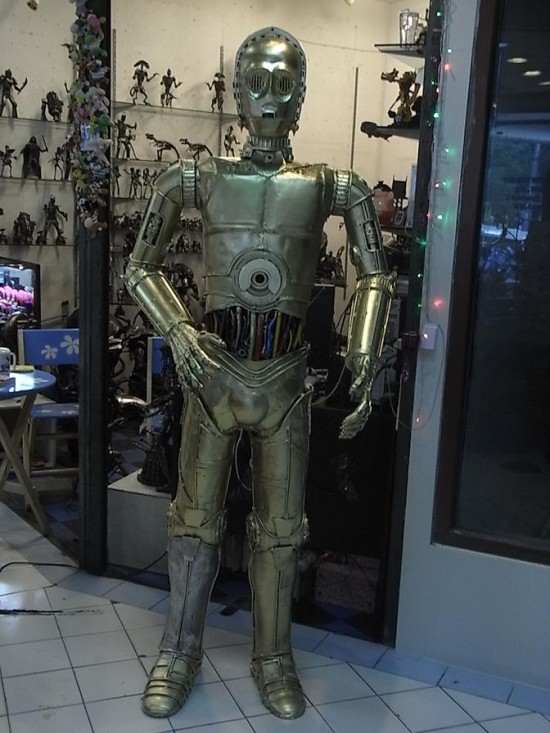 Image: YumiModal
This C-3PO, however, cuts a much friendlier figure…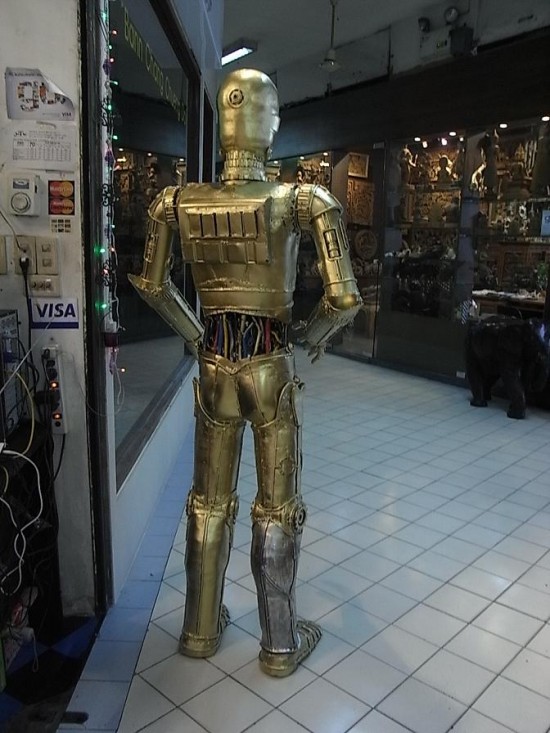 Image: YumiModal
This faithful replica of the often-panicked droid, created by YumiModal, a family business in Thailand, is life size and extremely detailed. The exposed wires are a lovely touch, and one can just imagine his eyes lighting up and the voice of Anthony Daniels echoing forth.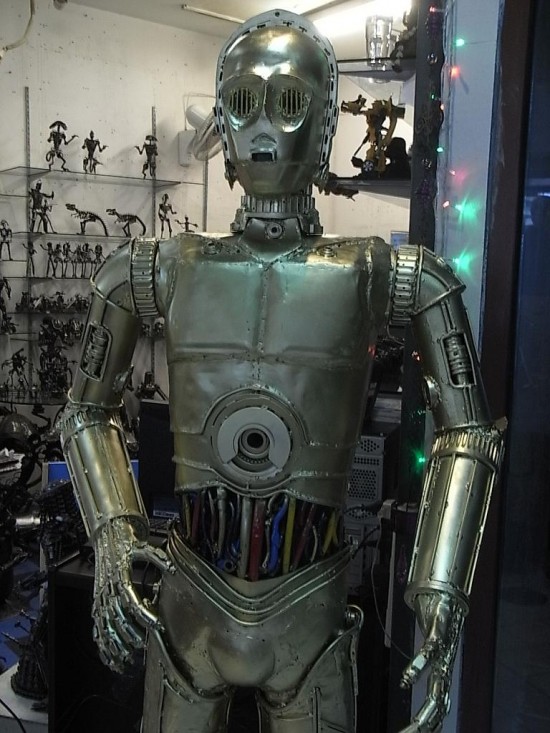 Image: YumiModal
The skill and patience required to create such a model is immense, but luckily all of YumiModal's one-of-a-kind statues are for sale if you don't have quite enough spare metal to make one yourself!
5. Bender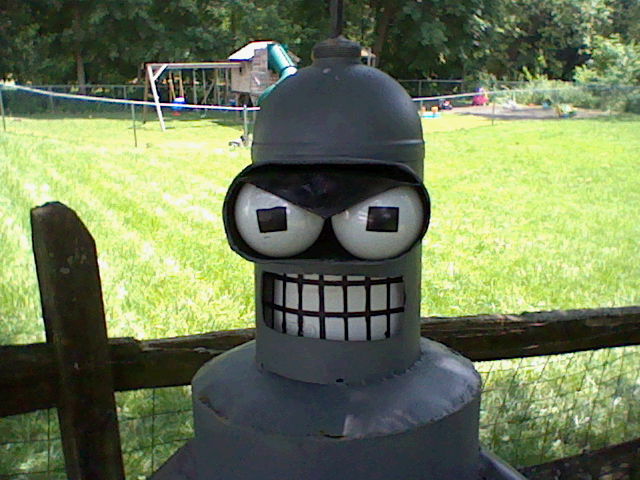 Image: The Great Nippulini
The facial expressions shown by Bender (aka Bender Bending Rodríguez from the TV show
Futurama
) often give away his disdain for the human race, and The Great Nippulini has captured this perfectly with his cut-and-welded MAPP bottle visor and lightbulb eyes. These lightbulbs are screwed into functioning sockets that really can be plugged in. Maybe a bit Bonnie Tyler 'Bright Eyes,' but very cool nonetheless. The Great Nippulini constructed these two larger-than-life Benders (above and top) from large-scale junk he had lying around. The main torsos are constructed from water heater tanks whilst the heads are used fire extinguishers. The Great Nippulini explains: "I use MAPP bottles to fire my gas forge. I do a lot of forging, so I have a pile of old bottles I choose not to throw away." These bottles were used to create Bender's limbs.
4. The Terminator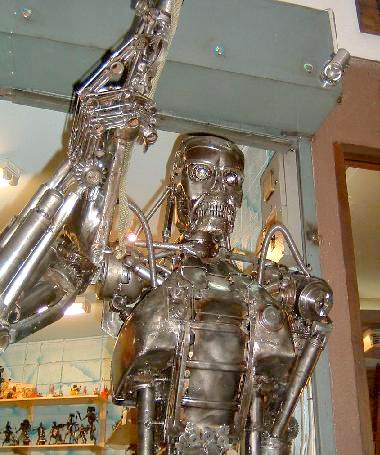 Image: YumiModal
These menacing machines were quite a match for John and Sarah Connor in the
Terminator
films and have been recreated here by YumiModal. It looks like they were made using various plumbing items and household metallic debris, which suits the terrifying robo-skeleton absolutely perfectly. And look at those glowing red eyes! You certainly wouldn't want to get in the way of this guy!
3. Batteries Not Included Robot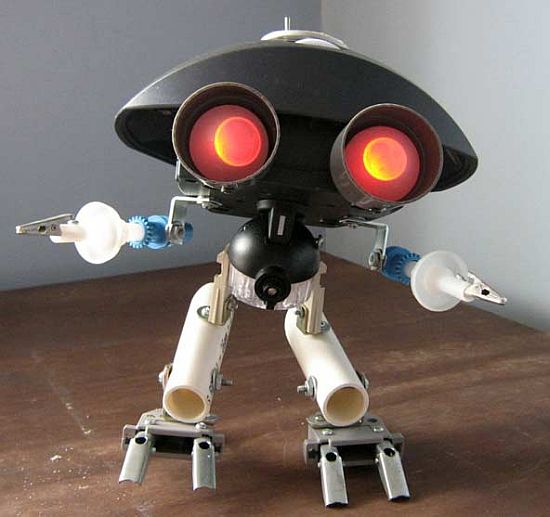 Image: Mario Caicedo Langer
This adorable model of a robot from the Spielberg's cult movie classic
Batteries Not Included
was constructed by Colombian artist Mario Caicedo Langer. Langer uses all sorts of defunct domestic appliances to make his sculptures, from broken windscreen wipers, to unusable food processors and computer parts. In the movie, these little critters were great recyclers themselves, taking all sorts of things and making them as good as new.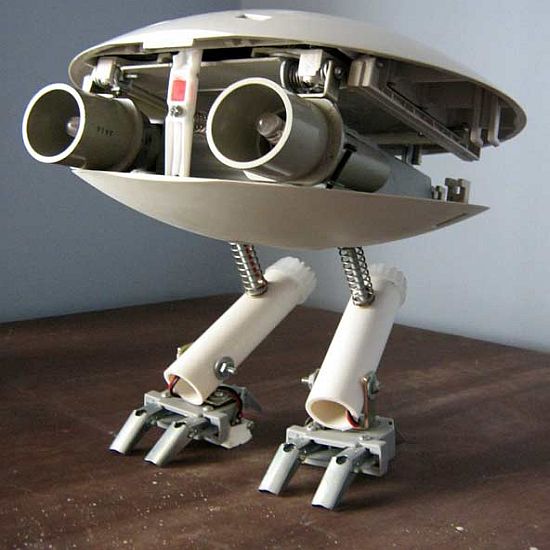 Image: Mario Caicedo Langer
These apartment-saving robots can be made more realistic with a little technical know-how; for example, wiring them so the eyes light up. Who knows what could happen if you do?
2.Wall-E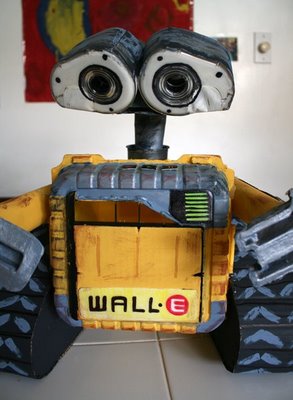 Image: Filth Wizardry
There is nothing more comforting than a home-made aesthetic as with this incredible kids' favorite Wall-E model. Wall-E's charm and romantic impulsiveness are wonderfully captured here through this model which is reminiscent of days spent gluing toilet roll tubes together as a kid (if only you were able to make something this great!). As a trash-compacting robot, Wall-E himself has a great deal of familiarity with sorting junk.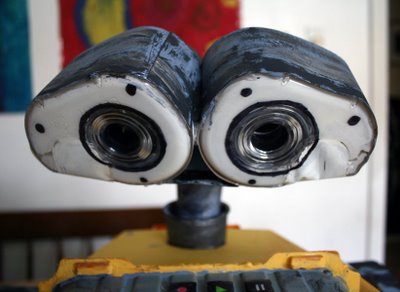 Image: Filth Wizardry
The body was made from one of those square buckets that are so great for making the turrets on sandcastles, and his eyes are a hybrid of yogurt pots and tape dispensers, whilst that textured front is made from a packet that used to contain cookies. (Note: this is a brilliant excuse to eat cookies — you
need
the packet. Easy.)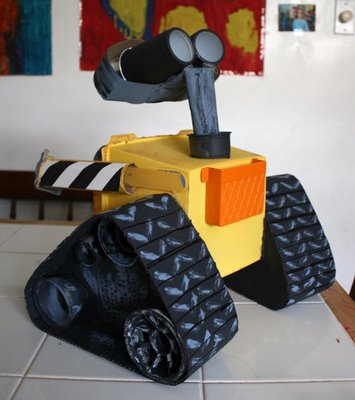 Image: Filth Wizardry
Other components include cardboard, the pouring spout from a fabric softener bottle and bottle lids — all things you'd probably throw out normally! Luckily, the real Wall-E is quite worn and battered, so the loved-in look works perfectly. Projects like this are a brilliant way to get children into recycling, and are a great project for children at heart, too. From the same household we've previously featured
Paulbo
's terrific Millenium Falcon (made by the same kids!), which you can see
here
.
1. Optimus Prime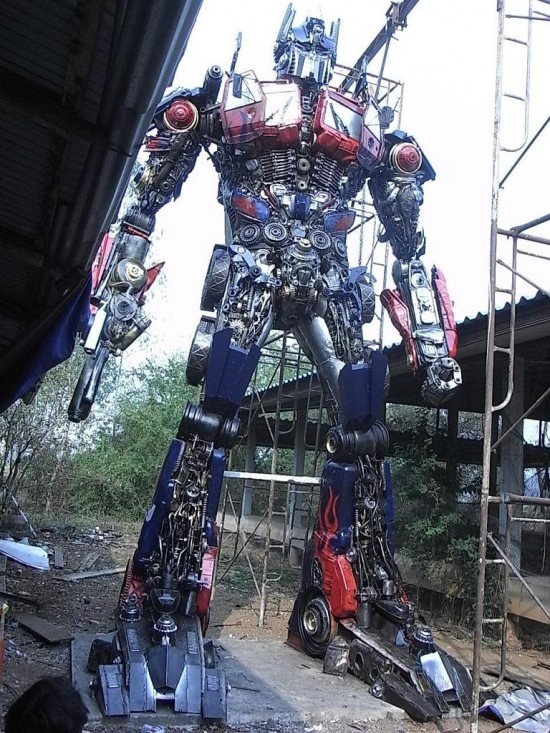 Image: YumiModal
Holy heck! This absolutely massive model of Optimus Prime, leader of the Autobots, is made from a plethora of industrial junk. Car wheels and huge scraps of metal have been transformed into a monstrous piece of movie memorabilia.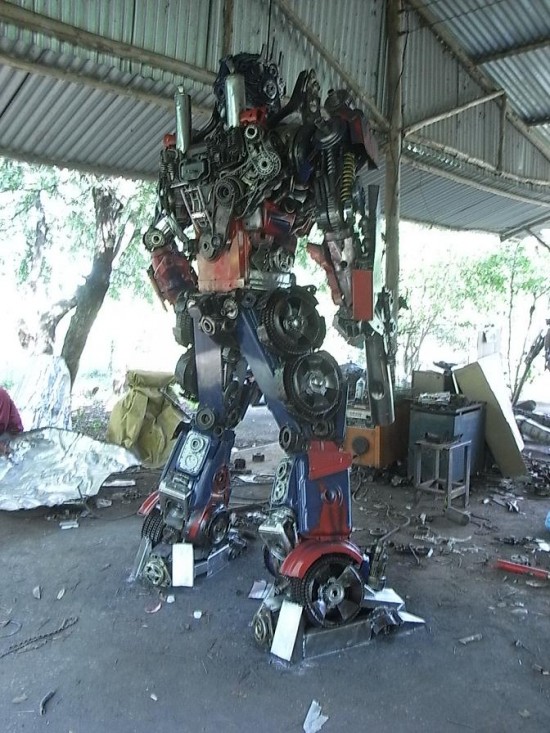 Image: YumiModal
The
Transformers
films have certainly come a long way from their cartoon roots, but this model (and its smaller duplicate above) definitely capture the spirit of the recent big-budget box office smashes. The sheer scale and complexity of the pieces means they are no small feat for the ordinary garage clearance; not a worry for YumiModal, though!
Bonus Entry: Remote-controlled Dalek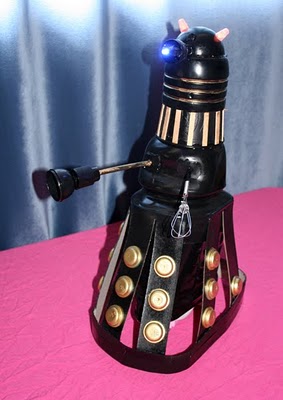 Image: Filth Wizardry
Over the years, the Daleks have remained the arch enemies of Doctor Who. Every time we think they've finally been defeated, they're back, and more intent on domination than ever! This Dalek moves around, like the real ones, thanks to a remote-control mechanical toy fixed onto the bottom (you can see
a video here
).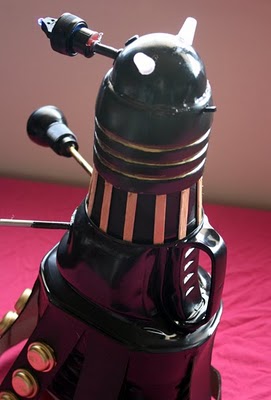 Image: Filth Wizardry
Spraying the bottoms of toy containers gold makes for some realistic decoration, and the blaster gun was constructed from a toy egg whisk. For a realistic effect, a light-up keyring was attached to the end of the "eye." No flying for this one, though (so stairs are a no-go), as it's made in the style of the 1970s Dalek Supreme. So, why is it a bonus entry? Because, deep down, despite everything, the Daleks are actually cyborgs, not robots.