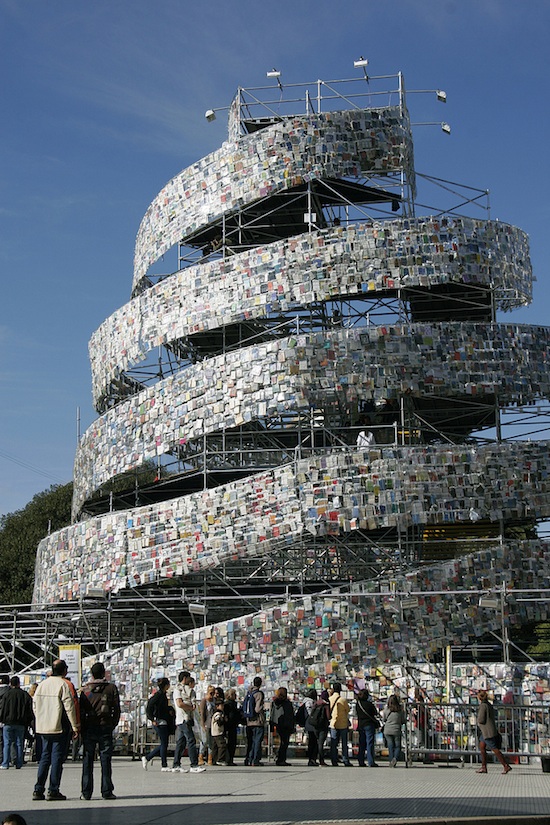 Image: Estrella Herrera/Gobierno de la Ciudad de Buenos Aires
An 82-foot-tall tower made out of thousands of books — 30,000 such "bricks" to be precise? We can see book lovers' eyes light up with glee in view of all the reading material, only to be extinguished by the thought of such a waste. But bookworms and environmentalists can relax and rejoice! Not a single volume was harmed in the process of building this massive structure. On the contrary…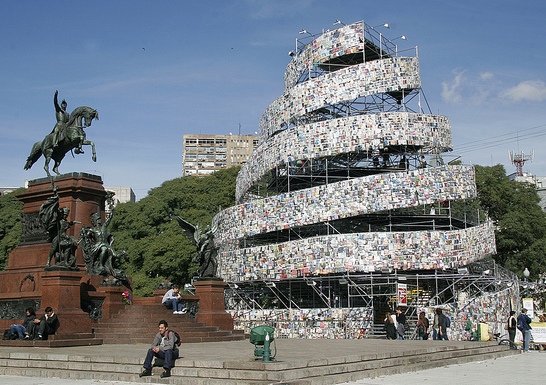 Image: Estrella Herrera/Gobierno de la Ciudad de Buenos Aires
The "Tower of Babel," as it is officially called, was the brainchild of acclaimed Argentinean artist
Marta Minujín
. Minujín devised the tower in celebration of Buenos Aires being chosen as the United Nations Educational, Scientific and Cultural Organization's (UNESCO) 2011 World Book Capital. The used raw materials were donated by libraries and readers eager to help, as well as more than 50 embassies.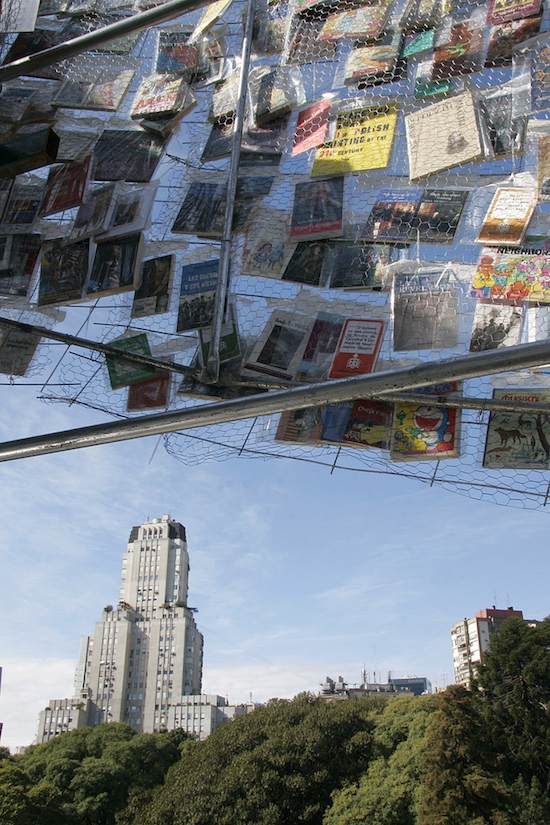 Image: Estrella Herrera/Gobierno de la Ciudad de Buenos Aires
The 30,000 books, in dozens of languages, were draped over a seven-story metal scaffold structure, which stood from May 7 to May 28, 2011. For nearly a month, this "Babel of Books" was a place where many languages flowed together, allowing visitors from even the remotest locations on Earth to find a book in their language.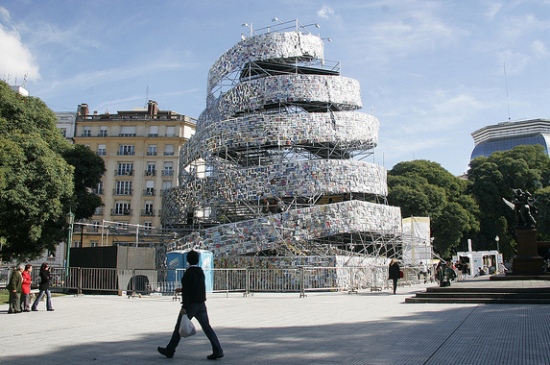 Image: Estrella Herrera/Gobierno de la Ciudad de Buenos Aires
This visual experience was supported by an audio installation of Minujín's music along with the artist saying the word "book" in dozens of languages. A full literary immersion, so to speak.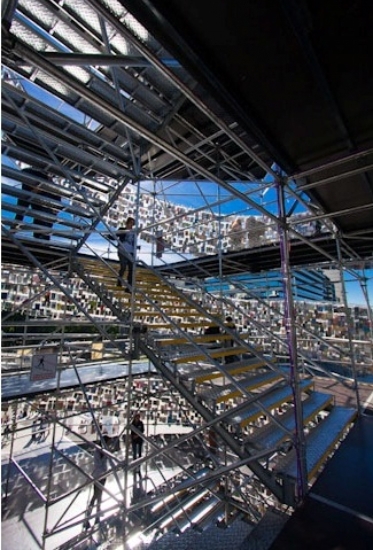 Image: Ayngelina Brogan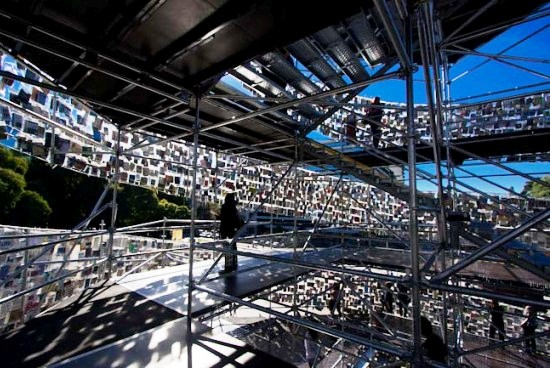 Image: Ayngelina Brogan
Just laying out the books like tiles on the walls of the tower took 10 full days, but the effort was well worth it. Minujín explains: "Building this tower has been a miraculous experience… A hundred years from now, people will say, 'There was a Tower of Babel in Argentina… and it didn't need translation because art needs no translation.'" A wonderful thought, indeed, and it got even better.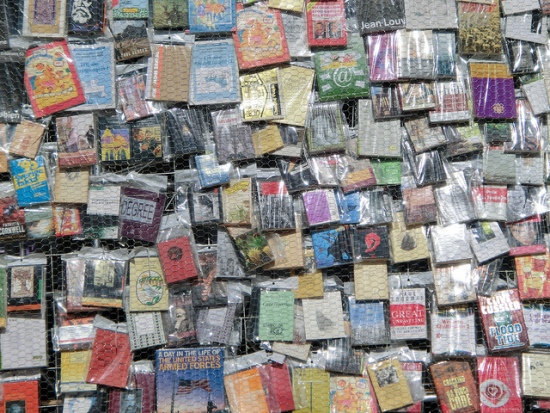 Image: Marcus
At the end of the installation, some lucky visitors were allowed to take home a book each. And to make up for the fact that those who came to see the tower could not actually browse through the books (they had been wrapped in plastic to protect them from the elements), the rest will form the basis for a new book archive called the "Library of Babel." Book lovers will know this to be the title of a popular short story by Jorge Luis Borges, one of Argentina's most famous authors.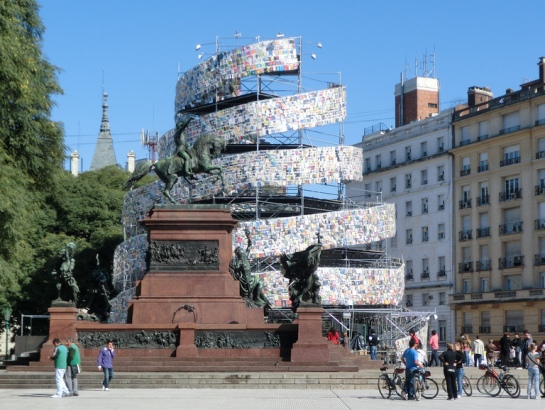 Image: Marcus
In our age of
e-books
and e-readers — in which the number of brick-and-mortar bookstores keeps dwindling, making way for online enterprises — it is a joy to see an installation that celebrates books in their physical form and builds them into a monument, even if only temporary. Taking second-hand books that have been read and rifled through is the icing on the cake, confirmation that books need to be shared to be fully appreciated, and a reminder that recycling can take many forms.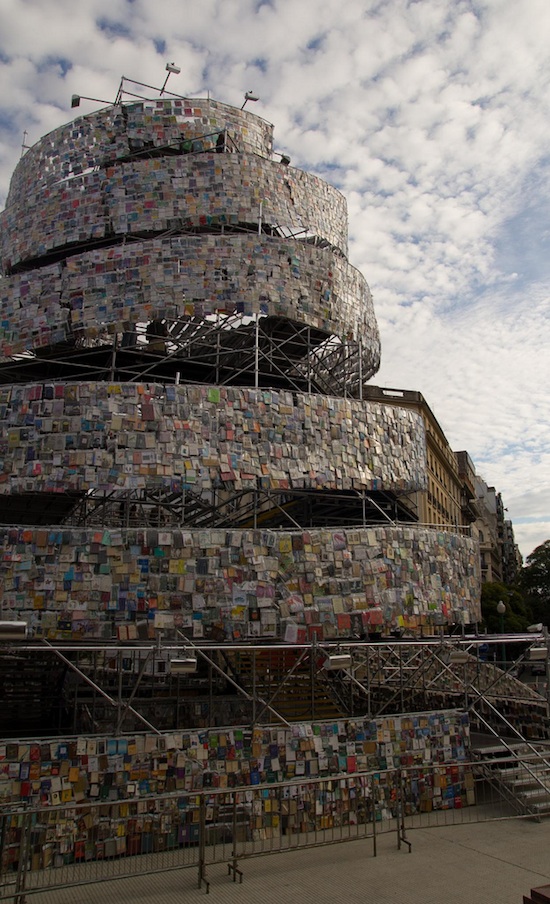 Image: Gustav's
The new library and archive will be another long-term haven for book lovers, uniting many languages and books under one roof. We'll try to keep you updated when it ultimately open its doors.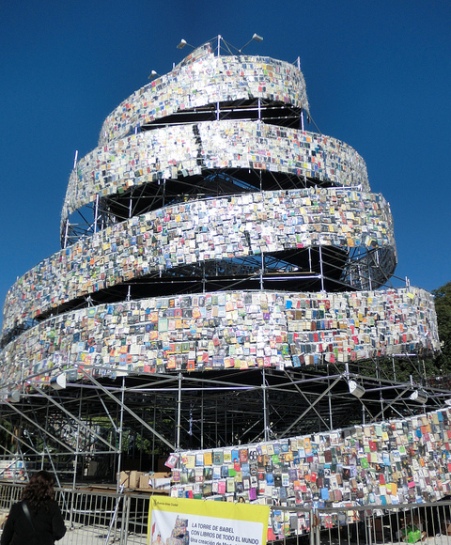 Image: Marcus
Minujín is one of Argentina's most famous artists. She studied art at the National University Art Institute in Buenos Aires and started exhibiting her work in 1959. In the early '60s, a scholarship brought her to Paris, where she got the inspiration for her "happenings" — art installations as events that involve the community. Among the most memorable of these happenings were her assembled mattresses — "livable" artworks that were later destroyed by fellow artists as part of the installation.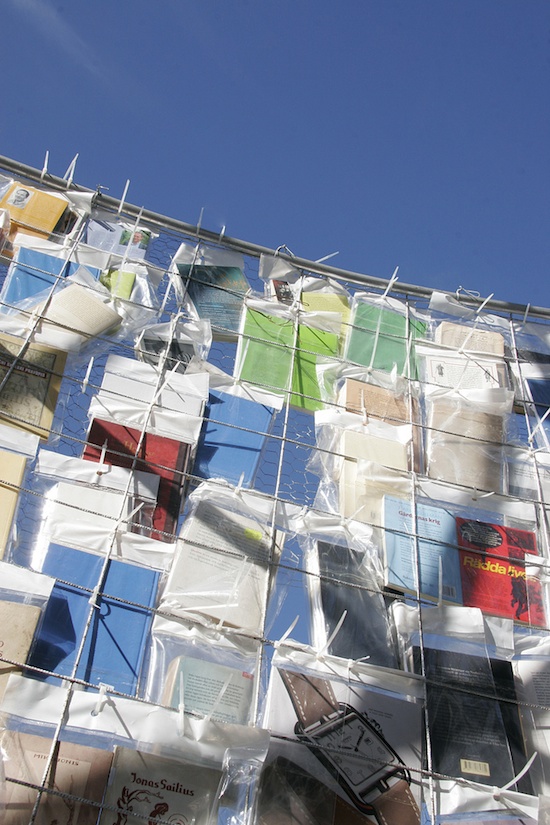 Image: Estrella Herrera/Gobierno de la Ciudad de Buenos Aires
After a decade in New York, where she rubbed shoulders with Andy Warhol and other contemporaries, Minujín returned to Argentina in 1976. Celebrating the country's return to democracy in 1983, she created her first book structure, the "Parthenon of Books." It too was made up of of 30,000 titles (in this case banned books) to celebrate the newly gained freedom of expression. More fascinating projects and happenings can be found on
Marta Minujín's website
.
Additional sources: 1, 2