Those crafty folks at the Society of St. Vincent de Paul (SVdP) — what will they think of next? We've touched before on this charity's unique recycling approach to
electronics
and
pet products
. Now it appears that the society is expanding its attention to include an even larger issue: glass.
The Aurora Glass line
from SVdP offers bright, eye-catching glass products that serve the dual purpose of looking good and helping a charitable mission. Fittingly, September is
Recycle Glass Month
. And with such initiatives, it only makes sense that SVdP is doing its part by taking unwanted window glass and turning it into brilliantly colored knickknacks, jewelry, doodads and other landfill-spared items.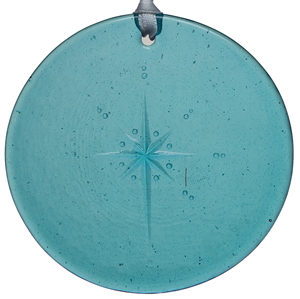 The works of Aurora Glass are crafted using 100%
post-consumer
recycled glass That's right: 100%
post
-consumer recycled glass. This means that the glass these products are made from has already served one useful life. That's huge. Looking to spruce up your patio? Add a recycled wind chime, sun catcher or good old-fashioned ornament. Could your home's interior use a splash of color? Maybe some glass architectural accents in hues of green, blue or red can add some pop. In the same vein as SVdP's other recycling efforts, the charity focuses its efforts on the reuse of millions of pounds of materials nationwide. Since the product line deals almost exclusively with secondhand or unwanted items, thinking outside the box is a must for SVdP in order to earn a buck. Specifically, the mission of Aurora Glass is as follows:
Through art and craftsmanship, Aurora Glass recycles discarded window glass transforming it into decorative and useful items. Our mission is to reduce the amount of glass in the landfill, be a positive example to our community and support the mission of St. Vincent de Paul.
A spin-off of Aurora Glass is the
Aurora Glass Awards
product line. By bestowing an Aurora Glass Award, one can "honor your recipient while being kind to mother earth!" Just like the napkin rings, pendants and coasters, these awards are attractive and yes, created from 100% post-consumer recycled glass. Once again SVdP is helping our overused landfills and proving one man's trash in another man's artistic and impressive Christmas tree ornament… or plaque, or candleholder or necklace. You get the idea.