Who doesn't love a picnic? It is the perfect green activity — a chance to enjoy tasty food and good company out in the fresh air. Now, thanks to the
Dallas
-based company
Boxsal
, you can make your next picnic as stylish as it is green.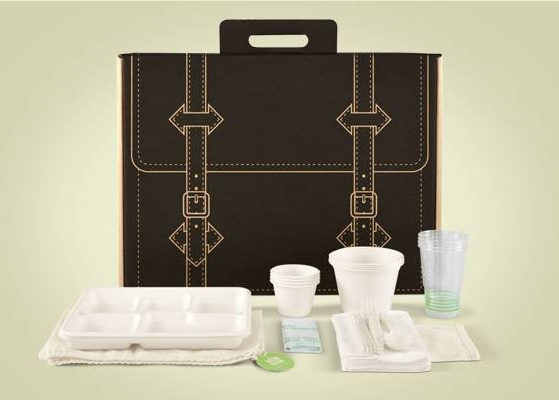 The idea behind Boxsal's portable picnic boxes is simple: to make picnic supplies that are both fun and eco-friendly. After all, it is easy to throw a few supplies in a bag, but why not have a bit more fun when you are headed outside for lunch? Each Boxsal picnic set starts with the box itself, which is made from 40% to 60% post-consumer recycled cardboard. Built to be sturdy, the boxes hold up to 20 pounds and can be reused up to 10 times. When you are done, they can be recycled or composted. Each box also includes nifty, foldable dividers to help make wine and cheese packing a breeze. The company offers several different fun designs, including a briefcase complete with Excel spreadsheet to help you keep track of your picnic details (
"Office Escape"
,
above
), and a romantic paint-by-numbers (
"Today's Date"
). These unique designs are limited editions and are currently sold out, but new boxes will be available in 2013. Each Boxsal picnic box is equipped with the
Eatin' Tool Set
, which includes compostable trays, bowls, cups, napkins and cutlery, as well as a compostable trash bag. Like the box, these picnicking tools are reusable and will go back to the earth when you are done with them (just remember to be sure they make it to the compost pile). Whether you are getting out of the office or taking your sweetheart out on a date, packing up your
hors d'oeuvres
and sandwiches in a recyclable, compostable Boxsal picnic box is the green — and stylish! — way to travel. Check out Boxsal's
website
for new boxes and a list of retailers where Boxsal products are available.