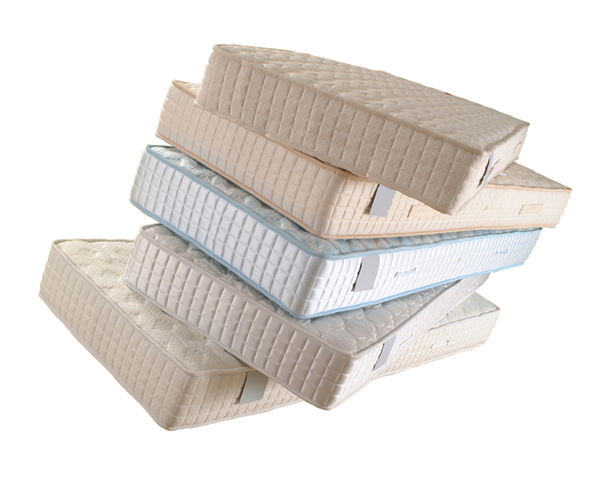 Here is a little-known fact about mattresses and box springs: landfill operators hate them. Those metal springs that keep you so comfortable at night wreak havoc on their equipment. They do not compact in trucks. If individual springs pop out they can damage bulldozers and other equipment. Mattresses can also create unstable spots in landfills that can cause equipment to tip over. But, there is good news for landfill operators and recyclers everywhere: Interest in mattress recycling has really taken off in recent years, and many communities now have viable businesses that will break them down and recycle them. It is likely that more mattress recycling businesses will open as states pass legislation requiring residents to recycle beds at the end of their usable life. (In 2013, Connecticut became the first state to pass such a law. Rhode Island and California quickly followed.) If mattress recycling has not made it to your state yet, we suggest a couple of useful ideas for reusing your mattress, either by donating it to charity or putting the springs to good use.
What can be recycled inside a mattress and box spring
Mattresses contain three main components. The heaviest is the spring steel, which can go straight to a metal recycler. Most mattresses have polyurethane foam, another highly recyclable product that can be used to make carpet padding and other products. The remaining commodity in mattresses is cotton. It is the trickiest item to sell, but is sometimes used as insulation. Box springs add a fourth component — wood, which makes up the sturdy frame. That wood can be sent to a recycling facility, where it is chipped and used to make garden supplements or burned as fuel. Mattresses may contain dozens of other materials, including plastic; pads made from jute, sisal or waste textile material; cord handles for carrying the mattress; and the fabric covering. Most of these products cannot be recycled on a large scale, although they have some creative uses. Those jute pads are great for garden pathways, as they are sturdy and thick but will eventually compost into the ground. Any mattress recycler worth their salt will tell you that 85% to 90% of the average mattress or box spring can be recycled. It is a remarkable number given that, if you leave a mattress whole, nothing gets recycled and none of it will biodegrade.
How to recycle a mattress
The
International Sleep Products Association
, a trade association for the mattress industry, maintains the most comprehensive list of mattress recyclers across the country. Check its list or use
1-800-RECYCLING's recycling search tool
to find a mattress recycler near you. It is important to find out whether your community has concerns about bed bugs that require special handling of mattresses. The nasty critters have made a resurgence in some places (although they are not as much of an issue as many people think). New York City and
Minneapolis
and
St. Paul
require residents to wrap mattresses in plastic if they suspect a bed bug infestation. They also recommend writing "Bed Bugs" on the plastic and damaging the mattress so people will not pick them up from the curb and take them home. Most recycling companies employ people to take mattresses and box springs apart by hand and separate the commodities into different piles. That is the case at
DR3 Recycling
in
Oakland, CA
, the nation's oldest mattress recycling company, as well as
Greater Bridgeport Community Enterprises
in Connecticut and
Goodwill Industries
in Duluth, MN. Some businesses choose to shred mattresses, but doing that makes it more difficult to recycle all the commodities. The foam, fabric and wood all get mixed together, resulting in a pile of fluff that is not worth anything. Most people who shred are likely recycling the steel and tossing everything else.
Mattresses can be reused, too
Assuming your mattress is in good condition, you may be able to sell it on Craigslist or a similar website. If that does not appeal to you, many charities will jump for joy at the sight of your gently used mattress, which they can give to a family in need or sell to fund other services. Not all thrift stores are set up to handle mattresses, so check with your favorite organization before you load that mattress atop your car. People have found some interesting uses for mattress springs. Left whole, they can be used as trellises for climbing plants or fashioned into fences. The individual springs, if cut apart with a sharp pair of wire cutters, make nice stands for vases and candle holders. Pinterest also shows mattress springs woven into wreathes, transformed into Christmas trees, and holding homemade suet blocks for birds. St. Vincent de Paul in
Eugene, OR
, a leading mattress recycler, has a creative use for some of the clean cover fabric it pulls from old mattresses. SVdP sterilizes the fabric and uses it to produce
Dogma Pet Beds
. The product, which is essentially a tiny mattress designed to keep your dog or cat comfy, is stuffed with post-manufacturing waste so that the product is made with almost 100% recycled materials. Each comes with a removable, washable cover.