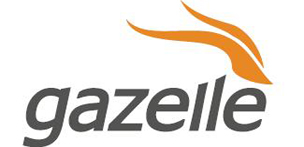 I'm always looking for more ways to keep stuff out of my garbage bin. My city's recycling program is pretty standard, leaving a lot of everyday items to either sit in a box or get thrown into the trash at the end of their useful life, so I was thrilled when I learned about Gazelle.
Gazelle is an online service that "keeps it moving" by recycling or reselling used electronics. The program currently accepts products in more than 20 categories: Blu-ray players,
calculators
, camcorders, camera lenses,
cell phones
, desktops, digital cameras,
e-readers
, external hard drives,
gaming consoles
, GPS devices, home audio,
laptops
,
LCD monitors
, movies, MP3 players, PDAs, projectors, satellite radios, streaming media and video games. How it works:
Find it. Search for your gadget online at gazelle.com. Gazelle accepts more than 250,000 products for recycling or reusing.
Ship it. Gazelle offers free shipping and boxes for qualified orders.
Get paid for it. Gazelle sends out cash, gift cards or donates to a charity after it has received and checked your item(s).
Keep it moving. Gazelle either finds a new home for your item or recycles it for you. The company guarantees that no item will ever end up in a landfill.
Worried about your privacy? Gazelle removes personal data from all gadgets. The company has an A+ rating from the Better Business Bureau, and they are a great idea if your organization is looking for an eco-friendly
fundraising idea
. Some of the products that are sent to Gazelle end up on eBay. Check out the
Gazelle Store
and you'll find high-quality used and refurbished electronic gadgets. All of the products are restored to manufacturer settings and free shipping is available for domestic orders. Gazelle's vision is to "redefine the consumption of electronic devices and change the way people think about buying, owning, selling and recycling those devices." This company has an impressive dedication to
responsible recycling practices
. Its employees take care to avoid sending hazardous waste to developing countries. They ensure all reasonable efforts are made to control electronic scrap and manage its disposal as hazardous scrap, therefore preventing it from entering solid waste landfills or incinerators, including waste-to-energy incinerators. They carefully remove any personal or non-personal data prior to any item being reused, resold or recycled. And they pride themselves on their beliefs and their secure methods of recycling.
Looking for electronics recycling locations near you? Use the recycling location finder.