Wood waste falls into many categories and must be treated differently depending on its size and previous use. In this article we will examine what to do with four types of wood products found around the home: yard waste, untreated wood, treated/painted wood and home goods such as toys and kitchen accessories.
How to recycle wood yard waste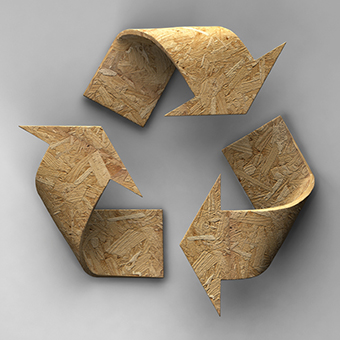 The yard is an ever-bearing source of wood that can be put back to good use. Composters prize wood as a good source of carbon-rich (or "brown") material that will aerate their piles and provide food for the healthy bacteria that break down organic matter. Many communities now offer curbside yard waste collection services for customers, but regulations for wood waste differ from place to place.
Raleigh, NC
's program is very flexible; wood can be placed in bins with handles or in biodegradable yard waste bags, or tied in bundles and left sitting at the curb. In
Little Rock, AR
, tree limbs no larger than 6 feet long and 6 inches in diameter must be placed beside the bin containing leaves, weeds and twigs. Some cities have special collection days for wood instead of regular yard waste collection.
Houston
residents can place branches and stumps beside the curb on odd-numbered months. In
Kansas City, MO
, brush collections take place for a few weeks in the spring and fall. Don't have a curbside collection program? Your town may have a facility that will accept yard waste for composting. In
San Diego
, one such program is Miramar Greenery, which is run by the city and co-located with the landfill.
Eugene, OR
, residents have two privately owned options for green waste disposal: Rexius and Lane Forest Products.
How to recycle untreated wood
Scrap lumber from home improvement projects and other untreated wood has a number of uses for recycling. It can be chipped and used in compost or mulch. It can also be turned into particleboard or chipboard lumber. Where you can recycle wood varies from community to community. New York City residents can bundle lumber with tree limbs for curbside pickup. In Berkeley, CA, and Chattanooga, TN, wood can be dropped off at municipal recycling centers. Many private companies that create home and garden products will also take untreated lumber. Even the smallest pieces of lumber can be turned into toys, plant stands or other products for your home. Find a good DIY website and let your imagination run wild. In addition, any wood you are not planning to use can be used by someone else. Consider donating it to your local
Habitat for Humanity ReStore
or another nonprofit home improvement store.
How to recycle treated or painted wood
Wood that has been pressure treated, painted, varnished or otherwise finished is not a good candidate for recycling. As discussed previously, the main uses for recycled wood are compost and garden amendments like mulch. Many people who claim to recycle wood burn it for heat or energy. The chemicals in wood treatments make it a poor candidate for all those things. Pressure-treated lumber sold before 2004 contains a toxic compound commonly known as CCA. It contains high levels of arsenic and chromium, which has been shown to cause lung cancer in people with chronic exposure. Paint and varnishes can contain lead, mercury, Teflon and any number of chemicals that should not be released into the air and into your lungs. Particleboard and chipboard fall in this category as well. These products are made by chipping up old bits of wood and adding glue to make sheets of lumber. The glue often contains formaldehyde and other toxic chemicals, rendering it impossible to safely recycle. Painted, varnished and pressure-treated wood should not be burned in a fireplace or fire pit. To dispose of it, you will have to take it to your local landfill. If you already have treated lumber on your hands, it may be possible to repurpose it in home improvement projects as long as the wood is used in an application where treated lumber is considered safe, such as decks. A couple safety tips for working with treated lumber: Cut it outdoors and wear a dusk mask when you do. Wash your hands well after handling it. Painted wood can be reused as is or by removing the paint. If you choose to strip off the old paint, consult a professional to make sure you are removing it safely. Sanding could release lead and other toxins into the air. There are many good alternatives to treated lumber, including wood that naturally resists rot (such as redwood, cedar or white oak) and timbers made from recycled plastic. Consider them for your next home improvement project.
How to recycle wood home goods
That old wood salad bowl your parents got as a wedding gift. The toy train set your child no longer plays with. A set of patio furniture that is being replaced. What do all these things have in common? If they are in good shape, they can all be reused. Hold a garage sale or donate them to your favorite thrift store.