As the 2014 NCAA tournament tips off tomorrow and another college basketball season reaches its finale, so too must our
Rebound and Recycle
series, which has provided a weekly glimpse into different universities' recycling efforts at basketball games. For 20 weeks we have travelled to different campuses to see how game-day operations crews tackle waste reduction, and while the overwhelming consensus was that recycling is both necessary and part of operations programs, virtually every school noted that more could be done. In case you missed our journey, or a stop here or there, let me guide you through a look back at the hoops season that was: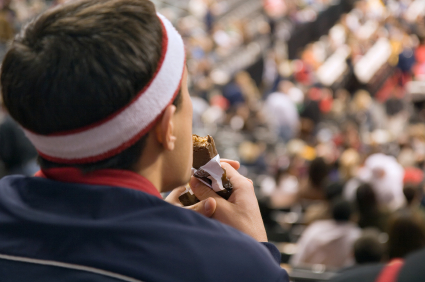 Back in the first week of November 2013, our initial stop took us to Notre Dame, IN, at the
University of Notre Dame
's Edmund P. Joyce Center. Though Notre Dame may be known first and foremost as a football powerhouse, the Fighting Irish men's and women's basketball teams certainly hold their own on the court. Off of it, the Joyce Center's custodial team collects a variety of materials — cardboard, Styrofoam, plastic, paper and more — to recycle each and every game. The university is looking to increase its game-day recycling rates by creating a video campaign to remind patrons to make the right environmental decisions. Then, it was off to Waco, TX, and
Baylor University
's Ferrell Center, an arena that seats more than 10,200 for basketball games. Waco happens to be the hometown of Dr. Pepper, and the university has capitalized on that with a partnership with the soda brand, using recycling bins designed to look like modern-day Dr. Pepper bottles. A #2 seed heading into the tournament,
Villanova University
has the most unique-looking arena featured this season, the Pavilion, with its hyperbolic paraboloid roofline. Inside, the university's recycling squad collects bottles and cans using bins that once served another purpose entirely — holding the syrup destined to become Coca-Cola. The recycling team has also created an online recycling resource to help educate students, faculty and campus visitors about its recycling procedures.
Spokane, WA
, is home to
Gonzaga University
, a small private school rich with basketball tradition. The 6,000-seat McCarthey Athletic Center utilizes to the same recycling program that has been implemented campuswide, making it easier for fans to recognize recycling bins and make eco-friendly decisions. An on-campus recycling station at
Atlanta
's
Georgia Institute of Technology
makes it convenient to collect game-time recyclables and ensure they are recycled.
Michigan State University
is no stranger to NCAA tournament glory, as coach Tom Izzo's team has made several memorable deep runs over his tenure at the state's largest institution. The Breslin Center, where the Spartans play ball, has a highly advanced recycling program with 37 (and counting) recycling bins strategically dotting the arena concourse. During stoppages of play, friendly recycling reminders play on the arena's scoreboard. New for this season, the Be Spartan Green Team manned recycling bins to ensure that fans were up to speed on their recycling knowledge. Basketball and
Duke University
seem to go hand in hand, with the "Cameron Crazies" nationally recognized and regularly broadcasted. Duke has been recycling at basketball games since 2007, with its Recycling and Waste Reduction and Athletics departments teaming up to implement a logical waste-diversion plan. Composting could be the next big step at Duke's storied arena.
Richmond
-based
Virginia Commonwealth University
has played the Cinderella role in the tournament before, marching all the way to the Final Four in 2011, but it has been leading the pack in recycling for years. Composting is a commonality at the school's Siegel Center, and a wide range of recyclables can be dropped into the arena's single-stream recycling bins. Now, the university's Office of Sustainability is turning its attention to game-by-game tracking of waste diversion rates. As
Indiana University
's Custodial Supervisor says, the main goal at Assembly Hall is to make it quick and easy for fans to recycle at basketball games. Improved signage and a new pilot program were tested out during the 2013-14, so let's see what happens next in
Bloomington
. The midseason point took us to sunny
Arizona State University
, where the athletics goal is rather straightforward: zero waste by 2015. At the Wells Fargo Arena, where the Sun Devils hoops team hits the court, composting (for food, drinks and serviceware) and recycling (of bottles, cans and programs) has long been in place and going strong. The efforts to reach this challenging mark have taken to social media, with an ongoing
#zerowasteASU
campaign. At
North Carolina State University
in
Raleigh
, we discovered an interesting challenge: folding a university's waste plan into an off-campus, pro-sports arena. NC State shares PNC Arena with the local NHL team, which has a seasoned operations team in place in charge of recycling for twenty-some NC State games, 40+ NHL games and an array of concerts and entertainment events throughout the year. Next up: the cold climes of
Madison
, and the
University of Wisconsin
, and its arena, the Kohl Center — one of the toughest places for visitors to grab a win in the entire country. Composting is new to the program here, and recycling bins with eye-catching signage are paired with dull, unidentified trashcans to help visitors recycle sans confusion.
UNLV
's
Las Vegas
campus has its own recycling crew, but much of its recycling attention has been paid to the school's off-campus football stadium. Now, the plan is to turn the crew's focus to the Thomas & Mack Center's basketball games. A promising start: A Coca-Cola-sponsored recycling bin grant program recently brought 75 new recycling bins to campus. The "Rock Chalk Recycle" program at the
University of Kansas
has made historic Allen Fieldhouse one of the premier recycling locations in the region. Waste diversion rates are now being tracked each home game, with tens of thousands of pounds of recyclables being spared from the landfill so far. The #1 overall seed in the tournament,
Florida
, also has a championship-caliber in-arena recycling program. Trash and recycling tallies are calculated for every event at the Stephen O'Connell Center — everything from Gators home games to smaller catered occasions — in an effort to meticulously keep track of what goes in and out of the arena. In February, it was back to Indiana, this time to
Indianapolis
, to check out
Butler University
. This is a basketball school if there ever was one — Hinkle Fieldhouse seats 2.5 times the undergraduate enrollment. A grant received during the 2010-11 season brought dozens of recycling bins to campus. Paper recycling is big here, with 30 paper drop-off points around the arena. At the base of the Rockies in
Boulder
, the
University of Colorado
is trying to achieve zero waste at the Coors Events Center, an 11,000-capacity arena. Robust composting and recycling efforts are already implemented; now it is time to start tracking those diversion rates to see where improvements can be made in the process.
Penn State
's Bryce Jordan Center is central Pennsylvania's biggest arena, and though the Nittany Lions underwhelmed on the court, a waste diversion rate of 95% event after event did not. To finish off the season, we landed in
Philadelphia
, checking in on the
Temple University
Owls and their budding recycling/composting program at the Liacouras Center. Single-stream recycling and kitchen composting have taken hold at the arena, and an on-campus baler compacts recyclable cardboard. The program will continue to serve the arena's busy offseason events schedule in the spring and summer. Though each of these courts has gone dark for the offseason, 13 of the teams above will test their mettle in the postseason field of 64 starting tomorrow. An incredible mix of preparation, timing, skill and a little good luck are needed to advance to the next round — and the same goes for these recycling programs. We will be sure to keep you posted on future advancements at these and other schools around the U.S.